Jaqi Rota, the Managing Director of Austbrokers Trade Credit, partner of our Silver Sponsor AB Phillips was the perfect follow up speaker after Kate Carnell.
Jaqi's presentation was all about your rights and how, in a time when Builder bullying is strong, how you can ensure you are covered when it comes to payment as well as the right terms and conditions.
It is vital that all businesses have their Terms of Trade which should include:
Recover all collection costs
Charge interest on overdue accounts
Establish jurisdiction AND Governing Law
Register a "security interest" in all goods (PPSA)
Incorporate a guarantee and charge
Allow variations
Deal safely with trusts
Limit liability
Warrant the accuracy of information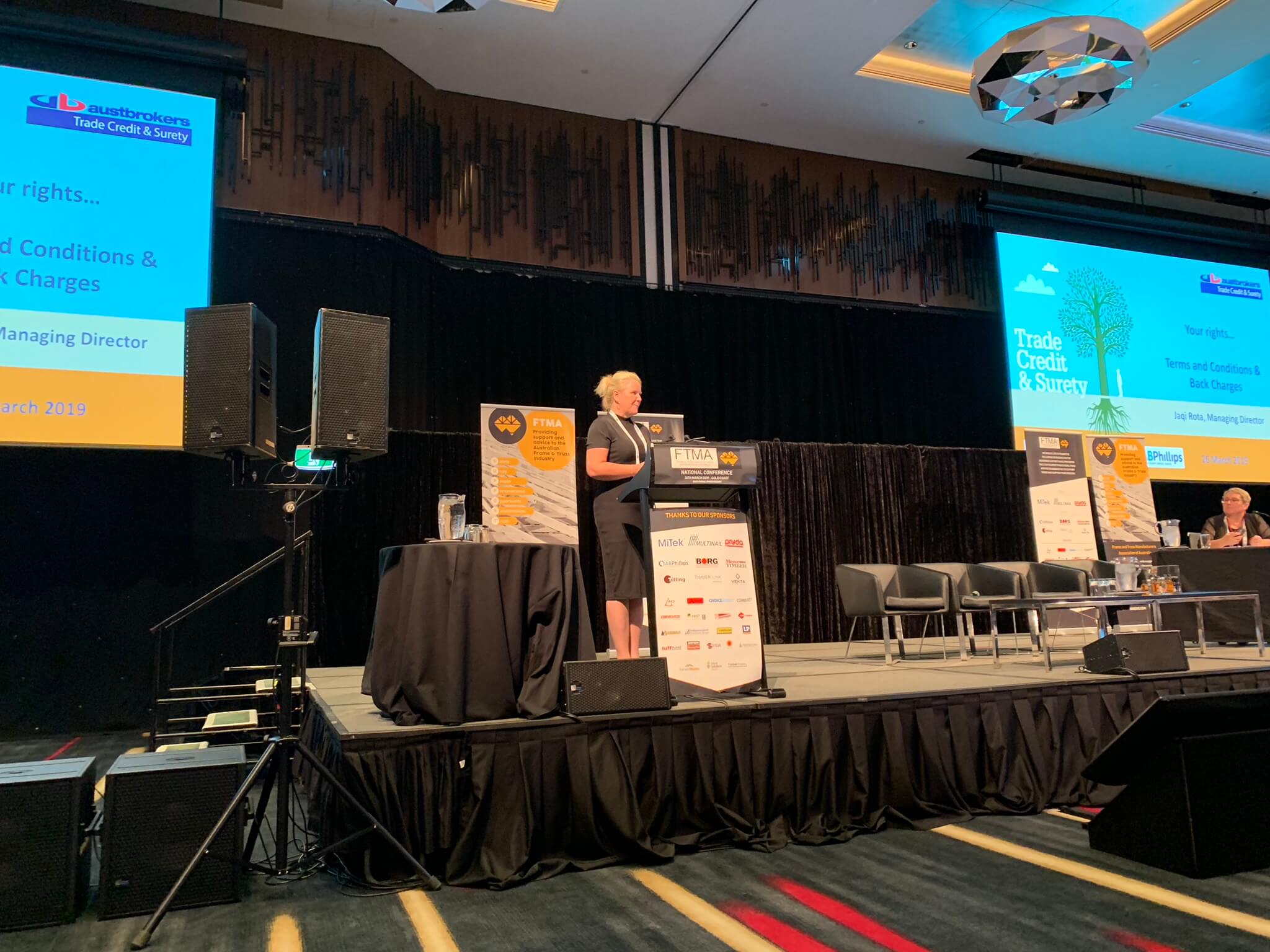 For FTMA Australia members, we have most of this covered in our Commercial Credit Application Terms and Conditions of Trade document which is available for free download on our members only section of the website.  This document is constantly updated when any changes arise and over the years we have had members challenged by builders on the document but at every stage it has stood solid as we have spent considerable money having it checked by lawyers to cover your needs.
In my opinion, Jaqi, along with the team at AB Phillips is always willing and ready to help FTMA members and their services are not just limited to trade credit.  If you need any information on Insurance, Trade Credit, Superannuation or even HR Services please see Jaqi & Rose's details at the bottom of Jaqi's presentation.
FTMA Australia Board Member, Aaron Hillman
with Jaqi Rota of Austbrokers Trade Credit
To view and download Jaqi's presentation please click on the link below.