The aim of the 2022 FTMA National Conference was to bring the industry back together for some interactive learning and networking on our first ever weekend retreat and it had an amazing buzz about it all weekend.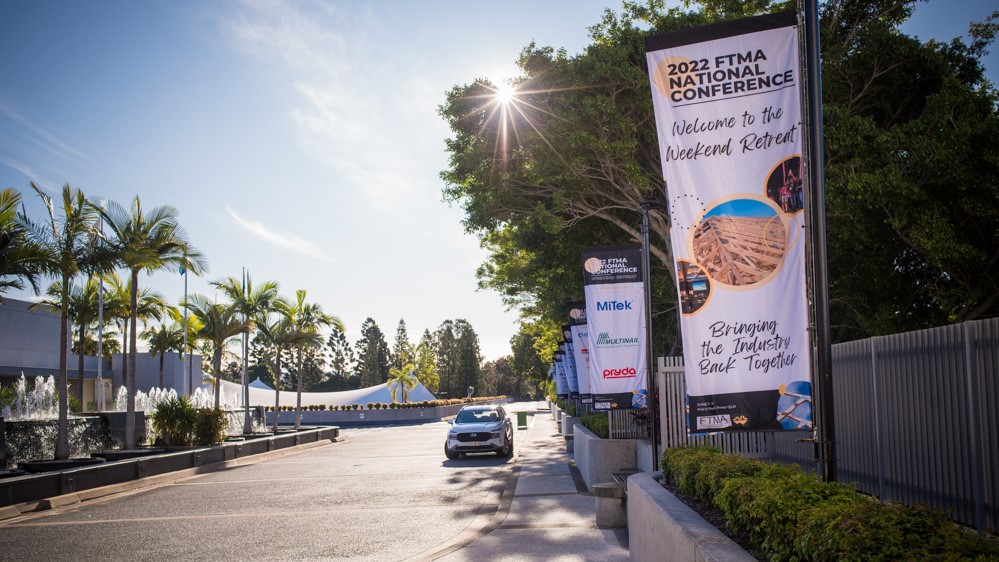 Red Activities Day is where the networking commenced. Many conferences offer activities following the conference, whereas the Red Activities Day, sponsored by Pryda, Meyer Timber & Vekta is all about bringing delegates together before the conference, to maximise networking. 
Just shy of 100 delegates registered for golf, jet ski safari, indoor skydiving and FREAK VR experience as well as kayaking to South Stradbroke Island. Queensland put on the weather and delegates, many with partners in tow, had an action-packed da, all in preparation for the official Ice-Breaker, which saw a Casino set up on the RACV Tennis Courts.
The QLD weather tested us with a cold night, but with fires, blankets, great food and drinks, it had the feel of an industry reunion.  After years of being separated due to COVID, fabricators and suppliers were back together with laughter and chatter filling the air.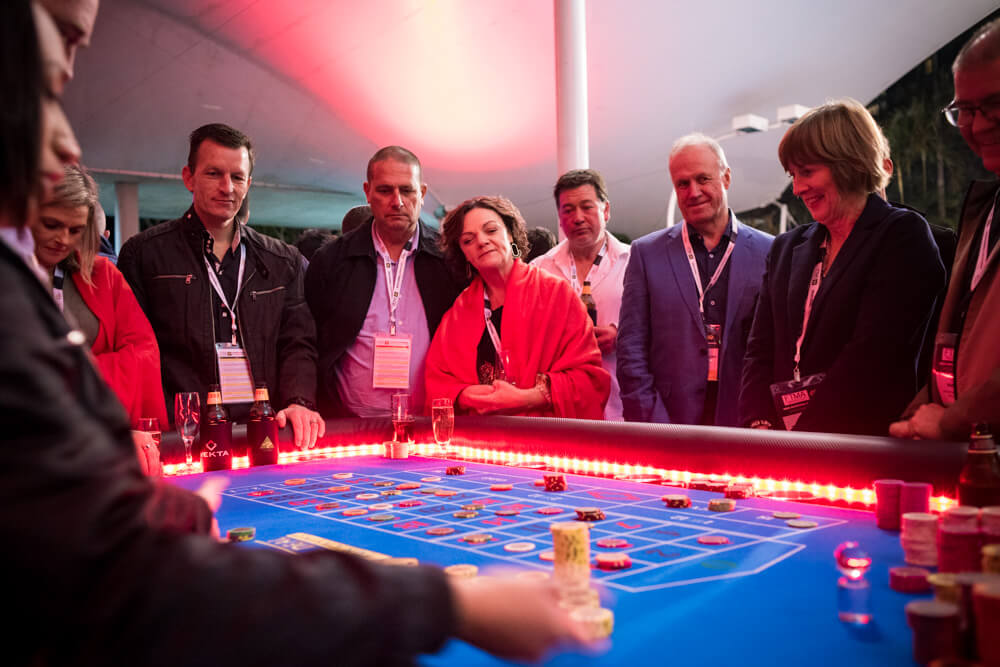 Conference
You wouldn't have known it was a Sunday morning, with the 200 delegates arriving early to explore the 28 trade exhibits.
A lot of work had been put into the program ensuring a mix of speciality speakers and fabricator/supplier panels focusing on the key issues facing the industry as the feedback from previous events is that this talk show styled questioning creates a more interactive conference and easier listening for delegates.
The program was targeted at fabricators with the feedback being that every topic was on point for the sector and some saying it was the best conference they have ever attended.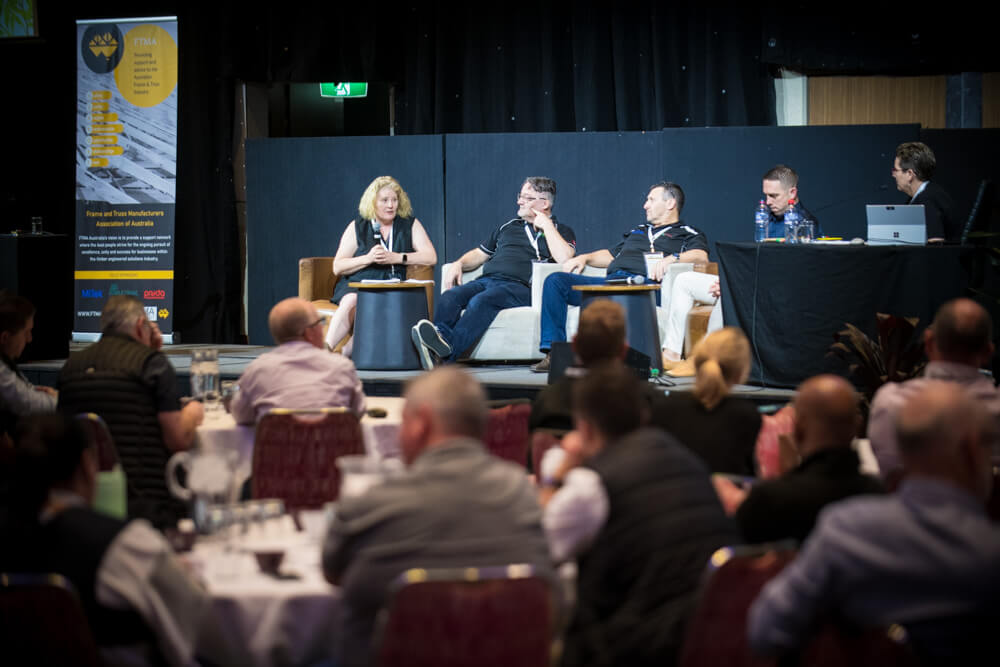 How to attract and retain great staff  was an informative session by Kelli McDougall, General Manager of AgriTalent.
Kelli explained that the average Australian business experiences approximately a 23% turnover annually with some industry having significantly higher turnover such as the construction industry, where the figures can exceed 58%.
If we conservatively assume an annual turnover of 30% for our industry and use the figure of 67,000 people employed in our industry, we could be potentially losing 20,100 people per annum from the forest and wood products industry.
There is always a debate as to what the actual costs are to a business every time you lose an employee. Some estimates place the total economic cost of replacing staff members at 2 times their salary over the life of their replacement. 
Kelli went through the employee turnover costs, as every time you lose an employee, your business suffers financially. Costs such as:
Cost to hire (advertising, interviewing, screening, due diligence etc)
Training and management time to undertake induction
Lost productivity as a new person may take 1-2 years to reach the full productivity of an existing worker)
Lost engagement
Customer service and errors
Even if we are drastically more conservative and assume a direct cost of $10,000 per employee, and we multiply that by the turnover in our industry per annum, the forest and wood products industry could be losing in excess of $211 million in turnover costs alone.
So how do we recruit the right people, and retain their services? It's little things such as do you have a website, as there is a good chance someone is going to Google your business before they apply to find out more about you. If you don't have a website, you can be seen a fake business.
What is your employer value proposition? Do you even have one?  We are currently in the tightest employment market in 50 years, so as a business, you must do more than just advertise on Seek.
Kelli finished her session focusing on retention strategies such as onboarding and orientation, mentorship programs, employee compensation, perks, wellness offerings, communication, training and development, work-life balance and flexible work arrangements.
Following Kelli, we had our first fabricator panel exploring the programs fabricators have put in place to attract new workers and retain those currently employed. It was so refreshing hearing fabricators talk about Employee Wellness Programs and their focus on creating the right workplace culture. This isn't something that just happens but requires time. No matter whether you are a large or small employer, it takes time to work with your employees to find out how they are traveling and what their needs are.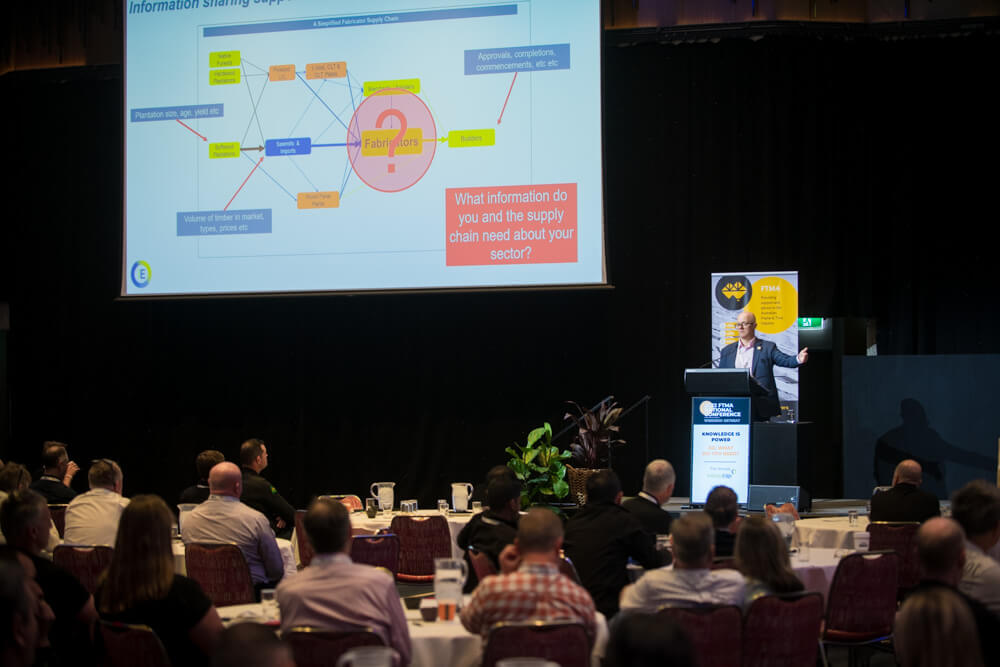 FTMA is passionate about addressing safety and lifting safety standards within the sector and are excited to join forces with our sister Association from across the ditch, FTMA NZ who have taken the lead with an exciting new Safety SOP Video program for respective FTMA Members.
FTMA NZ Executive Officer Peter Carruthers joined Kersten to showcase the exciting new videos which will allow members to access professional videos for safety inductions created by Shutterspeed.
These universal safety videos are like none other with the FTMA Safety Essentials Pack breaking down the three key safety issues, including:
Personal Protective Equipment
Safe Manual Handling Techniques
Lockout & tag out procedure
On top of this, the safety videos will cover rolling, pressing, pneumatic fasteners and cutting techniques on a variety of machinery.
FTMA NZ will continue to work on the suite of videos with Shutterspeed and the program will officially be launched later in the year.
One of key sessions was Knowledge is power, so what do you need to know, which was a facilitated session run by IndustryEdge's Tim Woods.
Conference delegates discussed the information needs of the supply chain and what fabricators wanted or needed to know for the sector which is the largest single user of sawn wood in Australia.
Initially we heard from a small group of people actively engaged in the supply chain, a timber supplier, a nail plate provider, a fabricator, an automation expert and our Association.
Each told us what information they needed to make important decisions that would support the fabrication sector and therefore the supply chain and its development.
Their contributions were a primer as what we really wanted to know was what fabricators need to know to make better business decisions, and what information the supply chain needs about fabricators.
Tim asked fabricator the open question What information do you and the supply chain need about your sector?
Over 35 sheets of paper holding about 130 separate needs statements were collected, some very detailed, others note so much. Tim has collated every statement and categorised them and the data showed we will need more than one approach to tackle this information.
There is a need for some externally focussed research (e.g. On builders, housing types, land releases and so on) and the development of a report that perhaps is updated each quarter or year, to provide an ongoing series of advice to the sector.
Most of all however, there is a need to gather industry information from fabricators to provide measures that allow for benchmarking and provide development guidance, so stay tuned, as there will be some exciting work in the future for the sector.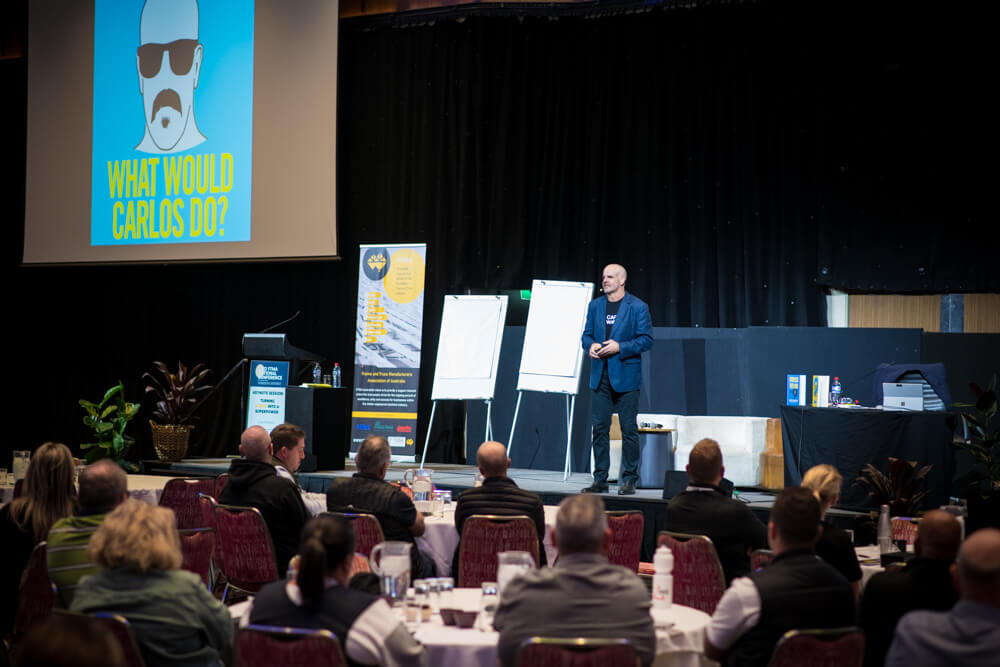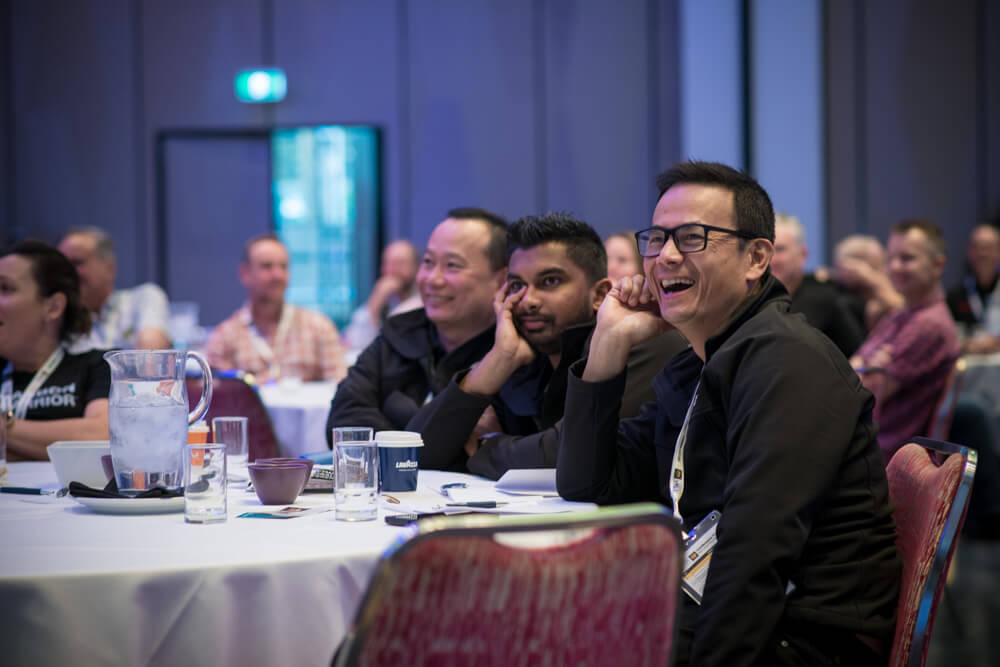 Our keynote speaker for the conference was Luke Mathers who spent over an hour talking to delegates about ways to RESET Stress and use it as a superpower. 
FTMA wanted a keynote speaker who understood firsthand the stress involved in running a family owned business. As an original director of Specsavers in Australia, Luke understands what it takes to operate under pressure situations and wow, did he deliver.
Not only did Luke turn up on the Sunday to present, but he attended the Ice-Breaker on the Saturday night so he could meet delegates and talk them about the stresses they are dealing with on a daily basis.
Luke has written a fabulous book titled, Stress Teflon, which FTMA has purchased for every member to send out with the 2022/23 membership certificates.
Instead of talking about what Luke said at the conference, I'd like to talk about the real changes which have resulted from my involvement with Luke. I read his book before the conference and since the conference I have read his two other books and I actually believe I have achieved Stress Teflon.
I'm a bit of a hot head, or as Luke would say, I use my 'old brain' a fair bit, but after reading the book, I have realised that my 'new brain' has the ability to reassess the situation and settle down the anger or stress.
Scott & Nikita are looking at me wondering where the real Kersten is, as I no longer stress about issues I can't change and I have to be honest and say it feels great. Members will be sent the book when they renew their membership, but I encourage readers to visit lukemathers.com.au/books where they can download a copy of his book RESET.
We can all do with some less stress in our lives, and we believe the techniques Luke provided delegates at the conference will help them make some real changes in their workplace to reduce stress.
Whilst the conference was happening on the Sunday, partners were invited to a lovely afternoon of Sip & Paint, proudly sponsored by Pryda. It was a great turnout, with many discovering their inner artists!
After a great day of networking and learning, delegates returned for the National Conference Dinner, or as we referred to it, the Jungle Safari Retreat! It was amazing see so many delegates have fun with the dress code, but a special mention must go to Leon Cheney who was undoubtly the best dressed of the night.
During the Jungle Safari Retreat, we challenged everyone to build their best jungle safari retreat out of only marshmallows and pasta. It was messy and chaotic, but very entertaining.
At the dinner, we also held a silent auction for MATES in Contruction. A big thank you to all the delegates for bidding, as over $17,000 was raised to address mental health in the workplace. A truly incredible effort.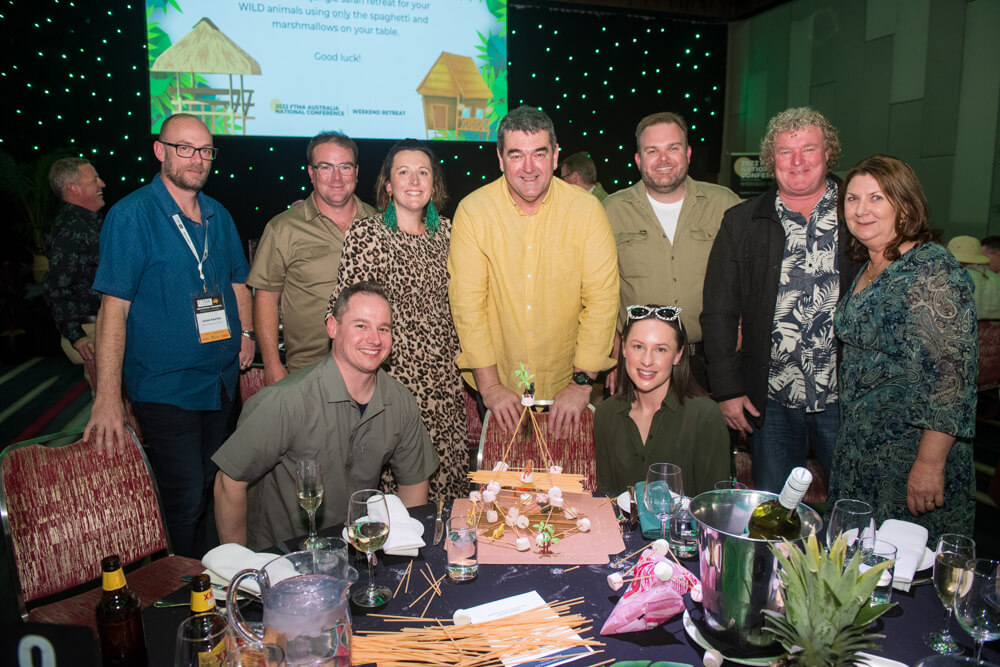 The aim of the 2022 FTMA National Conference – Weekend Retreat was to bring the industry back together. The networking and learning made for an awesome weekend with outstanding feedback from all who attended.
Now for the planning to start for our 2024 National Conference!
Thank you to our 2022 FTMA National Conference – Weekend Retreat Sponsors.
The weekend couldn't have gone ahead without your support.