This article was written and provided by Simone Kerwin, Wangaratta Chronicle.
A WORLDWIDE timber shortage has hampered a Wangaratta business's plans to employ an additional 30 staff.
George Prothero, managing director of Tone Road's Alpine Truss, said the shortage was being felt Australia-wide due to damage wrought on plantations by NSW bushfires in February last year, compounded by a lack of imported timber due to a US housing boom.
"It is restricting our business," Mr Prothero said.
"The availability of wood has dropped, with our sawmills down by about 30 per cent in production, and what we would usually get from Europe going to the US because they are paying more for it."
Mr Prothero said his 20 year old business had been able to retain existing staff numbers through the shortage, but had not been able to employ more people as planned.
"We could have put on another 30 or so, and we have also had to turn back customers," he said.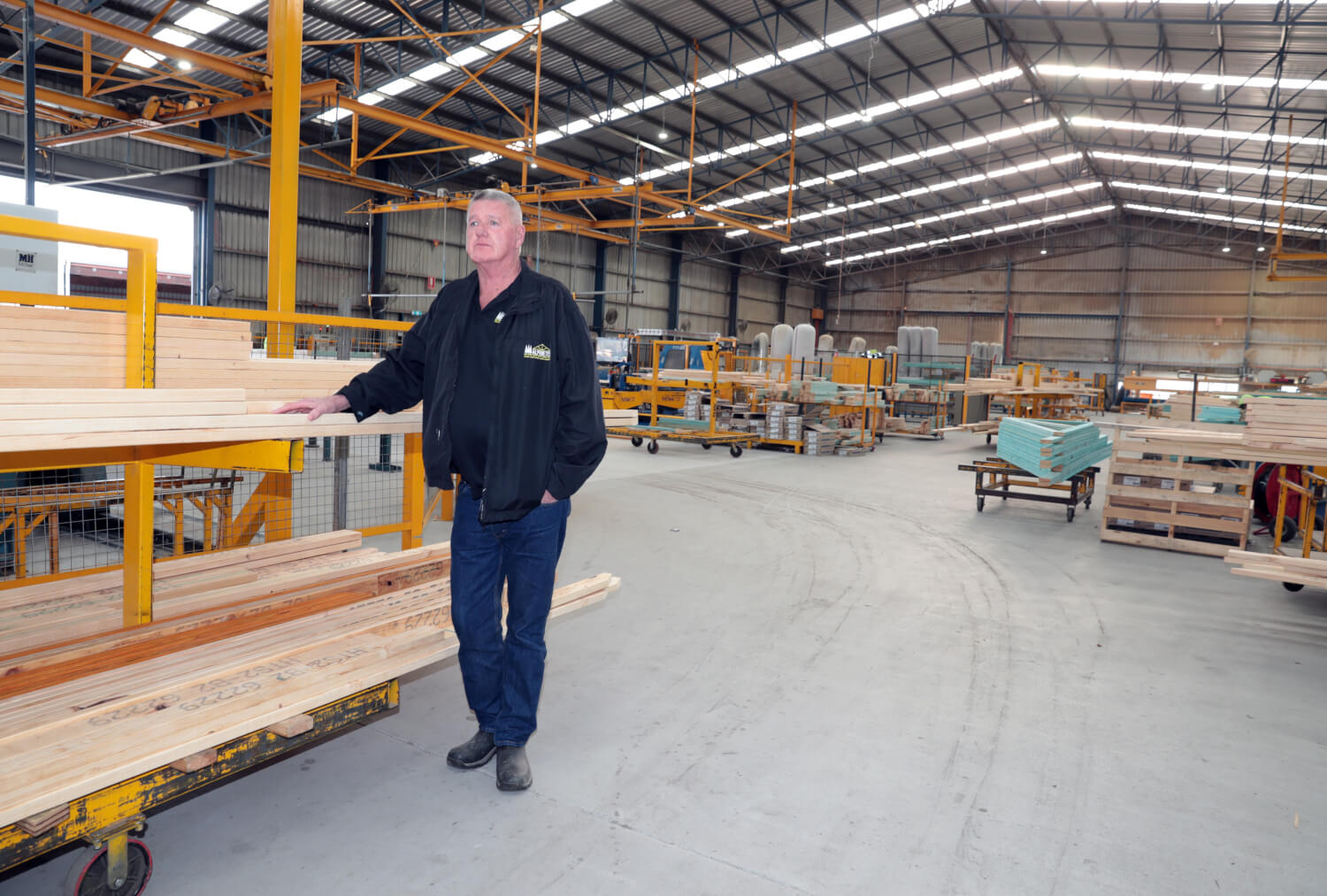 Mr Prothero said HomeBuilder grants offered by the Federal Government – which were established last year to stimulate the construction industry in response to COVID-19 and set timelines for building to begin – had created extra work, but had not taken into account the dearth of timber available.
HomeBuilder provides eligible owner-occupiers (including first home buyers) with grants to build new homes, renovate existing homes or buy off-the-plan homes or new homes.
It offers $25,000 grants for eligible contracts entered into between June 4 and December 31, 2020, and $15,000 grants for eligible contracts entered into between January 1 and March 31 this year, with construction required to start within 18 months of the contract date.
"There is that much work because of these government grants, but there is not the raw material available," Mr Prothero said.
"And it's adding so much extra cost to building a house – probably about a 60 per cent increase on the cost of the raw material, which is going to affect a lot of businesses, and catch builders out because they're on fixed contracts due to these grants.
"We've been really lucky with our supply of raw material; we're in a good position compared to some of our competitors, and are sourcing from Tumut and Mount Gambier – but we have more work than we can handle because the grants have been brought forward.
"There are also concerns that when the grants finish, a lot of work will be brought to a halt; we could all come to a standstill.
"Governments could have stretched the grants over a longer period.
"What's got to happen now for us is the US market has to slow down; it's in a boom time at the moment and they're taking all the timber they can get and paying more than us.
"We also need our own market to stabilise."
Mr Prothero said steel prices had also risen substantially, further complicating the issue for those seeking to build under the Federal Government grants, and for builders working within contracts.
He said he was in communication with the Frame and Truss Manufacturers Association of Australia, which was advocating for the industry and working to raise the associated issues with governments at all levels.
FTMA executive officer Kersten Gentle said the Federal Government's announcement in mid-April that it would extend the construction commencement requirement under the HomeBuilder grant from six months to 18 months was pleasing.
"But more work needs to be done," she said.
Ms Gentle said the FTMA had worked with a number of other industry associations to create a lobbying paper which was sent to all Australian political leaders to offer an insight into what could alleviate the situation.
"The other issue is our concern that the increased cost to building may push some home owners over the $750,000 limit set in the HomeBuilder program, and this is also something we are raising with the (Federal) Housing Minister (Michael Sukkar)," she said.
"Builders are the only ones who can slow things down, but the policies in place must enable them to do that.
"This is a world shortage, not just Australia; American prices have increased by close to 400 per cent, and this time last year sawmills (in America) were closing, thinking we would be going over a cliff with COVID-19, but it was obviously the opposite."
AN FTMA briefing prepared by Industry Edge points out that in the first three months of this year, Australia approved 55,895 separate dwellings – up 30 per cent on the same period last year.
"Annualised, that amounts to a little under 224,000 separate dwellings to be built," the report says.
"That is huge by any measure, but here is the kicker…in the March quarter of 2021, there were 38,517 free-standing houses approved, or 69 per cent of total approvals.
"That is a record and is well ahead of the previous record of 36,220 approvals in the December quarter of 2020.
"For those who need to add a kicker to that, here it is…in the month of March 2021, there were a mind-boggling 15,596 approvals of freestanding houses; another record, to beat the previous month's all-time high of 13,849 approvals.
"We know the stimulus fuelled the demand, and we know the stimulus has now ended, so the April and future approvals will soften. Probably, a lot.
"But that still leaves a massive pipeline of building work left to complete."
FTMA executive officer Kersten Gentle said builders who would usually build 70 houses in a year were now engaged to build about 200.
She said there needed to be movement on the HomeBuilder policy, with input from federal, state and local governments.
"It needs to be addressed in the long-term," she said.
This article was written and provided by Simone Kerwin, Wangaratta Chronicle on Wednesday 23rd June 2021.