In February this year, the newly created AFPA Market Development Subcommittee (MKDS) joined an FTMA workshop in Sydney, to discuss how the timber industry can better communicate the benefits of its renewable timber framing product in the face of alternatives such as steel framing. The consensus was that our industry need to be better promote the benefits of using timber framing with a consistent, simple and generic message. 
Following this MKDS continued to work with both the FWPA and AFPA's Softwood Manufacturers Chamber (SMC) to develop a Timber Framing messaging campaign that is closely linked to FWPA's successful The Ultimate Renewable campaign.
Industry Collaboration
Our timber industry is thriving and we are excited to be embarking on a new wave of industry collaboration spanning the whole timber supply chain.
This collaboration includes industry participants ranging from sawmillers, preservative suppliers and nail plate manufacturers to industry associations, wholesalers and our channel customers.
Whether local or imported, timber framing is robust and reliable and supported by an extensive network of industry partners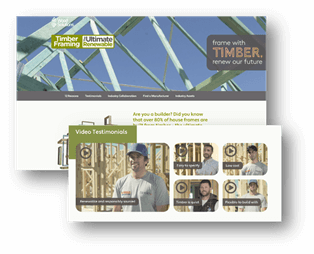 Industry Assets
Building on the ongoing success of The Ultimate Renewable™, our timber framing campaign provides a positive communications message for the whole sector to share.
It's all about making timber framing a conscious choice for builders and homeowners, reinforcing the association between what's holding up the house and what's best for our future.
The timber industry has collaborated to develop a range of marketing and promotional assets that can be co-branded and incorporated into your own collateral and communications. The campaign assets include:
Logos
Brochures
Print advertisement templates
E-signature images
We encourage industry members to access these industry assets to help us all reinforce that timber framing is The Ultimate Renewable™
For more go to: woodsolutions.com.au/framing