The ongoing bushfire season has offered heartache, devastation and challenges for many regional communities across New South Wales, SA, QLD and Victoria. Through this, our renewable Timber Industry is working hard to better understand the short, medium and long term impacts of these bush fires, to ensure Timber Framing solutions continues to be Builder's material of choice in Australia.
For more on how the Timber Industry is responding to these challenges, please refer to the FTMA Special Fire Edition.
Timber Framing on FoxSports, Google, Triple M, Gumtree, Yahoo & Facebook
In December 2019, the Timber Industry was very excited to see the extension of The Ultimate Renewable™ Campaign- Timber Framing – The Ultimate Renewable™.
With a heavy digital presence, Timber Framing advertising and social media could be seen on FoxSports, Gumtree, Yahoo, Google, Perth News and the Woodsolutions Facebook, just to name a few.
During this time the woodsolutions.com.au/framing  website has achieved:
6000 visitors since its launch
Over 3 million impressions online
Via YouTube over 90,000 completed views of our video content
The builder testimonials are proving to be great value and we will continue to develop a library of messages from builders that love timber!
We encourage fabricators to continue to register on the campaign website and start using the campaign assets.
Timber Framing Takes to the Roads
Starting at the end of January 2020, the Timber Framing – The Ultimate Renewable™ takes to the roads campaign, with outdoor billboards being featured at major locations across all capital cities.
The Outdoor Campaign builds on the digital campaign of "Frame with Timber – Renew our Future", peeling back the external cladding of a home and reminding Builders and Consumer alike that, "It's What's on the Inside that Counts".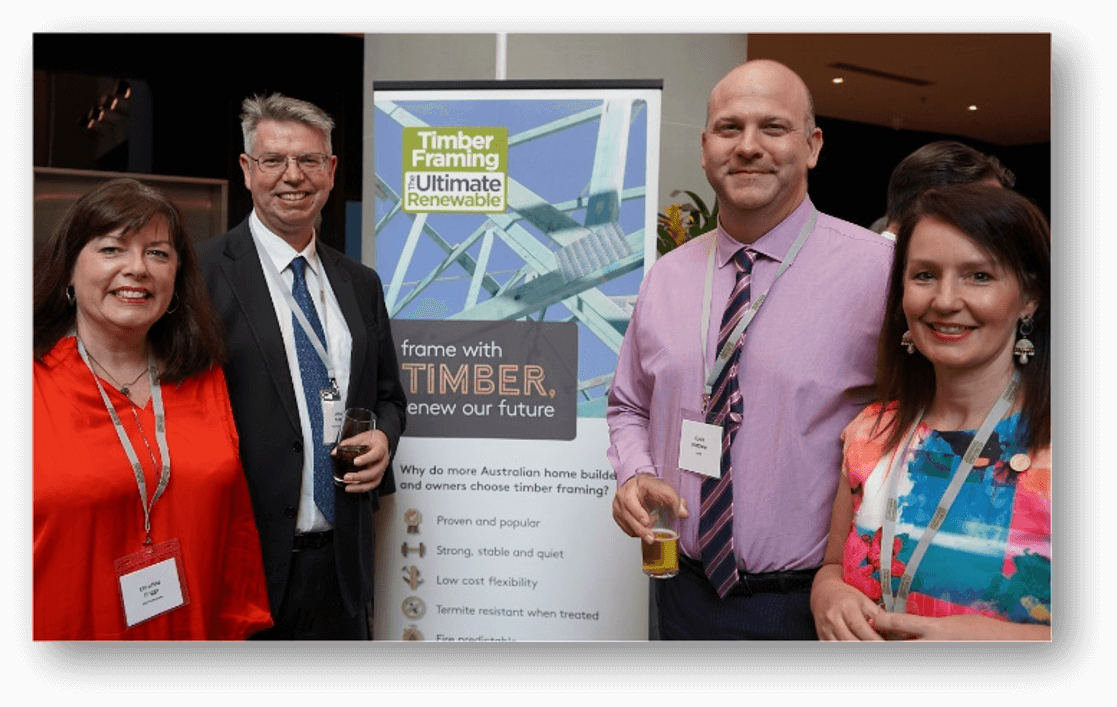 Timber Framing mini launch at November 2019 AFPA industry dinner in Canberra (L-R): Christine Briggs, Arthur Potter, Gavin Matthew & Marita Pierce-Indugula
The timber industry has collaborated to develop a range of marketing and promotional assets that can be co-branded and incorporated into your own collateral and communications. The campaign assets include:
VIC (9 locations): Mooorabin, Malvern, South Melb, Ringwood, Keilor East, North Melb, Oakleigh
NSW (5 locations): Winston Hills, Sydney CBD, Strathfield, Liverpool, Greystanes
QLD (5 locations): Newstead, Coorparee, Hamilton, Kedron
SA (3 locations): Adelaide, Thebarton
WA (3 locations): Northam, Kenwick, Kwinana
TAS (1 location): Hobart
Industry Support
The Timber Industry has garnered enormous levels of support across the industry and the level of collaboration over the last 12 months from across the supply chain has been tremendous.
Commencing January 2020, editorials and double-page spreads will be featuring across many publications spreading the word that Timber Framing is the Ultimate Renewable, it is cost effective and flexible along with promoting the carbon counting message to builders.
See below for one of the many articles you will begin to see this year.
We encourage industry members to access these industry assets to help us all reinforce that timber framing is The Ultimate Renewable™
For more go to: woodsolutions.com.au/framing