With less than 6 weeks to go before our 2022 FTMA National Conference, things are getting stressful as we finalise all the details to ensure members have a great weekend.
As always, our conferences are targeted at the fabricators and even though we'd love the owners to attend, if you can't, we encourage you to consider sending someone else from your business.
Conference Itinerary
Saturday 11th June – Red Activities Day
A Range of Fun Networking Activities throughout the day including Jet Skiing, Kayaking, Indoor Sky Diving & FREAK VR and Golf at RACV Royal Pines.

We finish with the official Icebreaker Dinner proudly sponsored by Pryda, Meyer Timber & Vekta Automation with our very own Casino on the tennis courts with a full size craps table, poker table, spinning wheel and other casino games.
Sunday 12th June – National Conference
28 Trade Exhibits including our wonderful FTMA Sponsors plus ForestWorks, TABMA, Timber Training Creswick, Mates in Construction, WoodSolutions, Timber Framing Collective, First Super & Responsible Wood.

Full conference program with expected 200+ delegates – morning tea, lunch, afternoon tea included.

FTMA National Conference Dinner proudly sponsored by Multinail, where we will raise important funds for Mates in Construction and present the prestigious Clive Martella Award.
For further information on the activities or the official Icebreaker dinner please visit conference.ftmanews.com
Clive Martella Service to Industry Award
We have had many emails nominating a person, however, we need information on the nominations. There is no criteria for the award as we want the Award to reflect Clive's values, and that is someone who goes out of their way to help people and businesses within the industry. Someone who is honest and committed to seeing the national frame and truss industry innovate and grow and someone who has themselves, made a great commitment to our industry. If you know someone who you believe is worthy of this award, please submit their nomination by completing this form.
Nominations must be received by Friday 20th May to provide time for the committee to choose the winner and arrangements made to have the person present.
Conference Program
We have finalised the FTMA National Conference program and believe the wait was worth it as we locked in a few key speakers and topics. Whilst we are waiting on confirmation from one session, the program has something for everyone as you see below.
The sessions will be a mixture of fabricator/supplier panels discussing the topics or professional presentations by experts on the topics.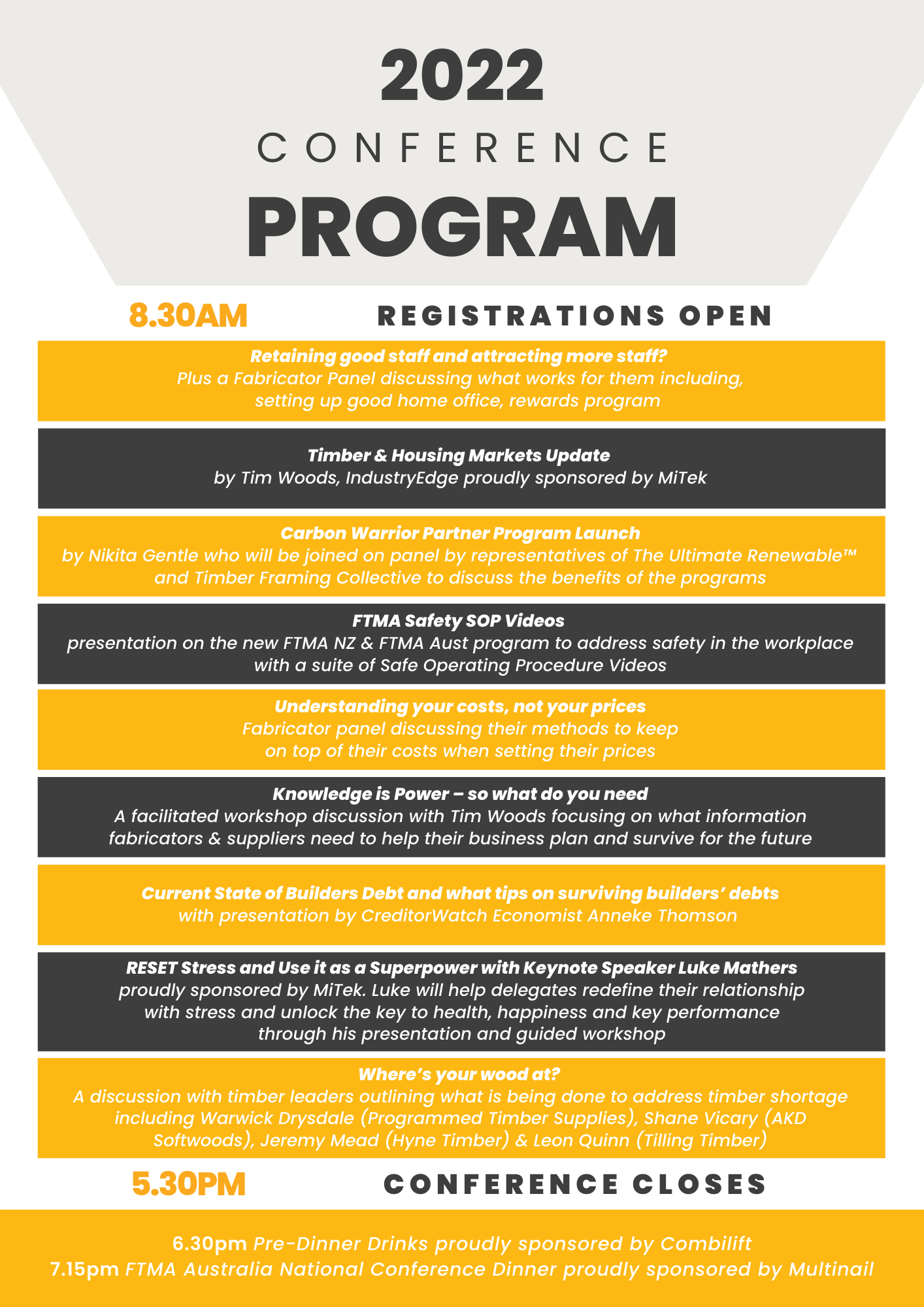 Accommodation
It is important that you book your accommodation.  If you are a RACV Club Member, book through your membership to get the best rate, otherwise the 2nd best rate is through FTMA's website or if you book directly with RACV Royal Pines, make sure you mention you are with FTMA Australia Conference – Book here.
There are many that have registered to attend the conference with us, but have not yet booked at RACV Royal Pines. It is not compulsory that you stay there by any means, I would just hate you to miss out, as we can only keep the rooms on hold for so long.
Childcare services & Fun Kids Club
I always refer to the FTMA Family, so it is only right, that given we are having the National Conference as a Weekend Retreat, we give you the option of bringing the kids and having them professionally cared for during the conference. Orly and the team at Coastal Baby Sitters regularly run kids for kids 4+. For children under 4, they can set up the creche at RACV Royal Pines.
FTMA Australia will cover the costs of the Kids Club and Creche on Sunday 12th June. If parents require babysitters for the Saturday & Sunday dinners, which are not for adults only, Coastal Baby Sitters will also organise caring in your hotel room. Costs range from $28/hr (1-2 children) up to $37/hr (5 children – you're mad!!).  ll carers are fully qualified and professional, as is Coastal Baby Sitters. If you want to know more about them, you can visit their website here..
If you would like to bring the family and would like to book your children in to either creche or the fun kids club which will do activities throughout the resort whilst you attend the conference, then contact me direct (details below).
Our industry is full of family owned businesses and we just want to ensure those with young families can still join us for a weekend where you will get to learn, have fun and network, whilst even the kids will have a ball.
Airport Transfers
As previously we will be finding someone to do airport transfers from Gold Coast & Brisbane airports. Most people fly in to the Gold Coast as the venue is about ½ hour away. The costs for airport transfers will depend on numbers for each pick up. We will confirm this in a few weeks' time.
Dress code
I always get asked what people should wear to the conference, dinners etc.
Red Activities Day Official Ice-Breaker Dinner – is a Casino night, however, we don't expect anyone to dress up, but we'd never not applaud someone who makes an effort! Smart Casual.
Conference – Smart Casual
FTMA National Conference Dinner – where the theme is Jungle Safari Retreat, so we say dress like you're on a retreat OR if you are felling a little WILD, we encourage you to let your inner jungle animal out.

There is a pool so if you feel like a dip, bring your bathers and there's a great gym if you wish to bring your gym gear!
Register Now
On the 14th May prices will increase so we encourage everyone who hasn't booked, to do so now. You can register online or by simply filling out the attached PDF and returning to me. If you wish to do online you can do so via the conference website. Once we receive the registrations, we shall create an invoice and send it to you.
Just a reminder that our conference is open to all timber fabricators and FTMA Supplier members and Conference Sponsors as well as other timber associations, research or educational bodies. Suppliers, who are not members or sponsors of FTMA Australia are not permitted to register to attend.
With over 130 registrations already received, we believe we will hit our target of 200 people.
It's been a tough few years and FTMA has been right by your side during those tough times.
I know you are all busy, but these events are important. The topics we discuss are important for our industry and the networking is therapeutic. So many have done it tough during COVID, I hope you find the time, or alternatively, send someone from your business, to this event.  The event is COVID friendly and if a registered delegate cannot attend due to COVID, you can always replace them with another employee. 
Remember, if you can't come, send someone else!
If you require further information, please call me on 0418 226 242, otherwise everything you need to know about the conference can be found on the  2022 FTMA National Conference – Weekend Retreat website.
Kersten Gentle