There is no doubt our industry, along with all industries in Australia, are going through an employment crisis. No matter where you go, or who you talk to, fabricators and suppliers are struggling to find workers.
We have the lowest unemployment we have had in half a century, so to attract people, employers need to be more open and look outside the box.
The FTMA Rebuild & Design program is focused on attracting builders who:
Have been injured and can no longer work on the tools
Are fed up working in the elements, or;
Are simply looking for a new career
Today, we share the journey of two builders who due to their injuries, resulting in them being wheelchair bound and they have both have found new careers in the frame and truss industry as timber systems designers, because an employer gave them a chance.
Scott McKay finished his chippie apprenticeship in 1991 and unfortunately in 1996 he was in a car accident which resulted in him being in a wheelchair.
Whilst in rehab, Scott met a few blokes who got him into wheelchair racing. He was doing 250kms a week in the wheelchair and three gym sessions a week in the hope of reaching the Paralympics. Unfortunately, he didn't quite make the team, but he was fit and ready to find new work.
In 2001 he saw an advertisement for a job at Trusswall in Mornington. Given his building knowledge, Scott thought he would apply and was super excited when Wilson Bond gave him the job.
Scott said the young blokes are 10 times quicker on the computer, but they haven't got the building knowledge that he has. Even knowing the components made a huge difference and Scott felt it was the perfect role to put his chippie training to use.
Scott said he used to hang shit on his mates working in offices, teasing them that they were suits and pen pushers, but now that he is working in the office, he realises it's not as boring as he thought it would be.
Having building knowledge helps fix problems before they become a problem as he knows how it all goes together.
Scott's partner picked up a job in Bendigo and they had to relocate, however, with Truss plants all around the country and good designers being hard to get, Scott applied for a job with the Bendigo Truss Plant and, again, he was lucky that Geoff Holland looked outside the box and gave him the job.
Scott can't believe how great everyone at Trusswall and The Bendigo Truss Plant have been, they are ace people. He has been able to help some of the other designers with his building knowledge and they in turn have helped him learn his way around the software.
Scott believes that if you've got building knowledge, you have a bright future within he frame and truss industry.
Scott now plays wheelchair Rugby and you could imagine his surprise when talking to one of his fellow players, he found another designer who worked for Alpine Truss in Wangaratta.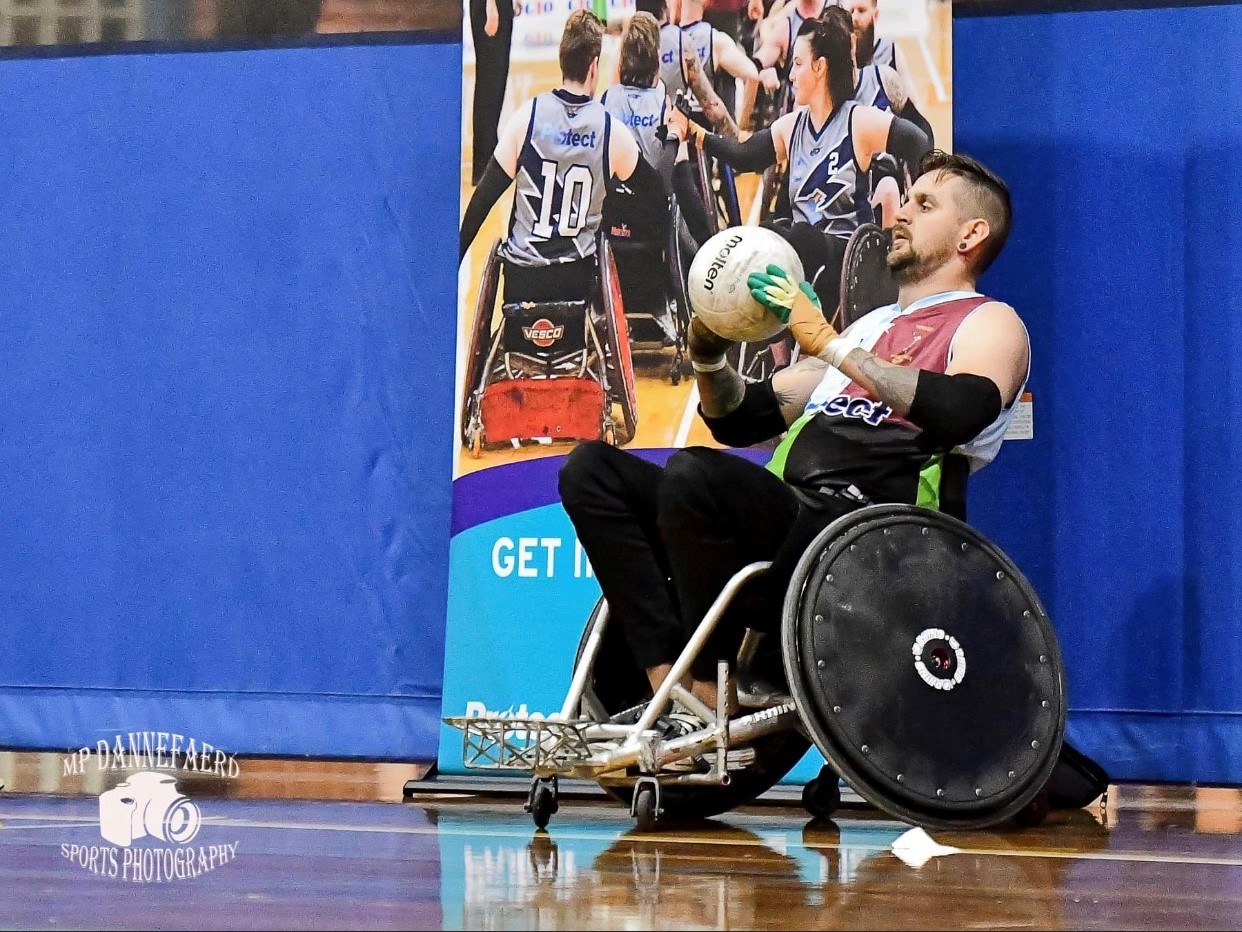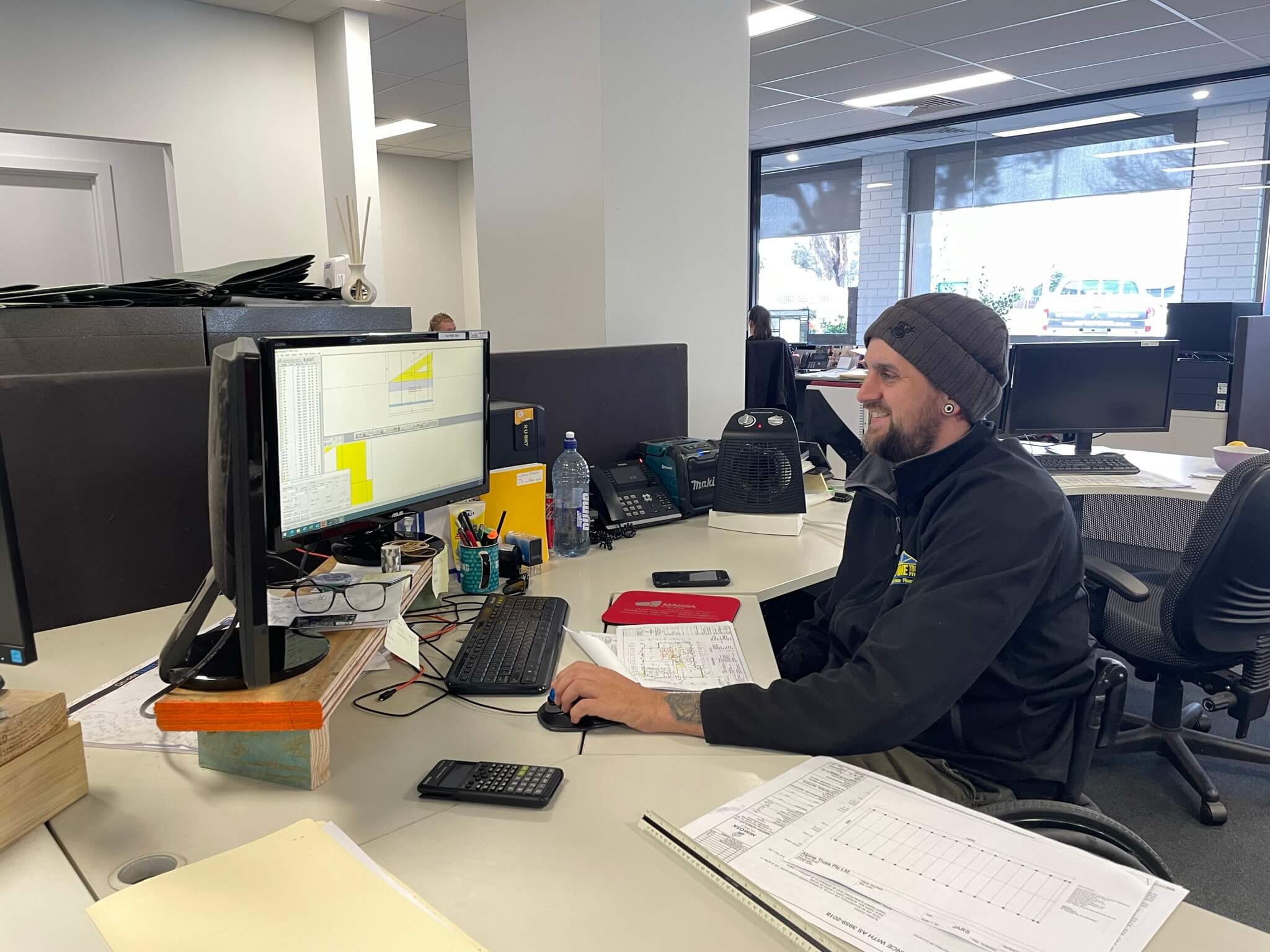 Shaun Harper is a young man who also was a chippie until 2014 when he fell off a roof, damaging his C6 & C7 resulting in him being a quadriplegic.
Shaun was in hospital for 7 months before going home to work out what was next.
He found a job as a supervisor for the local 'work for the dole' project, where he had 20 participants whom he taught general building, painting, paving and gardening skills to. He did this for a year before the program was closed by the Government.
Shaun then went out and bought himself and excavator and began working for chippies he used to sub-contract to when he was a builder himself.  He would dig footings, stump holes, post holes, general demo, cleaning sites and other work.
Shaun had trouble regulating his temperature, so when he got hot, it took longer to cool down and when he got cold, he struggled to get warm and he found it was boring.
He knew he needed to find another job and he had a few mates working at Alpine and the bloke he did his initial apprenticeship with, knew Ronnie the manager.
Shaun was unsure whether to apply for the job and he didn't want to hide the fact that he was in a wheelchair but was nervous that it would be deterrent.
Luckily for Shaun, George Prothero is the type of person who will give anyone a go and he gave Shaun the job.
The Alpine team began teaching him the software and Shaun says it seems there was no stupid question and nothing was ever a drama for the team.  Shaun admits he wasn't really tech savvy at all, and says he still isn't to this day, but he was a blank canvas, with no bad habits, so he could be taught from scratch.  However, knowing the terminology such as hips and jacks, top and bottom chords and what low bearing walls and lintels were helped make the training a lot easier.
As a chippie, Shaun says, you are always problem solving, so your mind is always stimulated, whereas, when he was driving the excavator he was bored. In his new role as Timber Systems Designer, he says there is so much attention to detail, you don't get bored and he once again feels like his mind is stimulated.
Shaun was fortunate to be working with a brilliant occupational therapist, who helped do an assessment of the workplace and JobAccess also assisted by installing ramps and electric doors at Alpine Truss.
Both Shaun & Scott are grateful to Wilson, Geoff & George for looking outside the box and for giving them a chance. As Shaun said "as soon as someone gives me an opportunity, they are going to get 110% back from me".
It is so important for employers to know there are options for support but most importantly, that there is no barrier whatsoever for employing someone in a wheelchair.
I have no doubt there are many other builders who have either been injured or are in wheelchairs and FTMA wants them to know, that our sector has a great career waiting for them.
Sure, we need people like Shaun & Scott who are ready to rock and roll, but without employers giving them a chance, nothing will change. We encourage all employers to look past the resume, to look past the wheelchair or back injury and get them in for a chat, as they could be your next gun designer.