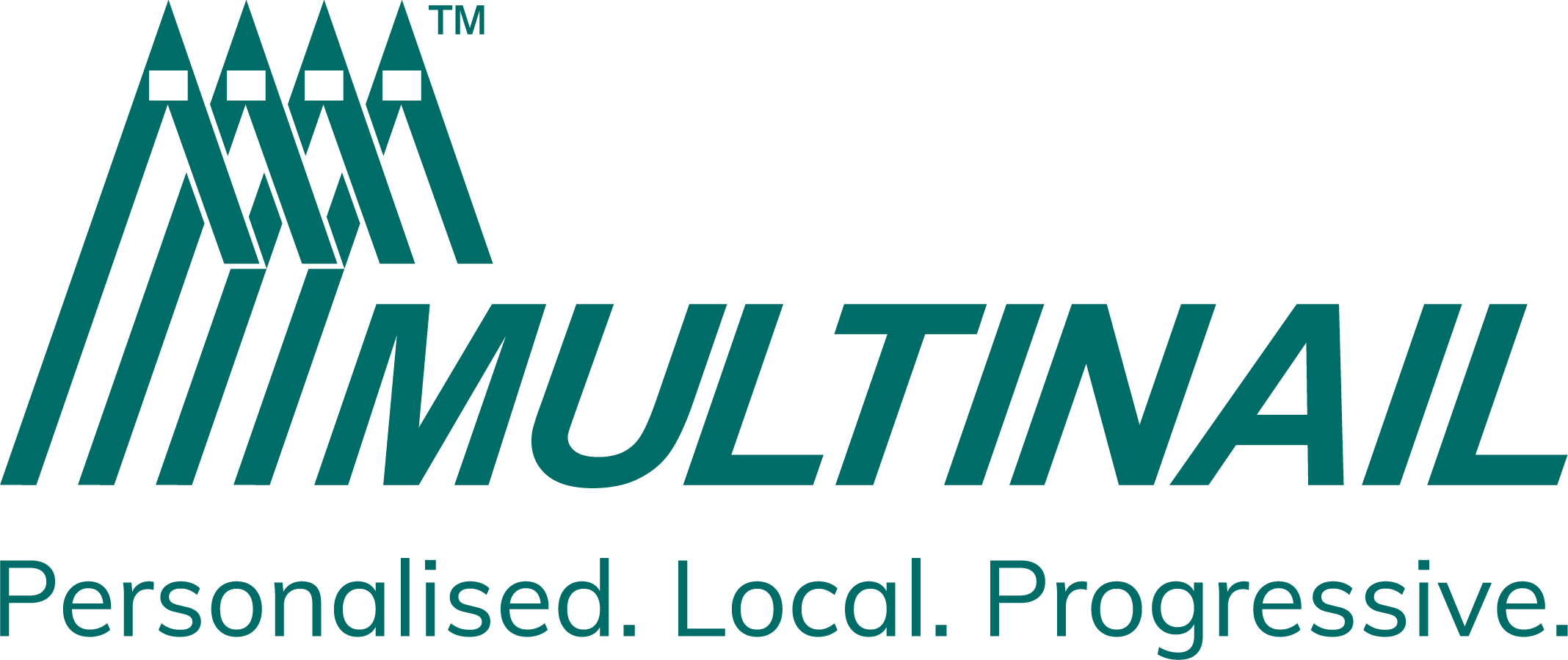 This piece was written and provided by FTMA Principal Partner, Multinail.
Multinail's substantial multimillion-dollar investment in production operations is now coming to fruition, underscoring its' unwavering commitment to the timber frame and truss industry. This ambitious expansion strategy has led to a comprehensive upgrade of their structural building products and the expansion of their machinery manufacturing plants worldwide.
Trent Taylor, Chief Operating Officer of Multinail, explained that the primary goal of this investment was to transform their manufacturing facilities into centres of innovative excellence for the industry. "The upgraded facilities have significantly increased production capacity and expedited market entry into local and international markets," Trent said.
There has been substantial growth in the demand for structural building products, truss, and frame building machinery. This expansion ensures that Multinail can effectively meet this growing demand while maintaining its customers' highest standards of service and product quality.
Technology and Manufacturing Park, Stapylton, Queensland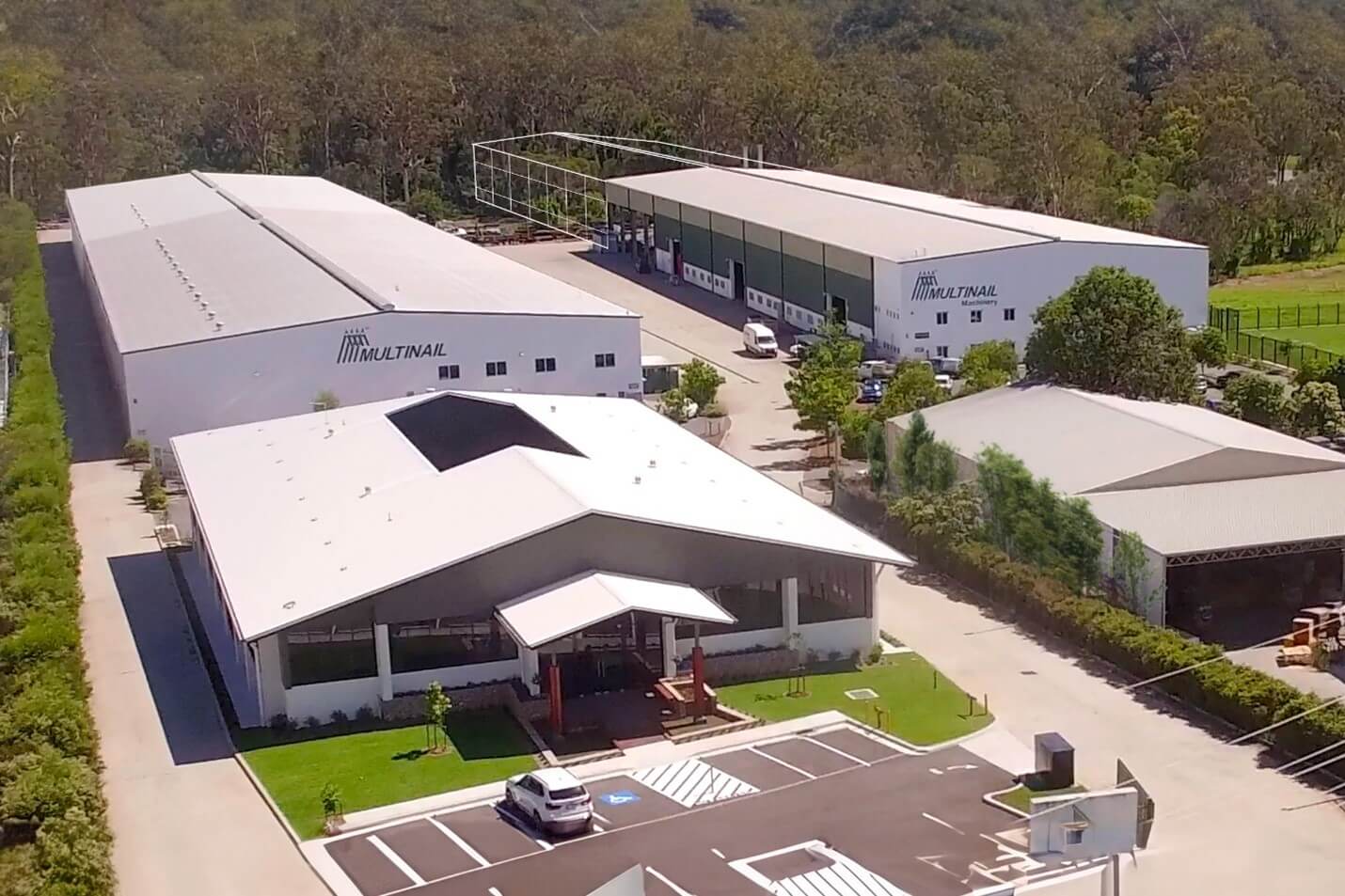 Multinail's Technology and Manufacturing Park, Stapylton, Queensland.
Back Left: Building B Stamping – 1,500 m2 extension completed.
Back right: Building C Machinery – 3,000m2 approved extension to be completed by mid-2024.
At the heart of this endeavour was constructing a 1,500m2 extension to the metal connectors factory in Queensland. This extension accommodates new presses and tools, enhancing productivity and enabling diversification into bespoke connectors for multi-residential, mid-rise, and mass timber construction. A portion of this extension was dedicated to increased warehouse space, allowing a broader range of product offerings.
Multinail has also expanded its state-of-the-art engineering research and testing laboratory. This purpose-built facility empowers the company to engage in more extensive product development and analysis, including pushing the limits of new products through rigorous strength and load testing of full-size trusses.
The Multinail machine manufacturing facility is currently undergoing expansion to meet the rising demand for new machinery. The extension is set to commence next month, increasing the plant's size by 50%, which equates to an additional 3,000m2 added to the premises. Upon its completion in mid-2024, the facility will boast an impressive total of 9,000m2, making it the largest machinery production facility in the Southern Hemisphere. This expansion will enable Multinail to increase its machinery production capacity, meeting the growing demand while ensuring continued efficiency in machinery supply.
It has been almost a decade since Multinail took the courageous initiative to simultaneously acquire specialist machinery production companies in the USA and New Zealand. Today, the expertise gained through these acquisitions has proven invaluable, propelling a forward-looking transformation of Multinail's machine manufacturing.
Trent emphasised that machine design and engineering are undergoing a revolution, with technology and robotic engineering leading frame and truss production into a new era of hands-free operations. "Multinail is determined to be at the forefront of this transformation. These investments have positioned the company as a world leader in machinery design and automation while providing the necessary expertise for local support and service," Trent said.
A New Horizon for Spida Machinery in Jacksonville, Florida
Spida Machinery, a Multinail company, is embarking on an exciting journey as they prepare to unveil their new, larger factory in Jacksonville, Florida. Situated on a vast expanse of 7.46 acres in the sunny state, the factory spans an impressive 3,000m2. It's not just an expansion; it's a transformation tailored to meet the requirements of U.S. customers.
The factory is currently undergoing refurbishment to ensure it aligns perfectly with the market's needs. This process has been long in the making, with plans undergoing rigorous evaluation in council discussions. As the refurbishment progresses, we can anticipate its completion by December 2023. This milestone promises to significantly enhance Spida's operational capabilities, setting the stage for growth and innovation in their new Florida home.

Artist's impression of Spida Machinery, Jacksonville, Florida.
New Larger Premises for Spida Machinery in Tauranga, New Zealand
In Tauranga, New Zealand, Spida Machinery is embracing a new era with its expansive new factory. This relocation, merely a street away from their original Tauriko premises, signifies a significant shift in their operations. The old premises, measuring 58m x 30m for the workshop and a single-story office, had been the foundation of the company's operations.
However, the move to the new premises offers a world of possibilities. The workshop spans 125m x 30m, signifying a remarkable upgrade. The addition of a two-story office space, measuring 10m x 30m, elevates the new premises to another level of functionality and adaptability.
This transition was no small feat, with the relocation to the new premises completed in May and June this year. This move is not just a change of location; it represents a significant step forward in the company's journey, opening doors to enhanced capabilities, innovation, and productivity.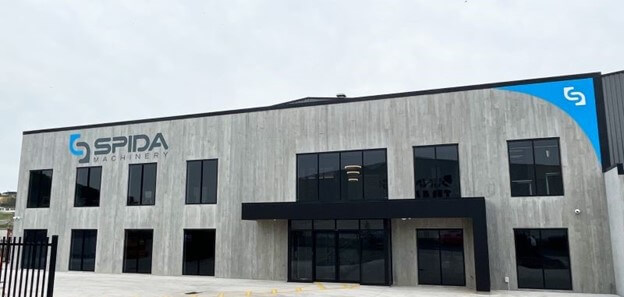 Spida's new purpose built premises, Tauranga, New Zealand.
The future is exciting…
Multinail is positioned to meet the ever-growing demand for structural building products and machinery. As they take the lead in the era of hands-free operations and automation, their vision for the future is clear: to be at the forefront of transformation for their fabricators and the industry.