The new emerging building sector market opportunity for wood products in Australia in mid-rise timber construction of apartments, hotels and office buildings up to around eight storeys in height continues to grow in interest.
These mid-rise buildings can be constructed using: traditional timber frames systems, mass timber panel systems such as CLT or LVL, post and beam timber systems; or a mix of all three.
For apartment type buildings up to six storeys in height, lightweight timber framed systems are one of the most cost-effective approaches; and accordingly, this provides some new significant potential opportunities for the frame and truss sector and for enterprising F&T manufacturers interested in moving in to this market segment.
To assist in this regard, a Mid-rise F&T Market Implementation Group, or the Mid-rise MIG as it's known, has been underway for just on eighteen months.  The objective of the MIG has been to bring together the major nailplate manufacturers, key F&T manufacturers and supply chain product providers, to collaboratively investigate and develop, a range of prefabricated lightweight timber-framed construction system solutions for mid-rise timber buildings, for delivery by the Australian F&T sector and supply chain.  The ultimate aim is to build a national 'supply capacity' in the F&T sector for this new mid-rise market opportunity.
The MIG comprises representatives from the 6 funding organisations (FTMA, EWPAA, ATIF, MiTek, Pryda and Multinail) and representatives from seventeen F&T manufacturers nationally. A number of these manufacturers area already delivering three and four storey timber framed systems for mid-rise apartments throughout Australia.
The MIG provides an open forum for collective and collaborative discussion around the opportunities and challenges of the new mid-rise market opportunity.  The focus has been on identifying and addressing the key technical and market issues and providing a formal and positive framework for help and assistance to achieving a successful outcome.  The process is an agreed one of COLLABORATION and COOPERATION – NOT COMPETITION. The competition in this new market sector, in reality, is concrete and steel not other timber products or suppliers.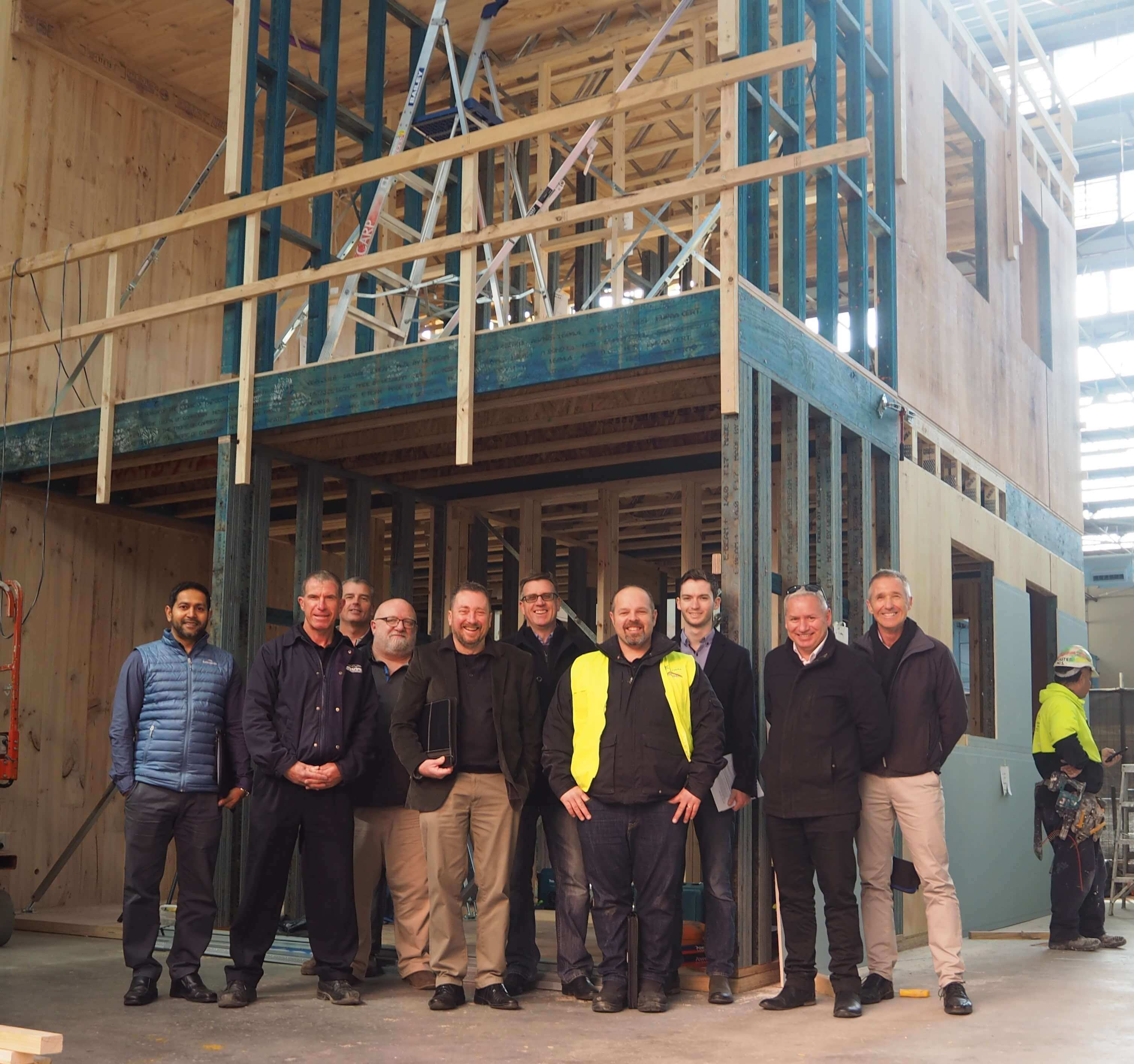 MIG technical representatives inspecting the installation of F&T products donated to the WoodSolutions full-scale mid-rise timber building demonstration model at Holmesglen Institute.
L-R: Satya Shah (Multinail), Steve Harvey (Timbertruss), Andrew Nunan (DWTT), Adrian Smith (Dahlsens), Phil Ladson, Jamie Dahlsen (Dahlsens), Brendan Schneider (Sunbury W,T&F), Harrison Brooke (EWPAA), Jim McAdam (Timbertruss), Alastair Woodard (WPV)
The first program period has had a technical focus, building knowledge and understanding of the systems and their requirements.  Discussions have achieved a collective agreement on the potential major off-site prefabricated timber-framed element/system opportunities for the F&T sector, which includes:
cassette floor systems (felt to be the biggest potential opportunity),
wall systems (open, partially enclosed, to fully enclosed),
roof systems, and
lift/stair shaft systems; along with other potential value-add opportunities that F&T manufacturers can offer to improve the speed of construction on-site for the builder.
A wide range of technical issues and questions have been investigated, discussed and either answered or referred on to other responsible parties for consideration.
The MIG has also confirmed and trialled the process for addressing enquiries from the market (builders, architects, engineers, etc) for specific project mid-rise timber framed solutions, and a simplified Mid-rise F&T Manufacturer Quoting Tool has been developed to assist the MIG members to generate preliminary wall framing quotes for mid-rise buildings without having to spend an inordinate amount of time on a detailed engineering design.
With the success of the mid-rise MIG program over the last eighteen months, it has now been agreed by all parties to extend the program for a further 12 months.  The focus in this extended program will also include developing a broader F&T manufacturer supply capacity and building the awareness with F&T manufacturer clients. 
The aim will be to identify more F&T manufacturer members nationally currently servicing clients (builders and developers) constructing 3-storey timber apartments and encouraging and assisting them to utilise timber framed systems in their 4+ storey projects.  The three nailplate manufacturing companies all now have a solid technical understanding of the different mid-rise timber system approaches and are available to provide technical support for new mid-rise timber projects.
Work will also be undertaken through the MIG with the nailplate manufacturing companies marketing and promotional staff to investigate and discuss the most appropriate and effective communications activities to assist in lifting the awareness of this new mid-rise sector opportunity.
A very valuable new resource to assist in these awareness activities is the new WoodSolutions full-scale mid-rise demonstration model that has been constructed at Holmesglen Institute in Chadstone. This three-storey model demonstrates the different types of timber construction that might be used in a seven-storey apartment building.  A wide range of F&T manufactured products were donated for display in the model; the photo below shows a number of the MIG technical representatives inspecting the installation of these products during the model's construction.
The program and its activities will also be presented on at the 2019 FTMA Conference.
There is still some work to be done to assist the F&T sector in reaching its full operational capacity and to make F&T manufacturer clients aware of these new mid-rise timber systems, but the collaborative enthusiasm by all participants continues to grow. 
If you would like to know more about the F&T Mid-Rise MIG, or would like to become involved in its activities, please contact Kersten to discuss this exciting initiative further.