I have participated in many different team building initiatives in the past – golf days, myriad dinners, social BBQ's, go-karts etc.  They can all go part of the way to building a team culture. Recently, I have also participated in a few video webinars about Mental Health in the workplace, including FTMA organised events. The statistics are sobering. I am certainly no mental health expert and have had my own share of challenges over the years in this area, but life is like that and only the naive would expect everything to be "good" all the time.  None of us are untouched by mental health challenges.
At Hundegger in Australia and New Zealand, we have been fortunate, in that we have remained largely unaffected businesswise by the present additional myriad challenges presented to us all with COVID-19. We have continued to be very busy with sales of new machines and installations as well. In fact, we are likely to have a record year in relation to machine sales and installations.  Service work has been quieter, and not necessarily because we could not cross borders.  By and large we have been able to – visiting Tasmania, South Australia, NSW and ACT at various stages. Now however, with Victoria seen as the "pariah of COVID-19" our customers often would prefer not to have visitors from anywhere, let alone Victoria on site.
So, rather than down-size, reduce hours, ask people to take leave etc, we have flipped the situation on its head and used the time to reskill, reenergise and reengage with our people. This has taken several forms, and significantly with some in-depth training remotely with our partners in Germany. Some 30 senior colleagues from our various technical services are delivering 24 training courses to us over a 10-week period. This extended and remote training has been with NZ and AUS staff. To facilitate this, we have rearranged our working hours to fit in with German time frames, yet still rostered local staff to deliver Remote and Site Support.  Another initiative has been to run some skills/trades workshops internally with relevant experts to hone some mechanical and practical tactile skills.
We are also commissioning a demonstration Hundegger TURBO-Drive in our showroom, which will be used predominantly for customer training and demonstrations.  We will also produce a range of technical tips and pointers in PDF and video format on how to perform regular maintenance and other operational procedures. These simple tasks are being allocated to staff members as mini-projects to keep them engaged and agile throughout this period.
We took the opportunity to increase our presence in NZ by employing a second Service Technician there, and since March, have employed two new Service Technicians in Australia. One of these will soon move to be permanently based in NSW. This growth also demonstrates to our existing staff (as well as customers) our commitment to staying the course and increasing our Product Support capability.  There is no fear of redundancy or downsizing, so our people are confident and happy during challenging times.  This was reinforced through staff reviews with all employees at the same time to discuss mutual goals for the coming period.
Another simple thing to keep everyone engaged was the idea to a have a Pie Lunch Day.  The recent national meat pie competition 2020 was won by a local baker in Victoria, so we embraced the opportunity to support the bakery and enjoy a simple outdoor lunch together.  We have also held outdoor toolbox talks with breakfasts from time to time.
We have some staff who live in apartments or with very little outdoor space, but others are fortunate to have a garden, or be close to parks etc. With the limited time available to exercise, we have just introduced a simple incentive plan where we will all use the same exercise logging App and as long as a staff member exercises every day and achieves at least 5 hours in a 7 day period, the company shouts them a Friday lunch. Maybe not always a pie – that may defeat the exercise..!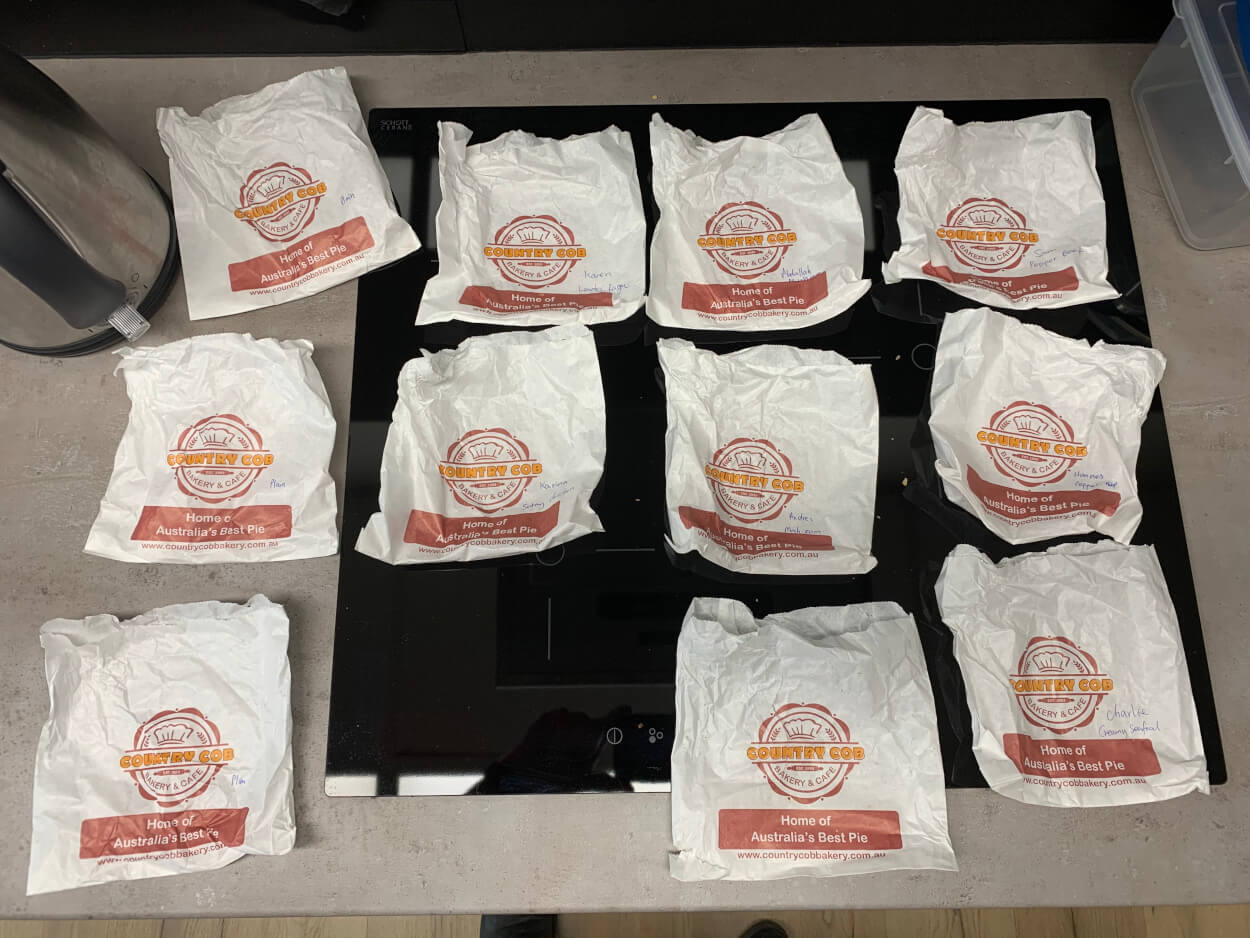 Country Cob Bakery won the awards for Best Pie, Best Plain Mince Pie, Best Beef Flavoured Pie, Best Vegetarian Pie, Best Gourmet Pie.
I have certainly noticed an uplift in camaraderie and a boosted collegial approach to tasks since we have introduced the training, skills, and mini projects.  None of these things on their own are critical, and it does not have to be a fundamental change, but it can be the sum of several smaller initiatives that contribute to a sense of stability, peace, and security.
The outcome?
Happy staff who are more resilient to the external challenges we face at present.
Jay discusses mounting an end mill in the 7.5kw vertical spindle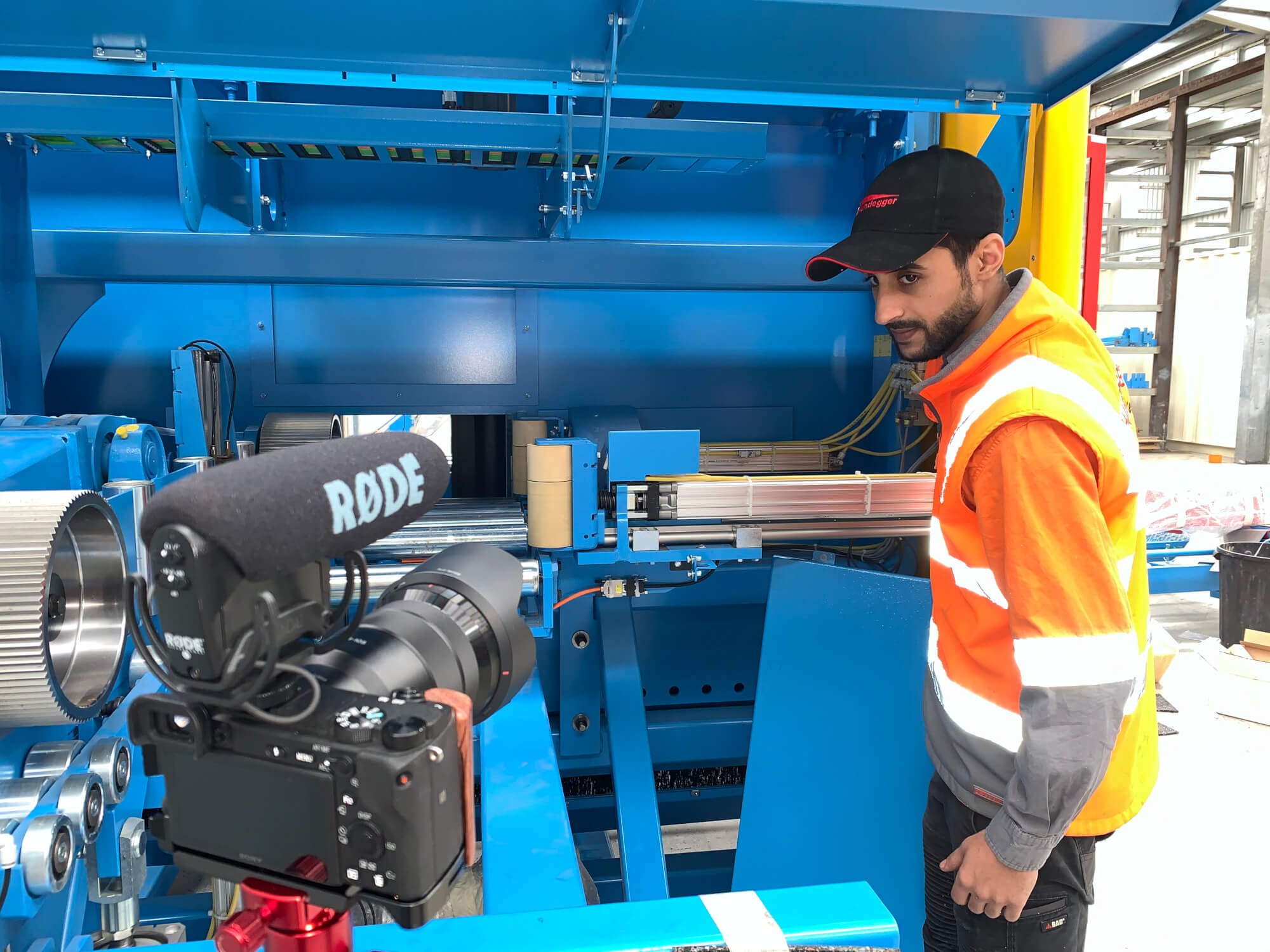 Abdullah explains how the pneumatics valves can be locked for brake adjustment