Last month FTMA News included a story on Mental Health with members following up with concerns regarding employees ability to cope with the added stress of COVID-19.  This prompted FTMA to explore options for training and we were pleased to be able to collaborate with the whole industry to deliver this project.
Congratulations to ForestWorks and Wendy French for a fantastic introduction to Mental Health in the Workplace Training in the first Webinar for this important issue.
What I like most about this program, is that a wide range of industry bodies including many national and state industry Associations and the CFMMEU came together to tackle, what I believe, is one of the key issues in the workplace.
Throughout my career in the industry, I have seen many people move from job to job, even sector to sector, however, they are still part of the Forest & Wood Products industry. At the FTMA NZ Conference in 2018 they addressed this important subject with Sir John Kirwan presenting on his own struggles as the data shows the construction sector, both in Australia and NZ are at most risk when it comes to suicide.
Thanks to this training, we can all promote the same Generic Mental Health & Wellbeing Policy Template where each business can adapt to suit their specific business.  This is an industry wide approach, which I hope will ensure those moving between or sectors within our industry will have the same support for mental health in the workplace no matter where they work.
For those that didn't have the opportunity to join the first Webinar held on Monday 10th August you can view the webinar via the button below.
The password to access the Webinar is: 7&0mr%Z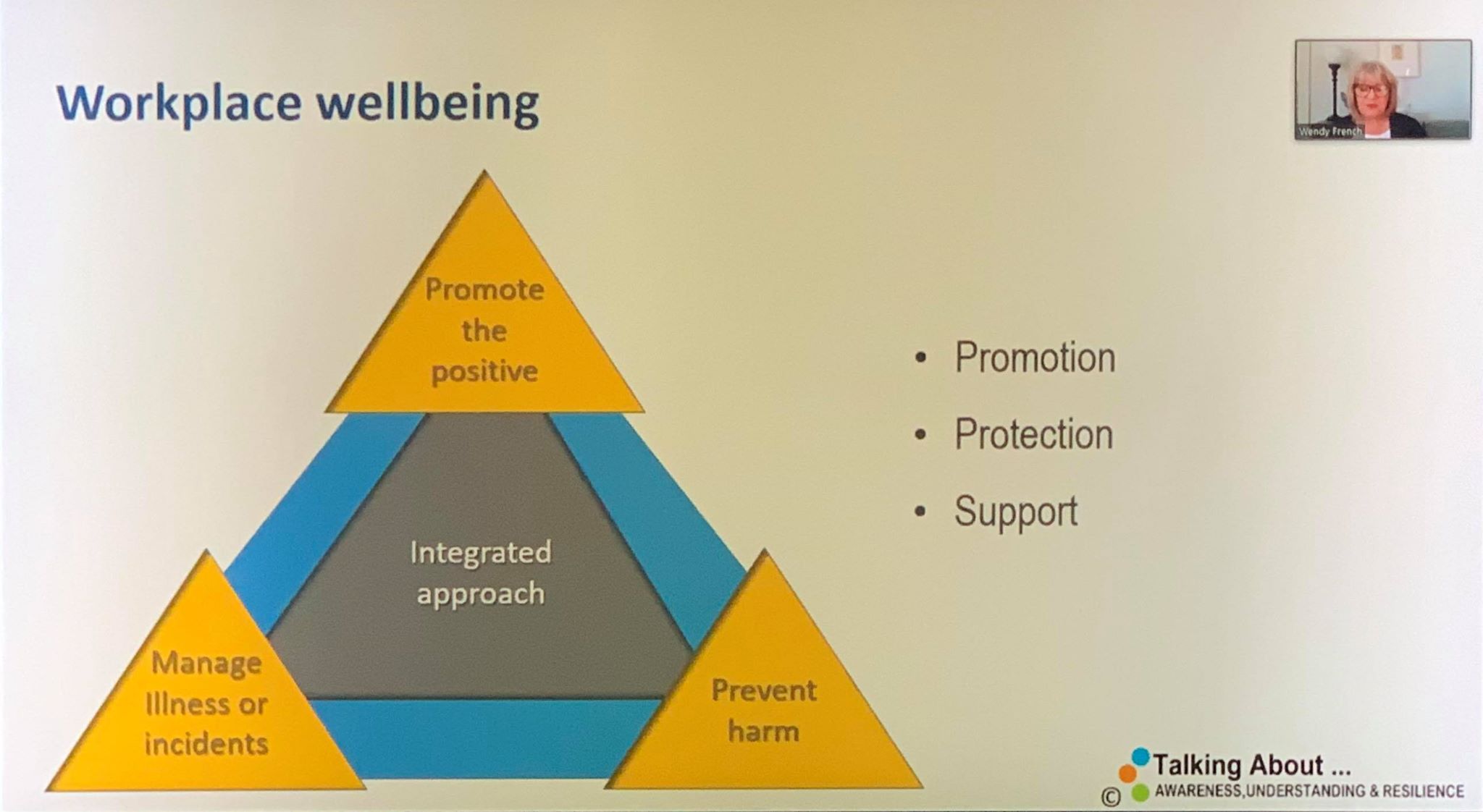 So what now?
FTMA Members and all within the industry can now work on adapting the Generic Mental Health & Wellbeing Policy Template to suit their business.
Then on Wednesday 2nd September @ 2pm we have the next Mental Health in the Workplace Training Webinar and in this session the will explore ways you can introduce your policy in to the workplace through an integrated approach.
Wendy, who is a timber chick herself, will explain to participants the best way to make the policy effective in the workplace.
We encourage all fabricators to share the first webinar and the policy template with the right people within their business so they can begin work on the policy and register for the next Webinar.
In this webinar, Wendy shared some great resources including a 'Wellbeing Test' that she recommends you download and have your team do a self assessment. You can access this and other resources on Wendy's website – Talking About…
Details of the next session including how to register
Taking action to implement a workplace mental health policy –who and how
When:  Wednesday 2/9/2020, 2:00 PM (AEST)
(45min-1hr)
Cost: FREE
Organisations can often struggle to find direction on mental health since the factors involved are so diverse, however, those businesses that care about the health and wellbeing of their staff attract and keep top talent and are better placed to weather tough times.  Every business and every organisation is different so your approach to implementing a mental health policy needs to be tailored to your workplace and this webinar will explore some simple strategies to help you embed a culture of positive mental health.
Congratulations to Wendy French and the ForestWorks Team for bringing together the whole forest and wood products industry to address Mental Health in the Workplace.