Why Roadpod?
Reduced truck loading time resulting in an increased number of loads per day
Reduced operational costs
Reduced plant & equipment costs
Keeps employees safe by eliminating the risk of falls from heights while loading and unloading trucks
Greater efficiency in loading and reduced truck turnaround times resulting in improved customer service
Eliminate Risk!
The innovative design of Roadpod is the safe alternative to loading trucks at heights and allows companies to save millions in man hours and truck downtime while also ensuring the safety of its employees.
The patented Roadpod system is the product of years of research and development working with the biggest names in the transport industry.
In every part of the development process the aim has been to create lightweight, rugged and incredibly durable pods that replace or integrate with existing trucks and trailers to make the loading and unloading of trucks safe for staff and efficient for business. By loading the pod at ground level, it eliminates the need to work at heights while loading and unloading trucks.
Keep Your Trucks Moving!
Reduced loading turnarounds are one of the biggest benefits of the Roadpod system.  With the pod being loaded prior to the truck's arrival, loading and truck downtime no longer takes hours.  The preloaded pod is simply dropped and secured onto the truck in as little as 3 minutes. With shorter turnaround time, your trucks are back on the road faster and more often.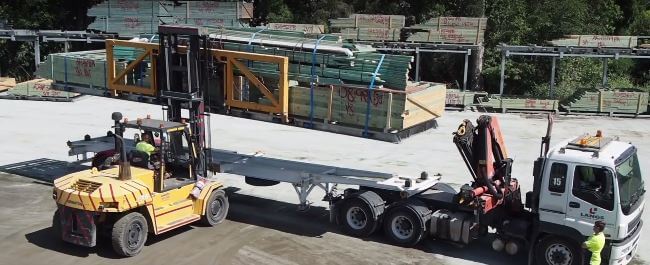 What Are Our Customers Saying About Roadpod?
The Roadpod system has already been implemented in numerous workplaces around Australia and is proving to be the way of the future in transport.  Don't just take our word for it, here is a snippet of what our customers are saying…
"The unique Roadpod system allows staff to more safely load and unload material without the risk of falls from heights.  It has significantly increased productivity and reduced overall transportation costs throughout all areas of the company. Our initial investment has been recovered within a surprisingly short time frame."
"Since the introduction of the Roadpod system, we have had zero incidents regarding the loading of trucks at heights as we are now able to load at ground level, something we've never been able to do before."
Contact our team on 1300 191 960 today to arrange your free transport and logistics review.
For more information on Roadpod, visit our website www.roadpod.com.au or watch this video to see Roadpod in action!