This piece was written and provided by FTMA Supporting Partner, Hyne Timber.
Hyne Timber announces that they are bringing back their proprietary grade LGL to Queensland and New South Wales markets.
Having had restricted availability in recent years, Hyne Timber has made the move to transition their LGL production to their state-of-the-art automated Glue Laminated Timber (GLT) facility, located in Maryborough Queensland.
"With our new GLT factory now running like a well-oiled machine, we can produce large quantities of the classic Hyne LGL," says Stefan Gerber, Engineering and Sales Manager GLT at Hyne Timber.
"This Hyne proprietary GLT product has been widely accepted in the market for over a decade, but output volumes have been constrained due to manufacturing capacity limitations. These limitations are now lifted, so we can start supplying the broader market again, starting in Queensland and New South Wales."
Hyne Timber's GLT facility features a fully automatic rotary press with four separate press beds. The press can produce approximately four layers, each comprising multiple beam layups, every hour.
By leveraging advanced automation technology, Hyne is poised for a 30% increase in their LGL production capability, which is welcomed news for the building industry.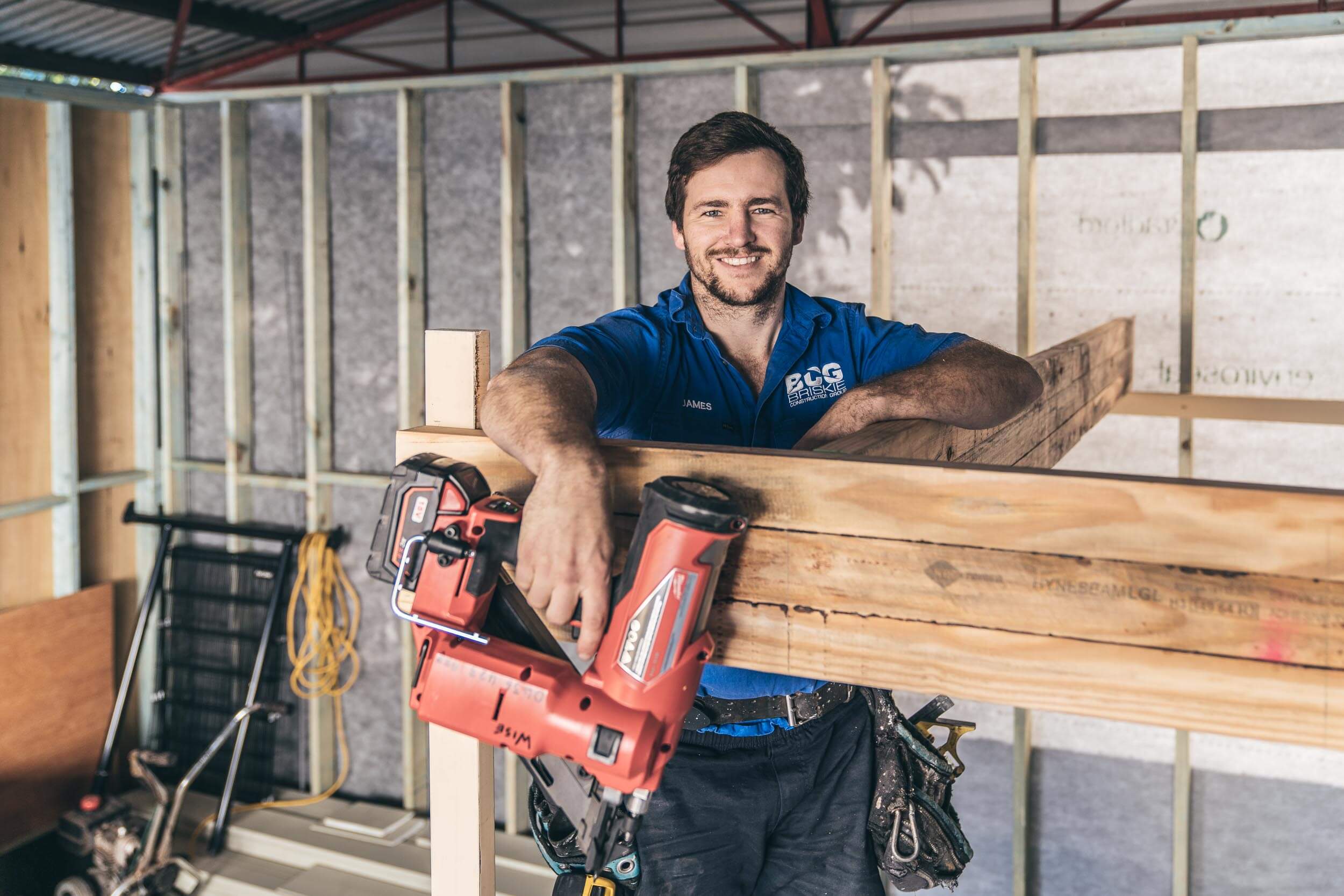 Above: Builder, James Briskie of Briskie Construction Group, installing LGL in his shed.
"I'm stoked to be able to get my hands on more LGL," says Brisbane-based builder, James Briskie, of Briskie Construction Group.
"As a builder, having access to quality Australian made products has only become more important in recent years with imported products being so unreliable. The Aussie manufacturers make products that suit our harsh conditions. LGL has always performed well on my jobs. Not only that, but I also know I'm supporting local jobs."
LGL is versatile and durable, making it well-suited for a wide range of construction applications; particularly those that require long spans and a high load-bearing capacity. Its resistance to corrosion, nail-holding strength, and workability on site make it a solid wood alternative to LVL and steel that offers greater flexibility in the construction process.
"LGL has some great properties that make it ideal to work with – it's straightness, strength-to-weight ratio, and versatility for starters. It is also H3 treated so is durable enough for outdoor applications."
"Sometimes it's the little things that make the world of difference. Like something as simple as being able to drive a nail into it – you don't always get that with other products," explains Briskie.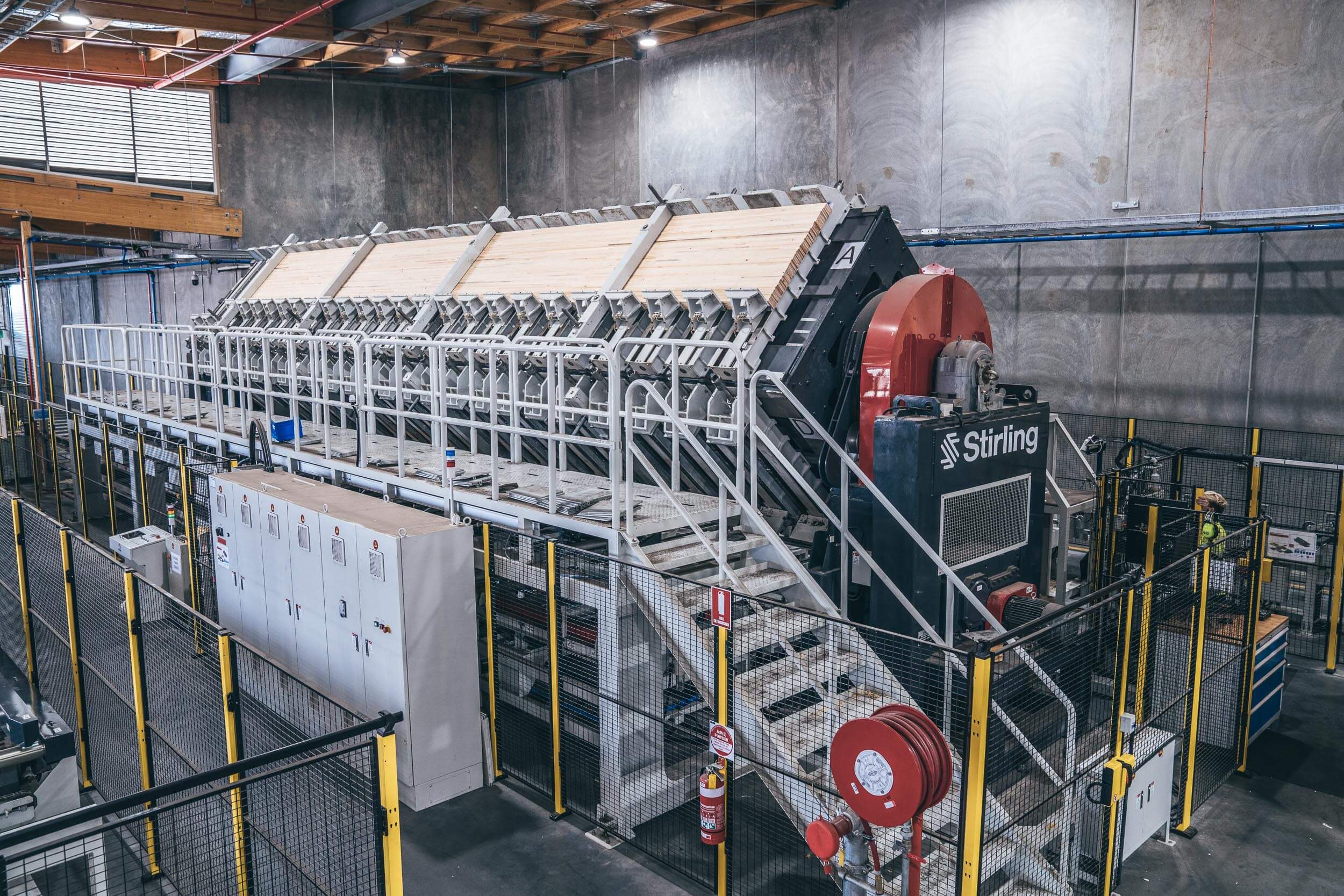 Above: Hyne's fully automatic rotary press can produce approximately four layers, each comprising multiple beam layups, every hour.
Hyne's LGL is produced from premium quality, sustainably grown Australian plantation pine, making it good for the planet. It is treated to Hazard Level 3 (H3) as standard, making it suitable for harsh conditions, and comes with a 25-year guarantee against structural damage caused by termites, insect borers, or fungal decay.
"I've used Hyne Timber's Glue Laminated Timber for years now; in new builds, renos and even my own place. It's lightweight, perfect for long spans and is environmentally friendly…. which is important to me and my clients."
In fact, because each laminate is treated to the core, LGL is ideal for internal and external (above ground) applications in humid or wet areas, as well as exposed coastal and corrosive settings. Think, lintels, bearers, joists, sub-floors, rafters, and roof beams.
As one of Australian's largest producers of GLT products, Hyne goes above and beyond to ensure they are producing only the best quality products. They submit their GLT to comprehensive in-house and third-party tests to ensure consistency in performance and compliance. They have even gone as far as obtaining 'S' Mark certification for their LGL product, the leading assurance of GLT product performance and safety in Australasia.
"I have peace of mind when using Hyne's GLT products, because I know they have been third-party certified and that my clients are covered against structural termite attacks with their 25-year guarantee."
With a large volume of construction projects still in the pipeline, Hyne Timber is committed to adapting to meeting the demands of their customers through innovation and increased efficiencies, while maintaining their high standards.
To learn more about Hyne Timber's LGL and their extensive range of GLT products, visit www.hyne.com.au.