Whenever someone new comes into our sector, I always get reminded how political our sector can be when asked, 'what is it about the colours in your sector'. Blue, Green & Red are key colours within our sector as they represent the three nail plate companies, MiTek, Multinail & Pryda.
From my first interview, it was clear that these three companies were pivotal to our sector. Let's face it, without them, we are simply carpenters. They are our industries connectors; they are the businesses that partner with every timber fabricator in the country, providing them with the software, the nail plates and the business support.
I'm nearing the end of my 13th year in the job I love and I have had many meetings with the trainers, engineers or marketing people from the nail plate companies, but not once has there been a meeting which brings together the three CEO's.
Robert Stubbs (MiTek), Adam Lefkon (Multinail) and Sean McKiernan (Pryda) joined me at the Pullman on the Park in Melbourne along with Nikita taking minutes and our legal representative sitting in to ensure this historic meeting met our legal requirements.
FTMA Australia is going through a review of our Strategic Plan and creating a three year plan. Even though I believe I have a pretty good understanding of the key issues in our industry, we felt it was important to bring along the three CEO's to maximise the collaboration and help our fabricators become better businesses.
By making fabricators better businesses, we are ensuring they are better customers for our as well as better suppliers to the construction industry, which in turn will help grow our markets.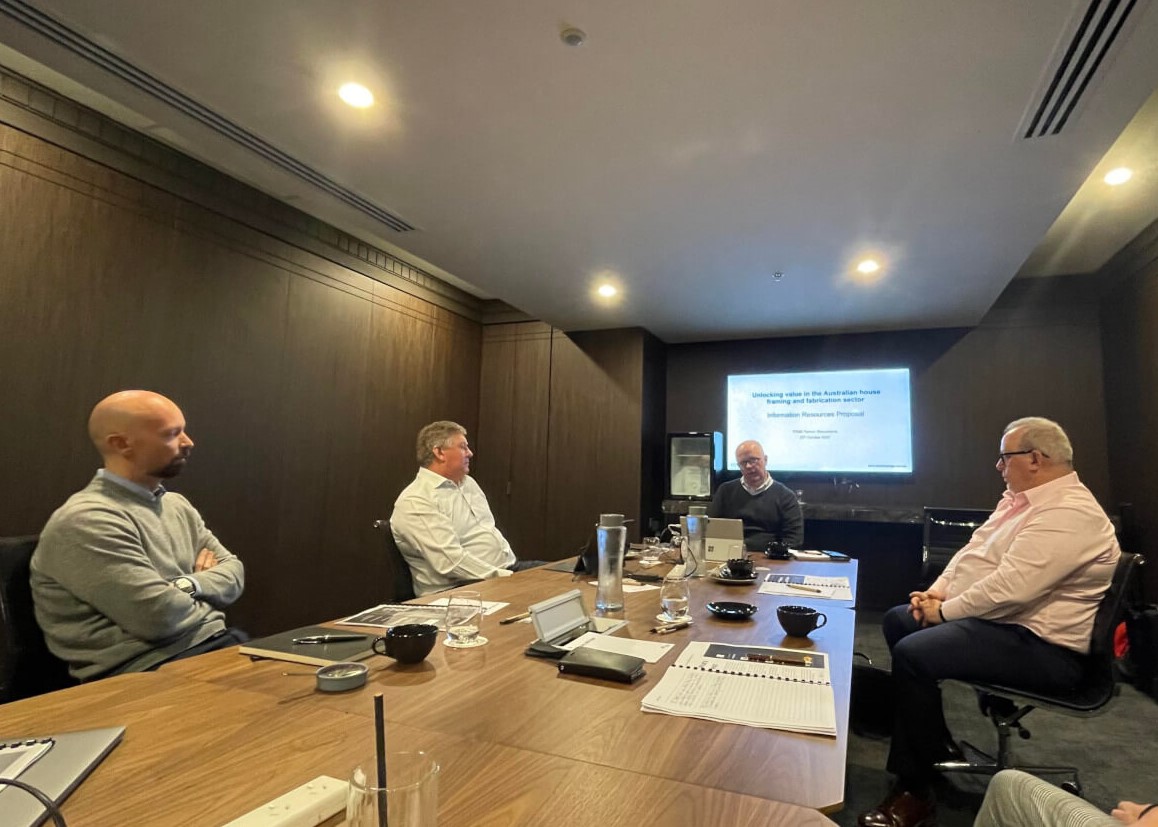 The key issues discussed included:
Training, or lack of training and the ability to attract and retain new employees
Steels growth within the market and how to combat this through a better understanding of the environmental benefits of timber.
Helping fabricators keep on top of their legal obligations as employers and the need for further HR support.
Streamlining the testing requirements for timber to be included in software for fabricators.
Expanding our markets with technical support for those wanting to go in to Mid-Rise, Cassettes and other possible products.
Data collection – what data is needed to help grow our industry.
Benchmarking across the sector rather than being split in to 'colours'.
Analysis of average wages being paid across the sector.
This was also a good opportunity to address what we actually call our Principal Partners. Are they really nail plate companies, or are they machinery companies or software companies?
When we look at the words they have in common on their website, we have words such as: Structural, Systems, Software, Engineering, Connectors, Solutions, Support, Building, Prefabricated, Technical Services.
Words  do matter, as they determine how those outside the industry, including Government perceive us, so we will be doing some more work around how these three key businesses are referred to in the future.
This was a great first step and I sincerely thank Robert, Adam & Sean for coming together to help grow our industry through collaboration. There was unanimous support to continue these meetings as we work together to support our fabricators.
The only downside to the meeting was my inability to get a group photo at the end, however, I'm extremely pleased we will have many more opportunities to get that photo in the future.