Sixty members and sponsors joined the FTMA Board at the Novotel Geelong for the Geelong Networking Dinner and it was a fabulous night of fun, great food and informative presentations.
These events are designed for our Board, Sponsors and Members to network whilst discussing important issues affecting the industry.  I always believe more is learnt through networking at the tables and bar than in any other forum and this was no exception.
All four local Geelong plants, Bartruss, Calco Trusses & Timber, MB Prefab Framing and Timbertruss were all in attendance and it was great seeing George Prothero of Alpine Truss travel across from Wangaratta to enjoy the networking and serve a Shandy or two!
What stood out for me most with the Geelong dinner was the strong presence of women working in the industry.  Having worked across most of the supply chain throughout my time with the timber industry the involvement of women has changed dramatically over the years.  I've gone to being one woman in a room to a handful of women, to now, where the whole supply chain is seeing increasing numbers of women being involved.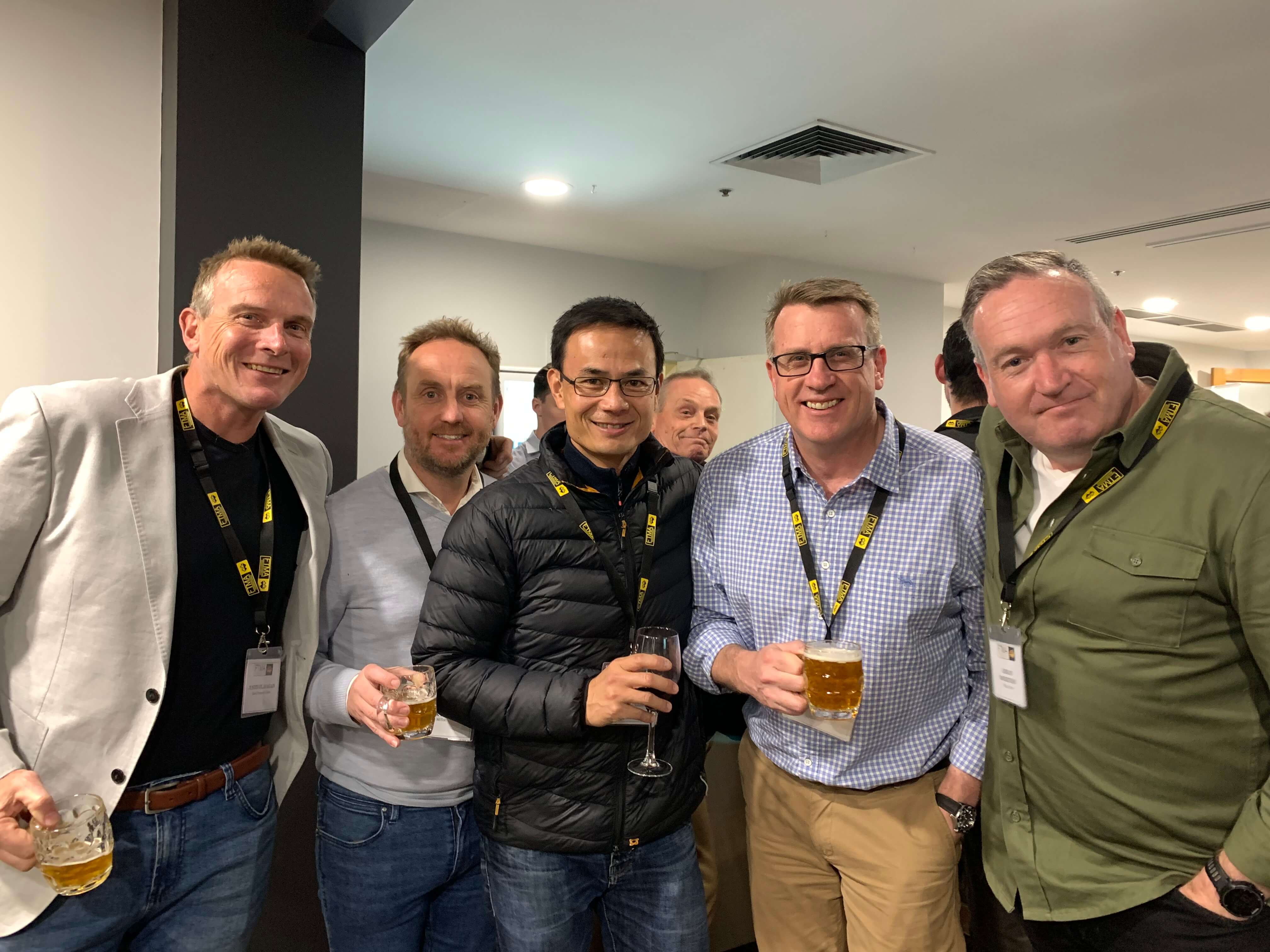 L-R: Justin Flanagan (Calco Trusses & Timber), Mark Smiles (MiTek), Andrew Nguyen (Timber Truss Solutions), Jamie Dahlsen (Dahlsens Building Centres), Adrian Robertson (Tilling Timber) & a special background appearance by Steve Collier (Timbertruss)
In Geelong though I was particularly impressed by three inspirational women, being Penny O'Leary (Timbertruss Geelong), Anita Trengrove (Bartruss) and Christine Flanagan (Calco Trusses & Timber).  These women are strong leaders within their businesses and I would go as far as saying the businesses where they work depend on their contribution in a major way and it was great seeing them have the chance to all meet face to face.
The theme of strong women continued with our two presenters; Raquel Martins, Project Manager, Australian Centre for Career Education and Marita Indugula-Pierce, MKDS Chair presenting on their Timber Framing Awareness Campaign.
Raquel presented on the Victorian Government's Industry Immersion Experience Program is Funded by the Department of Education and Training and offered at NO COST to schools and open to students in Years 7 – 10 in eligible Victorian government schools.
The program provides students with hands on, real world experience of industry, the skills and qualifications required, pathways into industry and subject matching to create relevant and practical links between school, the labour market and the world of work
Raquel and her team are working with AKD Softwoods to take students in to their Colac facility as part of the program and it is our hope that the Geelong plants will also be involved in the program moving forward.
Marita gave an overview of the work MKDS has done over the past few months outlining the benefits of timber over other building materials and how, as an industry, we can provide a louder voice.  The Ultimate Renewable has been widely accepted by the industry and if businesses within the supply chain haven't yet signed up to use this marketing material, I encourage you to visit FWPA.

I never get sick of seeing the billboards on the Eastern Freeway or in key locations throughout the country telling the simple message the Houses Grow on Trees.  To view the 30 second TV advertisement please visit the FWPA website.
L-R: Anita Trengrove (Bartruss), Penny O'Leary (Timbertruss) & Christine Flanagan (Calco Trusses & Timber)
Christine Briggs (AKD Softwoods) & Jacinta Colley (VIDA Wood)
Jeff Stratford (Pryda), Paul Harazim (Roadpod) & Brett Martin (IHG)