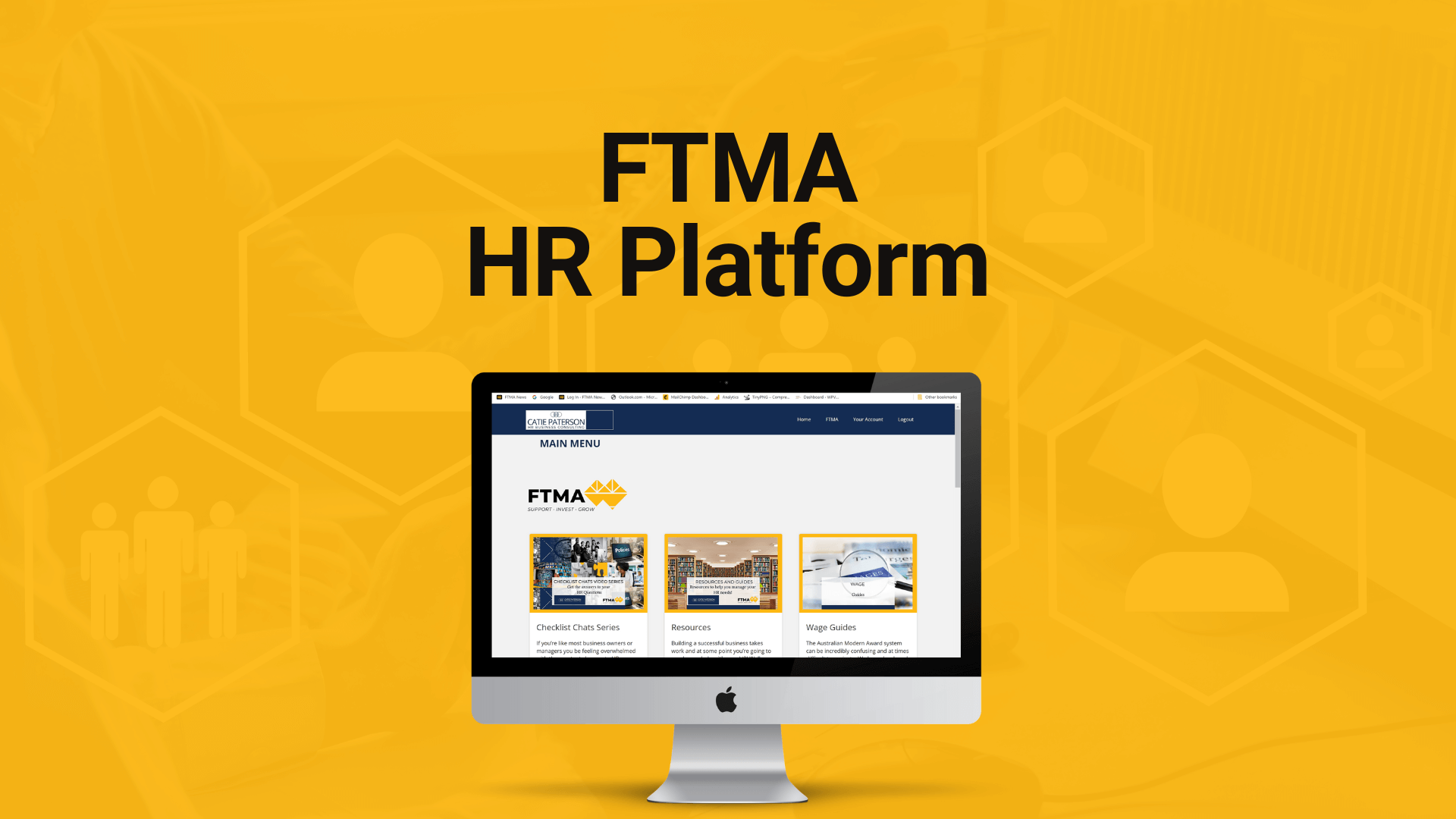 As part of our three-year plan, FTMA has invested in to a new FTMA HR Platform for members, which was launched on the 13 February.
We recognise we are not an industrial relations organisation, however, we have worked hard with Catie Paterson HR Consultancy to create a wide range of resources and contacts, that will ensure the FTMA HR Platform is a one stop shop for your HR needs.
Furthermore we are building a HR Services Directory to help members with everything from EBAs, to redundancies, safety audits, Employee Wellbeing Programs, Immigration lawyers and general lawyers, to name but a few. This network will continue to grow, so if there is any area members specifically need a contact for, let me know and we will chase it up.
The platform is 100% free for members and includes resources such as:
Checklists for everything you need to know when it comes to employing people. There are checklists, with corresponding videos to explain each topic in detail covering the following areas:
Team & Communications
Remuneration & Incentives
Recruitment & Selection
Policies & Procedures
Performance, Training & Development
Induction & Onboarding
Ending Employment & Exiting Employees
WHS
On top of these brilliant checklist, which can be downloaded or used as an online document, we have a wide range of other resources including:
Unions in the Workplace
Income Tax & Superannuation
National Employment Standards
Enterprise Agreements
Awards Across Australia
Employee vs Contractor
Equal Employment Opportunity
Paid Parental Leave
Workplace Surveillance
Long Service Leave
Mental Health & Wellbeing Policy
Domestic & Family Violence Policy
Employment Contracts
Working in the Heat & Cold Policy
Drugs & Alcohol in the Workplace Policy
Wage Guides for relevant Awards
Everything you need to comply with NHVR
Credit Application Form
These are but a few of the resources currently available, and you can be assured, we will be continually growing the resource library and HR Directory.
The FTMA HR Platform will also include an Ask Catie section, where you can type in your enquiry and we will come back to you with the relevant information.
We wanted our members to know we have them covered with their HR needs and we believe our one-stop FTMA HR Platform will not only help, but save our members considerable money.
If an individual company was to go and create these important resources, including policies, it would cost in excess of $12k, but FTMA has forked out the funds to provide these resources to our members 100% FREE.
We look forward to continuing the great work with Catie Paterson, which will include some targeted Webinars in the coming months.
If you need further information on how to logon to access these amazing resources, please give Kersten a bell on 0418 226 242.