Meet 2nd Generation Multinail Team Member, Jamie-Lee Davey
Production Supervisor – Stamping Plant
So, you're the second-generation Davey at Multinail?
I started with Multinail back in 2005 and my mum started in 1996. So, there's been a Davey on the production floor for over 20 years. In a way Multinail has become like a second home.
What do you like about your role?
I don't really enjoy working in an office – I like being hands on and the physicality of this job suits me. I've grown into my role as production supervisor for the Stamping division over the last 10 years. I enjoy the variety it brings. I like being a bit different and I appreciate that I've been given the freedom to bring my own personality to the role. I'm very well supported by a great team and enjoy interacting with members of other divisions in Multinail.
What does a typical day look like?
Some of my duties include ensuring production requirements are met in a safe manner, running a press line, jumping on a forklift, first aid, fire warden duties and everything in-between.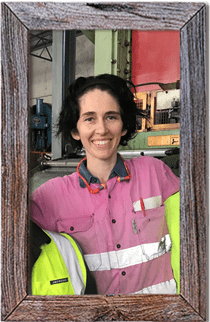 If you weren't a Production Supervisor, what would you be?
I'd love to be a tattoo artist, but a complete lack of artistic ability has put that dream out of reach …unless stick figures become trendy. I've recently started learning to weld and I've found that I really enjoy it, so perhaps that would have been a path I may have pursued.
When you can tear yourself away from Multinail, what do you get up to?
In terms of interests outside of work, I like being outdoors, keeping fit, and love animals! I get away to see my family as much as possible. I love jumping in the ute for a scenic drive with the music turned up, seeing my favourite bands play live and I'm a bit of a bookworm.
Above (L-R): Sangeeta, Jamie, and Elenita from Multinail's Stamping division