Working in the male dominated Australian forest and wood products industry for the past 20+ years for me has been brilliant.  It's an amazing industry with fantastic characters.  As a woman in this industry I have had the fortune to work with many amazingly strong women who I have admired as they have shown that gender is no issue when it comes to professionalism and hard work.
Christine Briggs is one of the women I have truly admired over the past few decades as someone who just gets on with the job no matter how big or small.  I have always said my biggest beef with our industry is that we don't celebrate our own, that we don't give due recognition to those that have achieved so much for our industry.  This is my opportunity to celebrate Christine Briggs by sharing her story in the industry and I only hope that she remains in the industry she loves so dearly.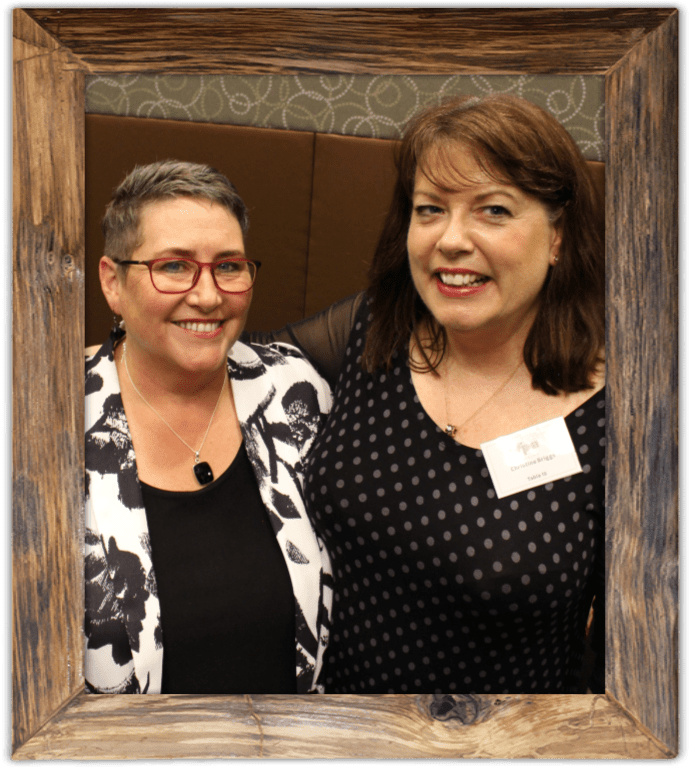 Christine has held Sales and Marketing general management roles with major Australian timber manufacturing businesses such as CSR, Weyerhaeuser/ Pine Solutions, Gunns and until recently Timberlink Australia & New Zealand over her 30-year career to date.
Her career in the timber industry commenced in 1990 when she joined CSR Timber Products after completing a Bachelor of Business degree, Marketing major.  Back then, she recalls thinking she was applying for a Marketing Assistant's role with the sugar company and had no idea, it also had a building products division which included timber!
In that entry-level role, she spent the first 3 years learning the "numbers" part of the industry – it's size, how building activity drove demand, tracking imports and forecasting product and customer segment sizes and movements. Over this period, she applied both the creative and the analytical aspects of marketing strategy and these became some ingredients of success that stay with her today.
The natural progression was then to move into a sales and service role but before doing this, she moved to Tumut to learn more about how the products were made and spent a year based there.  This was a fun time as a 24-year old and she still recalls the guys in the green mill asking her to never do early morning shifts again given her mood at 5:30am!
She learnt much in that time about forestry, the sawmilling process, how product decisions were made and also where value was lost and gained in the sawmill manufacturing process.
Her time at Tumut also made her realise what a wonderful bunch of people worked in the industry and this belief has remained always.  She recalls working and living in a country town as a city girl for the first time really made her realise how significant regional Australia is and how it shapes our personality as a nation.
She then returned to Sydney in 1993 and commenced a customer service role based in Homebush Bay at the CSR Softwood NSW office and warehouse.  At that time, CSR Softwoods also sold Oregon, so she recalls having some baptisms of fire in taking down Oregon orders in imperial measures which were totally foreign to her until that time.  From a phone customer service role, she then ventured onto the road in a sales representative role and remembers being one of the first ever females in this domain. She also recalls being so excited about a company car and a mobile (brick) phone.
Progression continued then for Christine as she took on both state and national sales and customer service roles for CSR Timber Products over the coming 7 years. In 2000, CSR sold its timber business to Weyerhaeuser and Christine moved to the new ownership with a new sales, marketing and distribution business being set up as the market transition vehicle as the mills' ownership changed over this period – Pine Solutions Australia was created, and Christine is proud to say she named and built the branding for that business.
US-ownership was another phase of learning as she took on both Supply Chain National Manager and then Sales & Marketing Manager roles for Pine Solutions. It was as Supply Chain Manager that she first visited NZ sawmills, building relationships and buying from NZ mills.  She also had the opportunity over this 8-year period with Pine Solutions to go on a secondment to Weyerhaeuser USA and this again was another phase of learning and achievement.  There was the opportunity at the end of this secondment to remain working in the USA with Weyerhaeuser Building Materials distribution business, but home was calling.
In 2008, CHH purchased the assets of Weyerhaeuser in Australia and Christine's role as then National Sales & Marketing Manager was redundant in Sydney.  She recalls how sad it was to see the company name disappear back then but CHH did adopt some of the product brands she was responsible for developing such as Ironwood sleepers and Terminator Blue framing.
With a mortgage to pay, she packed up her bags and moved to Melbourne, taking on the new opportunity and challenge of building a combined hardwood and softwood sales, marketing and distribution business for Gunns, who had recently acquired Auspine.  She is proud of her time with Gunns Timber Products but admits it was the first time in her career being aware of a company brand that doesn't have a positive social license to operate.  By 2006, Gunns' exit from hardwood had been announced and plans were progressing for the new pulp mill.
Only two years later, Gunns went into receivership and from this, in 2013 came the acquisition of the remaining Gunns' softwood assets by New Forests.  Timberlink Australia was created and again Christine named and branded the new business. As GM Marketing for Timberlink, she has built its foundations in terms of its brand, company reputation and market strategies for growth.  She is proud of the team that transitioned from Gunns into Timberlink and also grateful for the customers and suppliers that were loyal and supported this change at the time.
She reflects about her career to date, having named and branded two successful businesses which earnt a No. 1 preferred supplier status with its customers.
She likens it to family-owned businesses whose surname is in the company name – "you feel like it's your own business and your commitment to make it a successful business for all employees, customers, suppliers and the owners is very close at heart".
Christine has recently decided to leave Timberlink and explore other opportunities.  As a B2B sales and marketing professional, she will have many opportunities but her first preference is to remain within the broader Australian timber industry, in some capacity further building its product and market growth.  Timber is truly back in fashion and Christine is committed to ensuring it retains its preferred position.  The timber industry both in Australia and globally still has much value to gain from the "art and science" of Marketing and she hopes to play an ongoing role in this, with major challenges such as substitute non-timber building materials and also new opportunities such as commercial and mid-rise markets develop for timber products and systems.  The down-to-earth nature of the industry is part of the attraction along with her professional commitment to contribute to the sustainability of the industry.
Let's hope her work in the timber industry is not done yet!