WORKPLACE
COVID-19 in the Workplace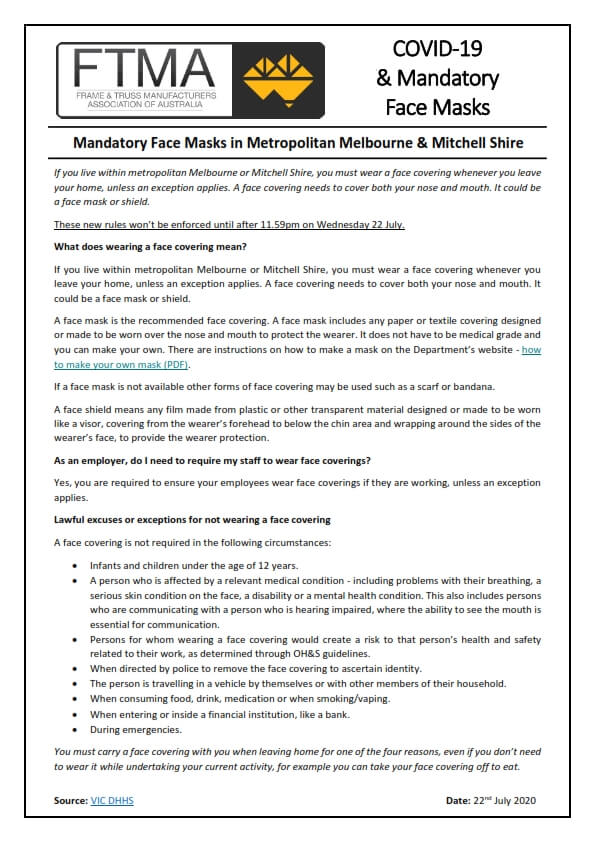 COVID-19 & Face Masks
This fact sheet outlines what the Victorian Government's new rule of wearing face masks means for your business, including the new requirement of a fitted face mask.
COVID-19 in the Workplace
This fact sheet looks at what would lappen if there was a confimed case of COVID-19 in your plant.
Your Duties Under WHS Laws
This fact sheet explains your duties under Work Health and Safety Laws, particularly in regards to COVID-19. 
National COVID-19 Safe Workplace Principles
This fact sheet outlines the principles created by the National Cabinet to ensure a safe workplace.
What to do if an Employee Has COVID-19
This Safe Work Australia infographic covers what needs to be done, if you reasonably suspect someone could have the virus, or has been exposed to the virus.
COVID-19 Incident Notification
This Safe Work Australia fact sheet provides information on the approach to COVID-19 incident notification laws in each jurisdiction, including details on how to notify when required.  
How to Keep Workers Safe & Limit the Spread of COVID-19
This fact sheet explains what employers can do to keep their workers safe at the workplace and limit the spread of COVID-19 during this pandemic.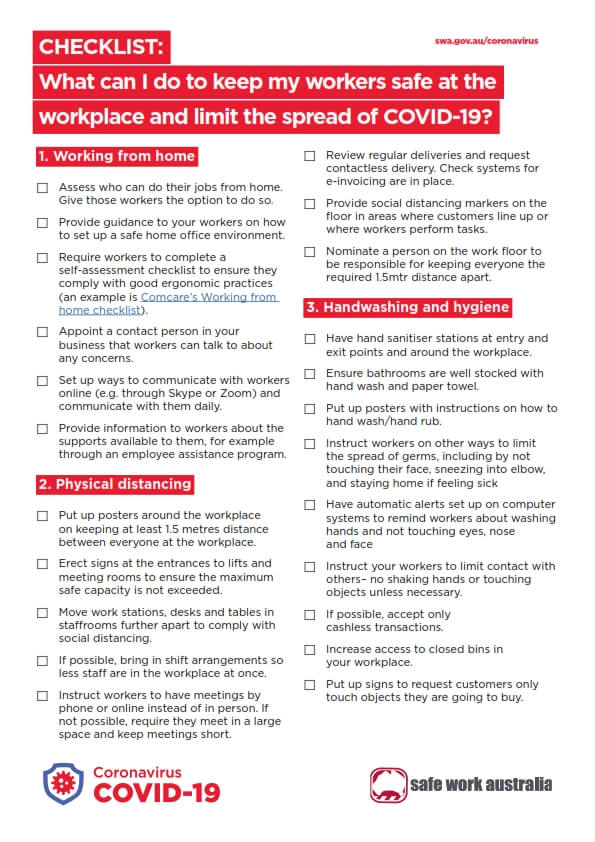 Workplace Checklist
This checklist includes measures that will help employers keep their employees safe and limit the spread of COVID-19 in the workplace.
Privacy Obligations
The Office of the Australian Information Commissioner (OAIC) appreciates the unprecedented challenges Australian Government agencies and private sector employers are facing to address the spread of COVID-19. This fact sheet is intended to help entities regulated by the Privacy Act 1988 (Cth) (Privacy Act) to understand their privacy obligations in the context of the pandemic.
Getting the Workplace Ready for COVID-19
The low-cost measures in this fact sheet will help prevent the spread of infections in your workplace, such as colds, flu and stomach bugs, and protect your customers, contractors and employees.
Employers should start doing these things now, even if COVID-19 has not arrived in the communities where they operate. They can already reduce working days lost due to illness and stop or slow the spread of COVID-19 if it arrives at one of your workplaces.