FTMA Australia loves fabricators sharing their stories and their knowledge as, in my opinion, fabricators know our industry better than anyone.  They also know what we need and for me it is great to see a fabricator develop a product to help our industry.
Joe Hackett of Complete Frames is one of those people and he presented at the conference on his new product called Des Edge Systems.
Joe started his apprenticeship at 16 years old and when he turned 19, he began working as a qualified carpenter.
His business partner, Damian and Joe are both carpenters and they found that they were experiencing a common issue which was delays on site waiting for pre-fabricated deliveries.  Like many before, this was their introduction to the frame and truss industry and Complete Frames was born in 2012 where the carpenters became fabricators.  Today, Complete Frames has 22 employees and we have a large factory base in the south-east Melbourne suburb of Pakenham.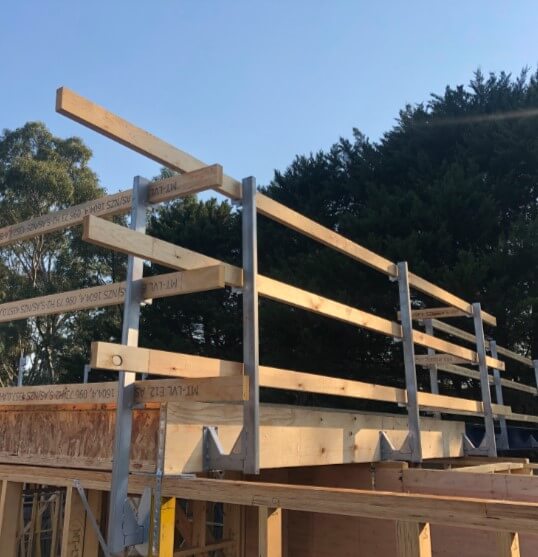 Des Edge Systems is a product born from frustration when Joe was supplying pre-fabricated wall frames, floor trusses and roof trusses for a 20 unit project where he was held up due to a third party not being able to provide the right fall protection at the right time.
The last thing our sector needs is delays and from that delay, Joe realised that not only could he produce a product that was easy to use for builders, but was quick to install due to most of the work being done offsite in the fabricators factory.
Therefore the inspiration of Des Edge Systems is to provide Safe edge protection on your terms, saving you time and money on site.  When we say you, we mean the fabricator!
So what is Des Edge Systems?
DES is a revolutionary new idea that combines traditional edge safety installations with convenience, reliability, strength and speed.
DES is safe, reliable, dynamic, mobile, sturdy and easy to install.
DES is your ability to continue building in a safe environment at a dynamic and movable pace.
Keep your mate DES onsite and your build will be an easier, quicker and safer one.
Furthermore, it is Australian made, a patented design, engineer tested and certified, fast and easy to install and easy to remove.  The three key aspects are:
Saves time – The need for 3rd party suppliers to erect fall protection and framing isn't required. This can save up to two weeks on site.
Safety – Carpenters are able to work at heights without the risk of falling. The system can also be erected from a ladder, removing the risk of working at a live edge.
Saves money – End user receives a cost saving through a more time efficient product. Profit margins for fabricators can be as low as 3% – 5%. This product can be an added service, offering a potential return of 70% – 80%.
With Des Edge Systems
Installation is completed using a ladder, providing full edge protection before working at first floor level or above.
The timber handrail can be utilised onsite after system is dismantled
Delays in the house framing process will be a thing of the past.
Our sector needs to continue to increase your services, to increase the money that goes in to your pocket and the Des Edge Systems is something that all fabricators can promote, use and make money from.
Congratulations to Joe and his team and I encourage you to contact Joe so your business can too deliver extra services and make additional income.
For further information please contact:
Joe Hackett – Director of Complete Frames & DES Founder
0457 810 767
Luke King – DES National GM
0487 213 517