Wednesday 17th March 2021 was the first real face to face event I have attended since my board came to town in February 2020, so to say I was keen to get back to it was an understatement.
The event was Bowens Women in Trades Event at their Port Melbourne Showroom and it lit a fire in me that I thought was extinguished.
COVID-19 definitely has changed the landscape in which we work, but it did not change the challenges that women in the building and construction industries encounter and this event was designed to empower women in trade where they could support one another and rise to the challenges together.
I was on cloud nine, as the feeling from the moment I walked into the Bowens showroom was dynamic.  Women from throughout the Bowens workforce were in attendance, including many from Timbertruss as they mingled with many women from a range of trades in the building and construction industry.
The panel of speakers included Stefanie Apostolidis (Melbourne Chippy Chick and co-founder of Tradie Lady Club, Fiona Nield (Executive Director, HIA Victoria), Jeanette Taliana (Bowens Sales Manager) and Melissa Moore (Bowens Account Manager).
The ladies were professionally and passionately led from Bowens Head of Human Resources, Vesna Brown, who was truly a dynamic MC and facilitated an open and frank discussion on the challenges they had all faced during their careers and how they overcame them to end up where they are.
The room was full of sparkies, chippies, tunnelling experts, designers, office staff, plumbers and women from many other trades and the message was strong.  Vesna pointed out that a lot of work had already been done, but it was clear to see, especially in the current climate, that much more was needed, and I couldn't agree more.
Throughout my 30+ years in the forest and wood products industry I have witnessed many changes and I've loved seeing more women join me at the table, however, just because more women are coming into the industry, it doesn't mean things still don't need to be changed.
Photo courtesy of Phoebe Powell
One message from the day that truly struck a chord with me, was the line; "you can't be, what you can't see".  Think about this and you will see that it is true is so many facets of our life. 
Having a daughter, I've raised her to know that she can do anything she puts her mind to and that she does have a voice and has the right to stand up for her beliefs, and over the years she has seen me fight for my voice and for the role I have.
Unfortunately, the court process whilst fighting for justice against childhood abuse dulled my desire to fight, to stand up for what is right, as it was, at the time just too painful, but the Bowens Women in Trades event has lit a fire I haven't felt for a while and it's time my voice is heard.
There have been times in the 'timber supply chain' that I believe I would have been treated differently if I was a man.  I'm not talking about the early days working with forest contractors, I'm talking about the later years.
It may surprise some readers, but I'm loud, I'm passionate and I rarely take a step back when I believe in fighting for my members, but as a woman being loud, passionate, and aggressive, I have unfortunately at times had to endure comments from those saying, 'here she goes again', 'does she ever stop' etc.
Maybe other loud, passionate men in the industry get the same comments made, but all I know is they're not comments I've heard.
I've been extremely lucky to represent timber communities and now fabricators and not once have I felt intimidated or treated disrespectfully from members, but I have been treated poorly by some peers which I address further elsewhere in the newsletter in Kersten's Rant.
The industry in general has been an awesome industry to work in and I love working for FTMA where my board has always had my back and my members have given me nothing but respect.
The women's event also made me stop and think about the role of women on boards within our industry and I was shocked and dismayed that there are some associations that still have a board with no gender diversity.
As a woman, I do not believe in quota's, I believe you need the right people for the right job.  Let's face it, we have a quote in society with 50.2% of the population being women.
Maybe I'm just fortunate to work in an industry full of mum and dad businesses, where dynamic women are aplenty, but it doesn't mean I didn't have to work at encouraging these women to step up and join the FTMA Board and have a louder voice.  Surprisingly, you just have to ask and let them know you respect their opinions and you'd be surprised by their willingness to be involved.
The forest and wood products industry is an awesome industry to work in and I believe we can be a stronger industry by providing a greater voice to women within our sector.
I challenge all industry Associations and businesses to work at increasing the voice of women in our industry and on our boards as in my opinion, diversity gives you a greater perspective on life and it's true we can't be, what we can't see!
Bowens employees Rebecca Ulrich, Nicole Hedger, Maggie Game, Nicole Keys with Kersten Gentle, FTMA Australia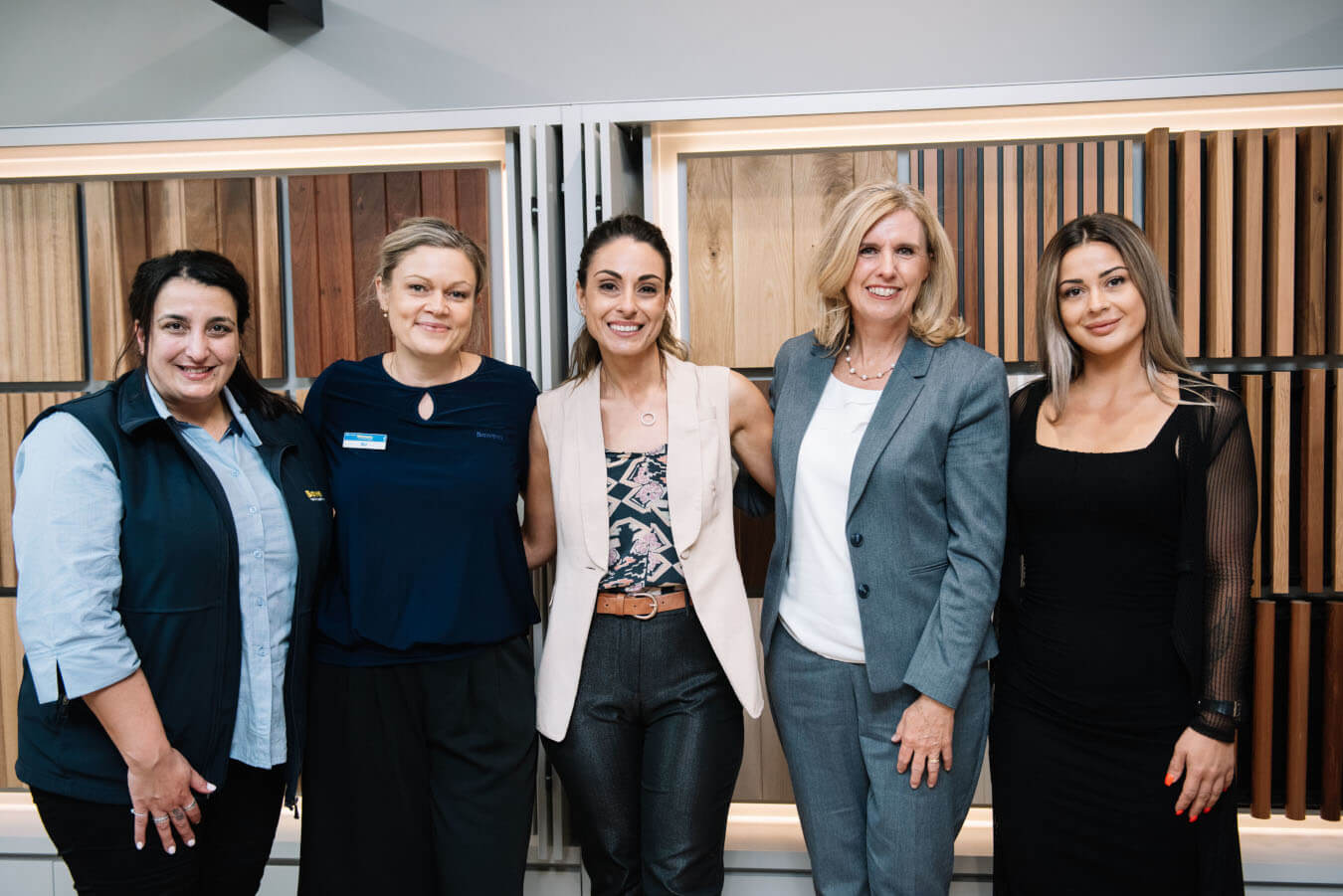 L-R: Jeanette Taliana (Sales Manager – Laverton), Melissa Moore (Internal Account Manager – Rowville), Vesna Brown (Head of Human Resources), Fiona Nield (Executive Director – HIA Victoria), Stefanie Apostolidis (Melbourne Chippy Chick, Tradie Lady Club & Bowens Brand Ambassador
Photos courtesy of Phoebe Powell