Congratulations to Bowens for another brilliant Women in Trade event which was held at the spectacular Timber Yard in Port Melbourne on Friday 25 March 2022.
Bowens first Women in Trade event was held in 2021 and attracted around 70 delegates who packed into the Bowens trade store. One year on and 400 men and women came together to celebrate International Women's Day and help break the bias.
This year I was so pleased to be able to have my daughter, FTMA's marketing coordinator, Nikita join me and we both left absolutely inspired after another successful event surrounding by enthusiastic and dynamic women.
In 2021, one of the young women that I was inspired by was Kate Lucas, an electrician, who was not only passionate about her trade, but was part of the Tradie Ladies Club who work at supporting women in trades.
Kate told me of the struggles she had at the start of her apprenticeship, turning up to site and having the odd bloke make snide comments, but Kate would confront any bias head on and simply get on with the job. As a result of her attitude and hard work, we were pleased to hear that Kate had been awarded ETU's Apprentice of the Year for 2021, which is an outstanding achievement.
Bowen's head of Human Resources, Vesna Brown once again chaired the event and once again, Vesna was truly inspiring.
Vesna interviewed the panel of women, exploring the barriers they came up against and their experiences working in male dominated industries, including,
Monique Burns, MBA Victoria Legal Manager & Associate Legal Counsel
Bardie Somerville – 4th Year Carpentry Apprentice with Cowan Build Construction
Melissa Manson – 2019 The Block Contestant and contracts administrator
Chelsea Symes, Bowen's internal sales and ex-cabinet maker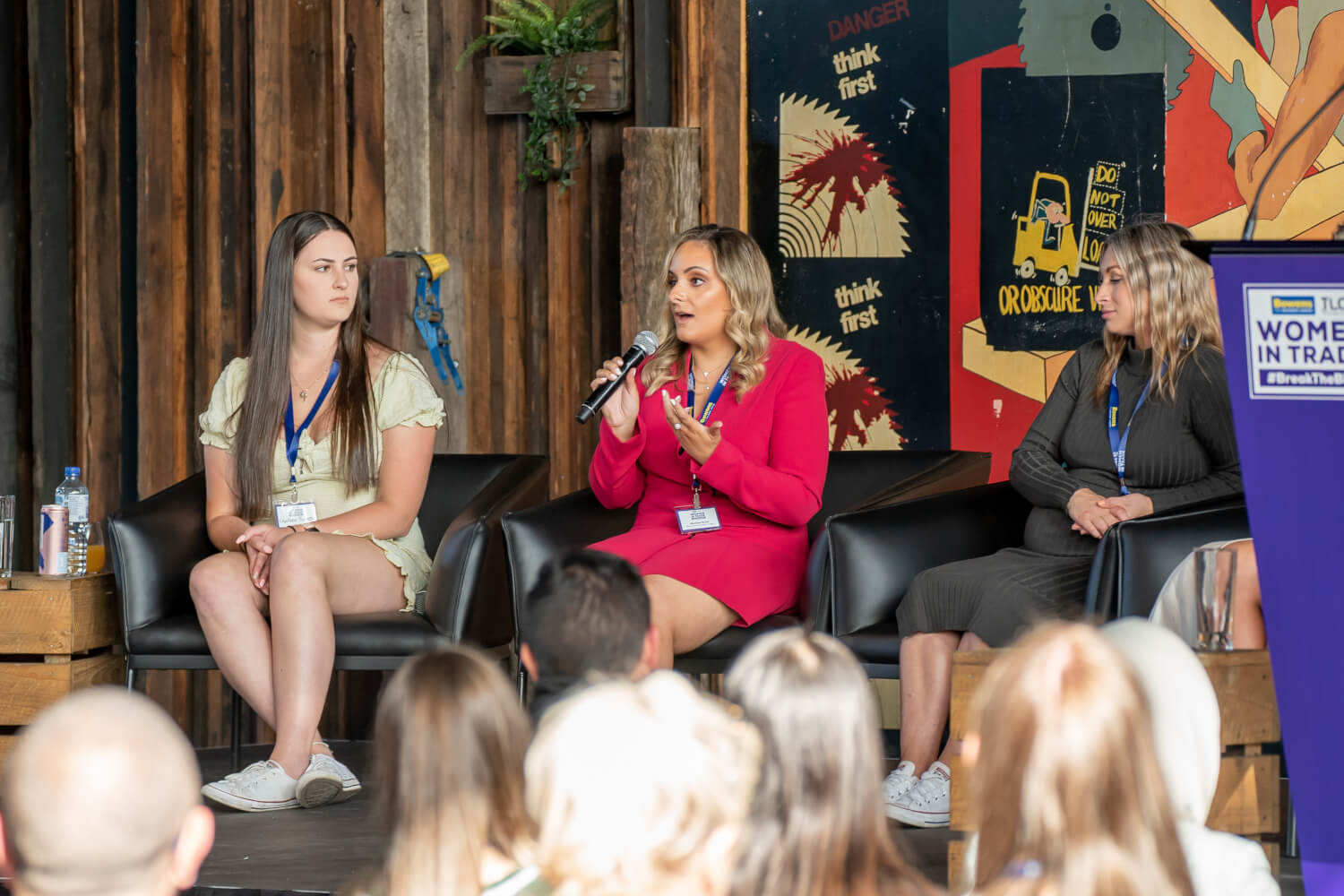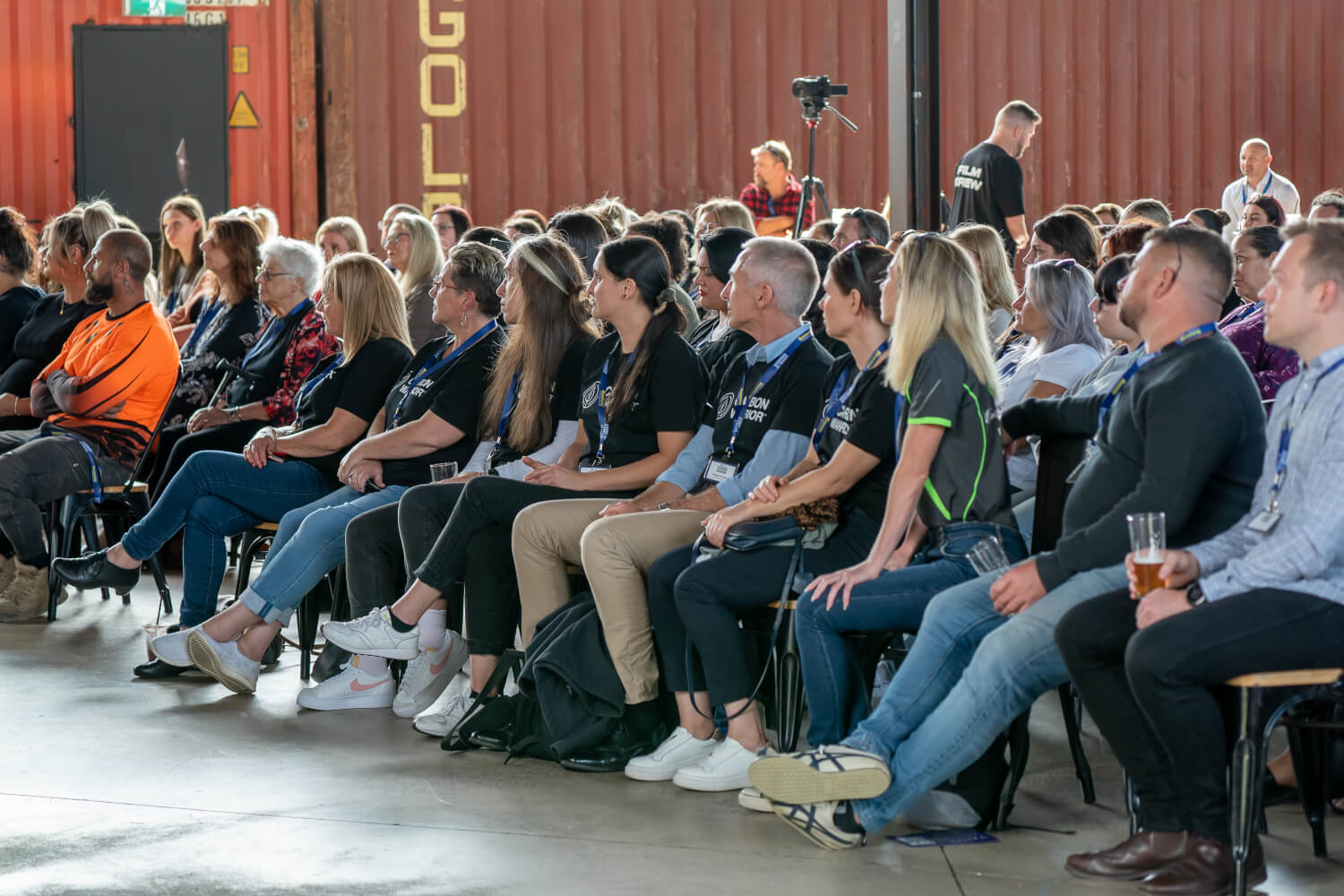 The panellists were superb as they talked about their careers and answered questions from the floor.
I'm never one to let an opportunity go by, so Nikita and I rocked up wearing our Carbon Warrior T-Shirts and also brought along a few spares to hand out. In no time at all we found 5 other Carbon Warriors including Alastair Woodard (WPV & FWPA), Eileen Newbury (FWPA), Sarah Downey (FWPA), Rhiana Archie (FWPA) and Fiona Luckey (Dindas).
It was a great opportunity to promote the importance of timber in the built environment in the fight against climate change and it wasn't hard work either, as people continually approached us to enquire what Carbon Warrior was.
It gave us the opportunity to engage with them in conversation about the important role timber plays in addressing climate change as it stores carbon for life.
The support was unanimous with many congratulating on us taking up the fight for climate change. Rhiana even wore the t-shirt that night to the pub and at the pub was approached by a woman who had just produced a movie about carbon who wanted to know more about the role timber plays.
This is exactly why we established Carbon Warrior. The message is simple and clear. Timber stores carbon for life and we need to use more of it if we are to continue our fight against climate change.
FTMA Australia would like to congratulate John Bowen and his team on another great Women's in Trade day and we look forward to 2023 event.
Kersten Gentle