This piece was written and provided by FTMA Strategic Partner, AKD.
One of the challenges we confront as an industry is ensuring we have enough timber for our country's long-term demand. It is a 'today" problem, as solutions such as codes and standards changes, and increasing the plantation estate in Australia can take a long time.
For AKD, it starts with the following key points that set us up for future success.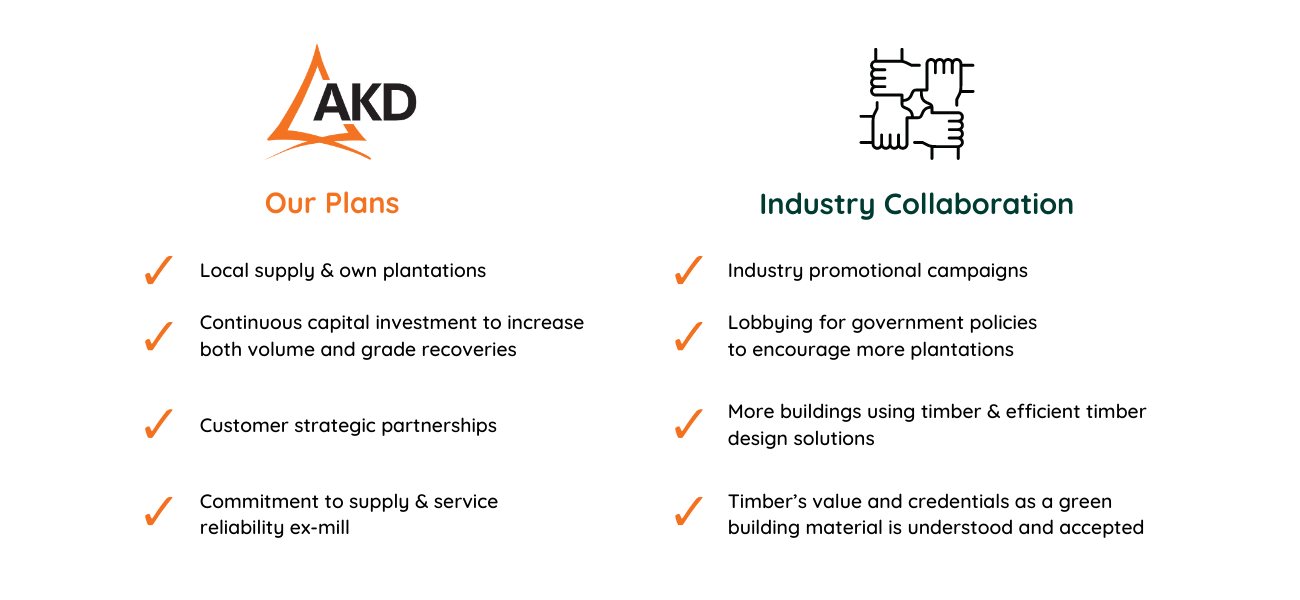 AKD will continue to promote the importance of local supply and the role we play in providing value to the Australian framing supply chain
The last few years has shown the vulnerability and risk associated with global supply chains and the importance of sovereign capability. Most business's strategic procurement functions recognise the value of local supply versus imported and therefore give local supply strategic preference. AKD will continue to work with industry to increase value to customers and optimise the supply chain. We will continue to provide value as an on the ground, local sawmiller with inventory on-hand, delivering to the specific needs of our customers.
AKD will continue to invest in our processing capacity:
Processing optimisation – precision manufacturing, minimising waste
Focus on technology – advances in manufacturing technology, AI, and predicative modelling to secure more timber from existing log volumes
Seeking access to more sawlog supply by enabling greater recoveries
Continue to grow and expand AKD's plantation assets
Increased processing capacity with $100m in capital projects already committed
AKD values strategic customer partnerships
In an industry known historically for its cyclical movements with impacts on both volume and price, we believe the behaviour of buyers and sellers along the supply chain needs to move away from transactional cycles or spot purchasing to strategic procurement. As an industry we believe supply chain participants should fundamentally view their timber supply arrangements as strategic, and not just seek the current invoice price of today. In a market where future shortages are likely, the 'spot' buyer could find themselves with no access to material at any price.
Our partners have experienced consistent volume through cycles
We align ourselves with innovative customers who continue to invest in their own business
AKD and our partners take a long-term view
Our customers value supply security over price
Business should be "simple and fun" and relationships are the cornerstone of our partnerships

Timber Framing's Credentials to Help Fight Climate Change are Recognised
Collaborating to ensure timber framing is recognised as the most environmentally sustainable building material for structural solutions has been a multi-year investment with significant funds contributed by AKD.
In the words of The Ultimate Renewable™ ambassador, Adam Dovile, "promoting the renewability of and the use of wood has never been more important. As a builder, I'm passionate about encouraging people to explore the sustainable options in construction. What's great to see is that many architects, designers, and specifiers already recognise the benefits of wood and embrace its use."
A typical timber house frame has absorbed almost 9 tonnes of CO2 from the atmosphere whilst a typical steel house frame emits 4.5 tonnes of CO2 into the atmosphere.
An Eye on the Future – More Plantations & More Efficient Timber Design Solutions
More timber buildings but may be with less timber to do the job efficiently
Another key aspect is ensuring timber grade properties are optimised and timber structural designs are efficient and getting smarter. This will ensure the timber structural solution remains competitive, efficient, and preferred long term.  
Our industry standards and codes have traditionally been conservative in their specifications and even though housing solutions need to be low maintenance, durable and resilient to climate change, we also have a responsibility to ensure that we are using every stick of timber wisely in terms of its design performance.  Lazy designs are not sustainable.
More Plantations & Precision Forestry
We are conscious as an industry of the longer-term demand for timber, and the additional softwood plantations that are required to support Australia's growth in demand for new dwellings.
The opportunities for increased softwood plantations with the right policy settings from Federal and State governments are promising and happening – from farm forestry initiatives, carbon accounting protocols to water rule changes – which will all individually and collectively help get more trees in the ground – the right trees in the right place.
We are the generation of industry players who have both the responsibility and the opportunity to help secure and retain timber framing's position as the category leader in structural building solutions.  We will also help secure timber framing's significant role as the backbone of Australian homes at the same time making a positive contribution to fighting climate change. 
Don't be a silent advocate and help secure timber framing's sustainable future. Please spread the word with free resources from – www.renewabletimberframing.com.au
We, as the timber framing supply chain, owe this to the future generations of Australians – to stick with timber!
We'd also like to take this opportunity to wish the team at FTMA, its members and other sponsors a Merry & Safe Christmas and a Happy New Year which we look forward to working with you in.