Clive Martella, FTMA Board Member and Director of MB Prefab Framing in Geelong was down to earth, funny, straight up, hardworking and such an honest person.
Clive was an essential person within the FTMA Board.  Not only was he one of the people who worked hard to get the National Association going but he remained a Director throughout his time on the board.
Sadly, Clive Thomas Martella passed away of the 28th August 2016 at the young age of 62 after a short but courageous battle with cancer and in his honour, FTMA Australia created the Clive Martella Service to Industry Award as we wanted his legacy to continue.
A group of four industry leaders who were all Clive's friends, Michael Read (Keith Timber & Hardware), Doug Maxwell (Clive's brother in law and Business Partner in MB Prefab Framing), Steve Collier (TimberTruss) and Phil McCormack of McCormack Hardwood Sales were appointed to the selection committee.
There is no criteria for the award as we wanted the Award to reflect Clive's values.  Someone who went out of their way to help people and businesses in the industry.  Someone who was honest and committed to seeing the national frame and truss industry innovate and grow and someone who has themselves, made a great commitment to our industry.
The inaugural recipient of the Award presented in 2017 was Reg Owen a true leader in the industry just like this year's recipient.
Clive Martella Service to Industry Award 2019 Recipient – Jim Cheney
The 2019 Clive Martella Service to Industry recipient started working in Eugowra back in 1966 making frames and trusses for Hay & Cheney was where Jim Cheney started his career before starting his own business Westruss in 1981 in Millthorpe NSW and he was Multinails first fabricator.
By 1998 the business had outgrown the factory and Jim found a more central location in Orange and in 1998 they moved the business to its current location.
Jim is a pioneer in roof truss manufacturing back when the industry first began in its current guise.  Jim had the vision to create what is still consider today, a large truss plant and build the production level in to it.
Jim, like many of his era have been through plenty of economic downturns and even though they have been tough times, he has managed to steer Westruss through them and come out thriving on the other side.
Right from the start, Jim was happy to help others.  He helped Ron Caddy when he started Lamcal, Multinails first Victorian plant and he was an early starter and instigator in the wall frame line and making sub-assemblies and fitting them on the way down the line.  He was also one of the first to try a flow through saw.
Above: Jim Cheney being presented with the 2019 Clive Martella Service to Industry Award at the FTMA Australia National Conference accompanied by his family.
Jim like many oldies in the industry is a bush engineer and he could see what was needed to streamline things in the factory and over the decades has put forward many ideas on machinery designs to Ross Rayner and Peter Taylor who would then go on to develop the machinery for the wider industry.
Part of his innovative ways was looking at ways to address efficiencies in transport and he was the first to send loads in to Sydney via the rail way, loading trailer at Orange, putting them on the train and picking up at the other end.  Something we don't see much of these days.
Jim has been a big advocate for the timber frame and truss industry over the years, especially when it comes to large local projects including the new local public hospital mental health wards and the Mission Australia Building.
Both these buildings were designed for steel frames and it was only through much lobbying and hard work by Jim that they were able to convert these projects in to timber jobs.
Westruss currently employs anywhere between 55-70 people throughout the whole business.  Jim has always been a big advocate to employ local people and keep as many people as possible in work.
Over the last few years Orange has seen the demise of several large manufacturing businesses and Jim has worked tirelessly to ensure that Westruss can be a major employer in the Orange region.
Jim is passionate about giving back to the Orange community supporting local events such as Cancer Council Relay for Life, the Orange Horse racing community, The Ronald McDonald House and The Orange City Football Club for over 30 years.
Even though Jim is semi-retired, he still has daily interaction with the business, and he ensured he left the business in great shape for the family to take over.  His sons Leon and Malcolm plus Grandchildren Nikita and Thomas all work in the business which is a true testament to the legacy Jim created.
Doug Maxwell presenting the award to Jim Cheney
Three Generations of Cheney's at Westruss Orange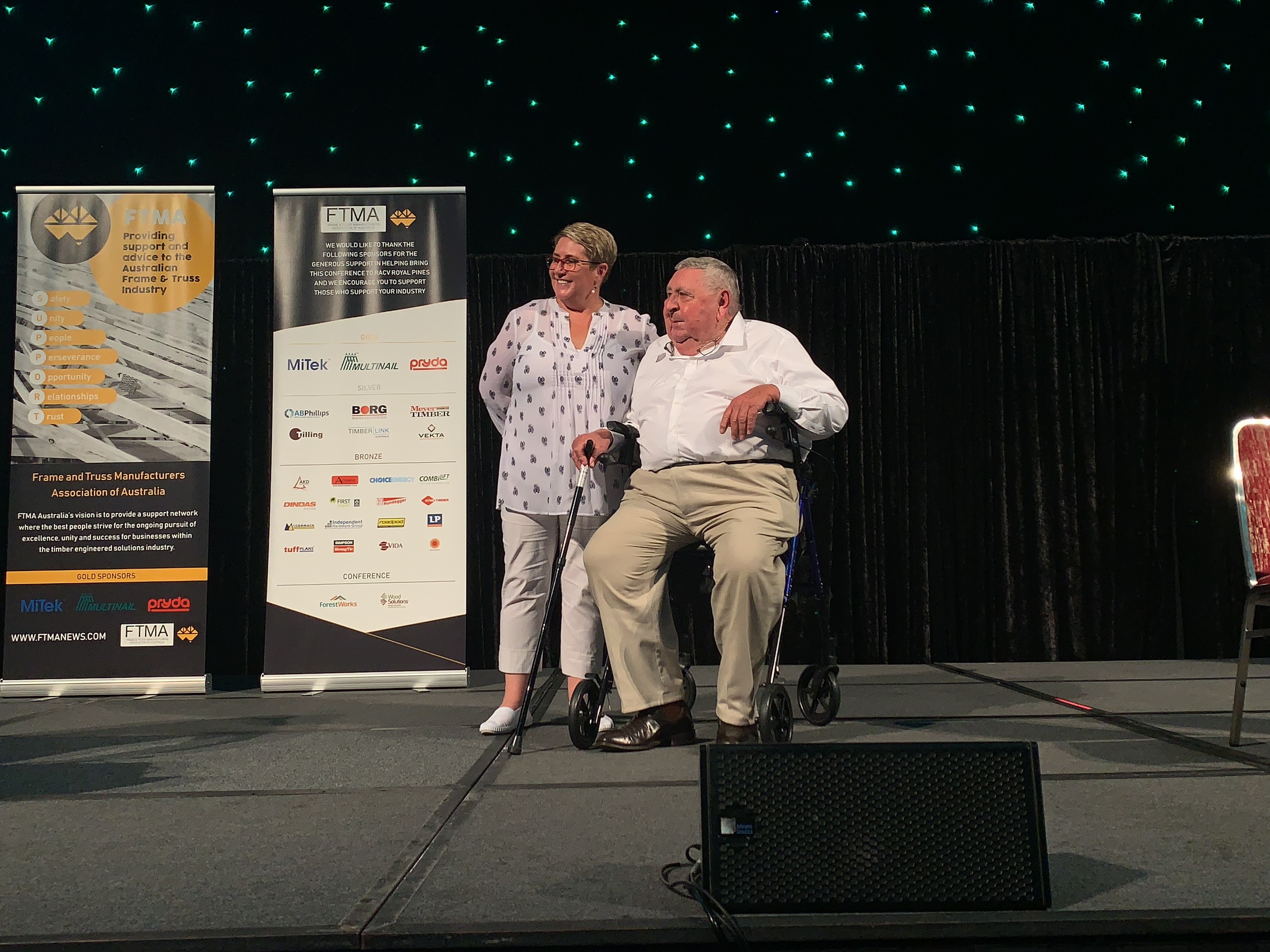 Kersten Gentle & Jim Cheney