Upgrade project to provide more timber for the Australian domestic market
Timberlink is investing in our renewable future with a $100m upgrade program for its Australian mills. The upgrade project started in Bell Bay in 2018 and will be completed in Tarpeena in 2021, increasing Timberlink's output by 15% in time for the next rise in the Australian housing market.
Bell Bay Mill
Timberlink's upgrade has reached its first major milestone, with stage 1 works being completed at Bell Bay. The works were officially opened in November by Deputy Nationals Leader, Senator the Hon Bridget McKenzie and Federal Minister for Bass Bridget Archer.
Timberlink CEO Ian Tyson was joined by Ms McKenzie and Mrs Archer, alongside employees, key customers and suppliers on a tour of the Timberlink Bell Bay facility, to view the latest upgrades and witness the process of turning renewable plantation logs into engineered structural timber.
Speaking to Bell Bay staff and guests, CEO Ian Tyson explained "the upgrades have seen the installation of new state of the art Contra Flow Kilns (CFK), which will cut down waiting times for drying timber, whilst decreasing heat power usage by 30%. A new Lucidyne Scanner that uses state of the art AI technology has been installed in the dry mill, learning with every photo that it takes". He went on to say that the scanner "is more accurate and will result in a better product for our customers and is the first of its type in Australia."
Ms McKenzie was particularly impressed with the new continuous flow drying kilns (CFKs). These kilns dry timber more efficiently and at a lower temperature, saving on energy whilst drying more timber than traditional batch kilns. Crucially, it also results in a better and more consistent product due to drying being done at a more even temperature. Ms McKenzie commented that "this is a fantastic example of what Australian manufacturing can be in the 21st century, reducing energy usage and costs whilst becoming more competitive in what is now an international marketplace".
Ian Tyson, Bridget Archer MP & Senator the Hon. Bridget McKenzie
A new strapper and packer has also been installed, which according to Mr Tyson will "alleviate a bottleneck to improve efficiency." Finally, there have been upgrades to the roads network to separate heavy plant equipment from smaller vehicles. Mr Tyson said "this is a great outcome for improved safety, so our people go HOME SAFE, every day."
Mrs Archer was particularly pleased to see the focus on safety "it is clear that staff safety is paramount at Timberlink. The ongoing investment is also great news for those in the community who rely on the mill to support their families".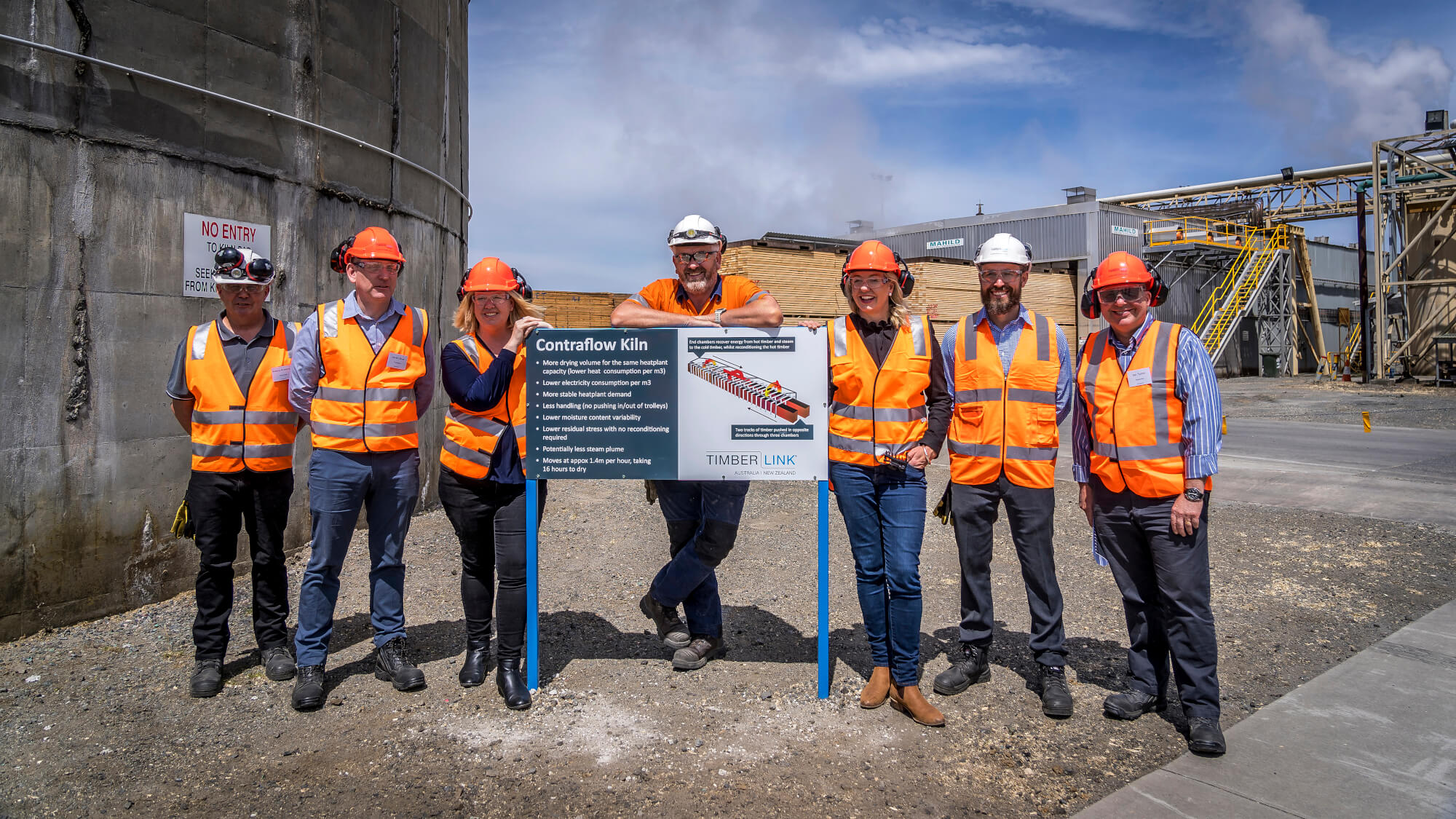 Mrs Bridget Archer MP & Senator the Hon. Bridget McKenzie in front of the new CFKs.
Tarpeena Sawmill
The Tarpeena upgrade project is continuing with major changes now underway at the site. The mill will see a new sawline constructed whilst continuing to operate as normal. This is a huge undertaking but one that we are well prepared for.
Sawline works will commence early in 2020. In the meantime, construction of a second Contra Flow Kiln (CFK) is well underway. This will increase drying capacity, improve energy efficiency and result in a more consistent stick of timber. Foundation works have been completed and the structure is being erected now. Supplied in 26 containers from Germany, the CFK will be completed in January.
Also nearing completion is the second stage of a new despatch area at the front of the site. We're building a state-of-the-art Despatch area that at its completion will use AI to assess every truck for safety and efficiency purposes. It will be first system of its kind in the Australian timber industry and will help ensure our mill direct deliveries are on time and safe.
This is a generational investment to ensure that Timberlink remains internationally competitive and can continue with the expected level of service to our customers for years to come. You can find out more about the upgrades on website www.timberlinkaustralia.com.au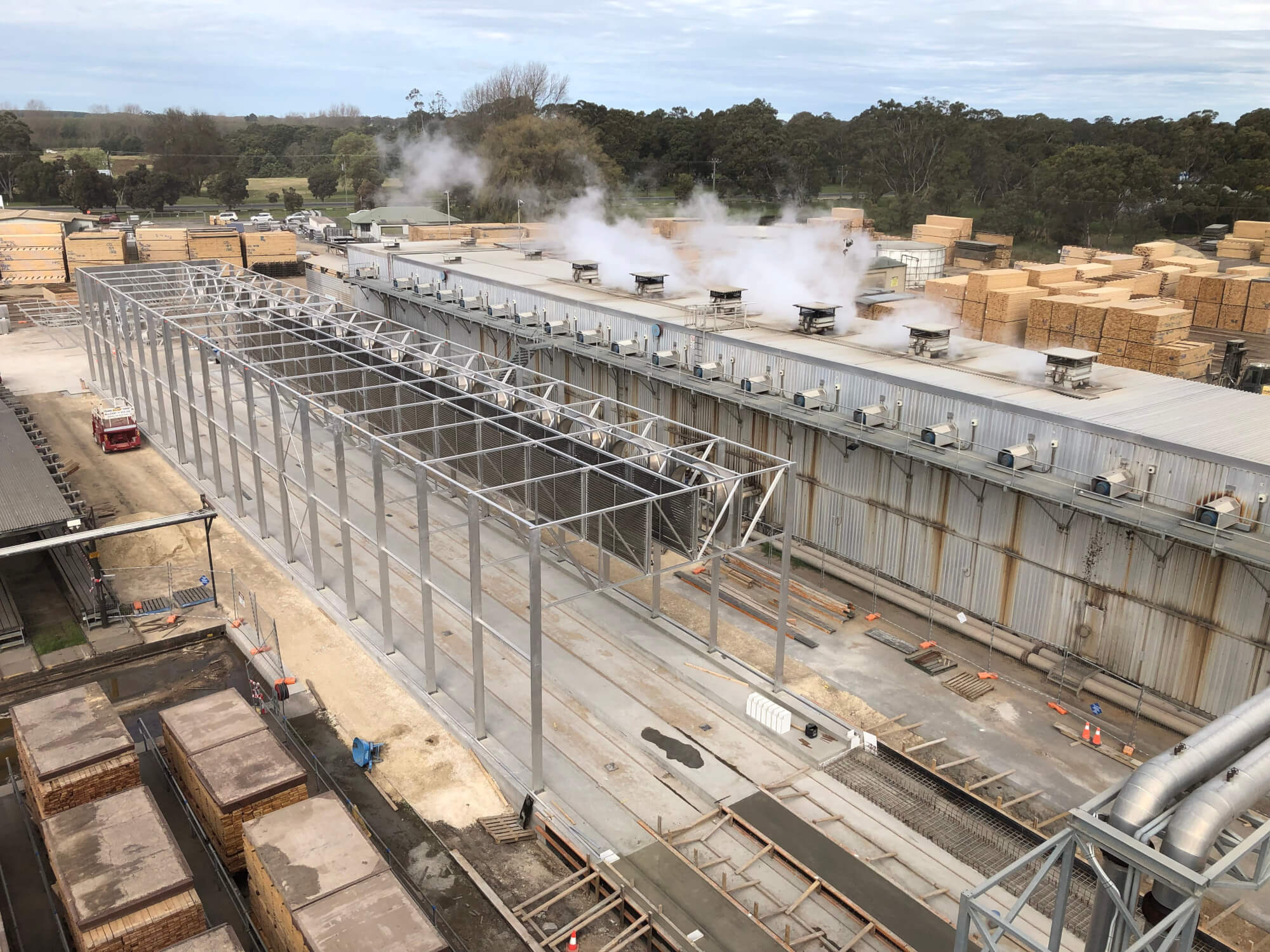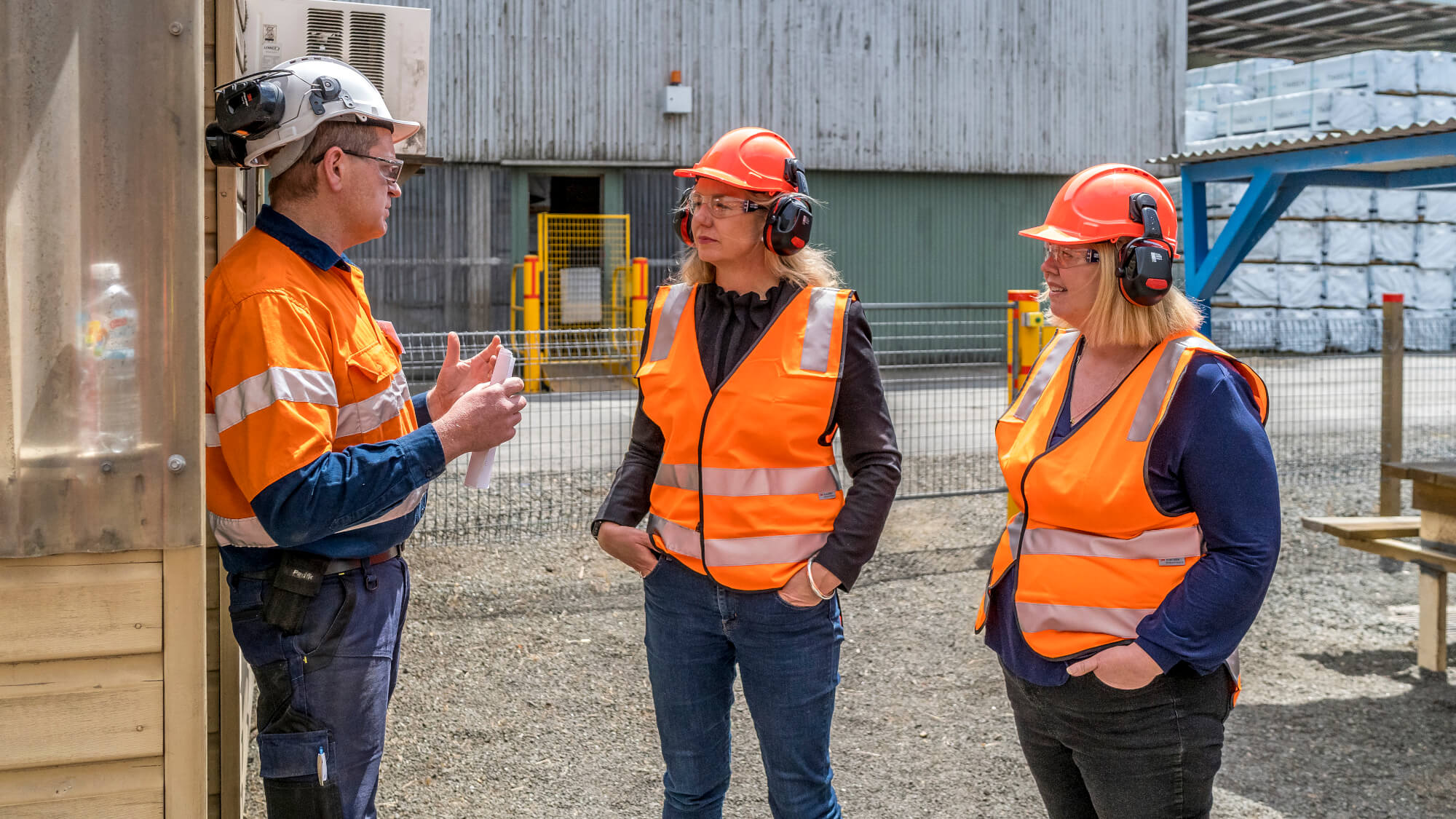 Mrs Bridget Archer MP & Senator the Hon. Bridget McKenzie touring the new and upgraded facilities at Timberlink's Bell Bay Mill