JOBKEEPER
JobKeeper Payment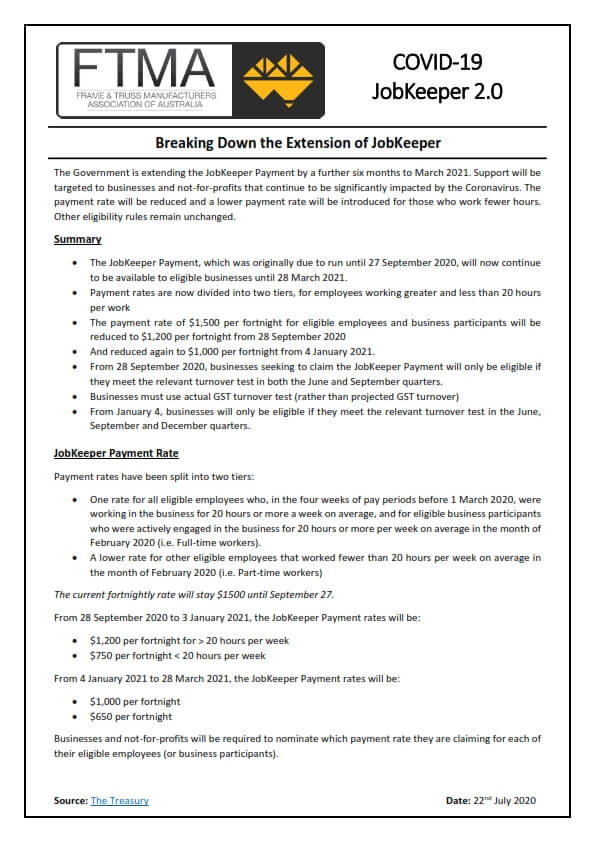 JobKeeper 2.0 (Updated)
The Government is extending the JobKeeper Payment by a further six months to March 2021. Support will be targeted to businesses and not-for-profits that continue to be significantly impacted by the Coronavirus. The payment rate will be reduced and a lower payment rate will be introduced for those who work fewer hours. 
Eligibility rules have been eased as a response to the situation in Victoria, now businesses will only need to show that their GST turnover had fallen over one quarter, instead of multiple, to be eligible for the scheme's extension. Employees will also qualify if they were employed on July 1, rather than March 1.
The JobKeeper Payment, which was originally due to run until 27 September 2020, will now continue to be available to eligible businesses until 28 March 2021.
This fact sheet breaks down the extension of JobKeeper, which they are referring to as 'JobKeeper 2.0', and the new two tiered payment rates.
FAQs - JobKeeper Payment
Most fabricators are still extremely busy, and it will be most likely mid to late May before we really start to feel the pinch with work slowing down. Since the announcement of the JobKeeper Payment, FTMA has received many questions on how the payment will work in different scenarios and so we have tried to capture all those questions and provide answers which have been put into this Fact Sheet.
I understand that not every business is sure about being part of the JobKeeper program with some not qualifying and some simply not wishing to partake. 
The key to surviving this pandemic in business is communication. If you do the right thing and communicate across the entire workforce, implement new safety measures to keep your workplace COVID-19 free as per previous FTMA Guidelines then you, as a business are doing everything reasonably possible and you are giving yourself the best chance of surviving.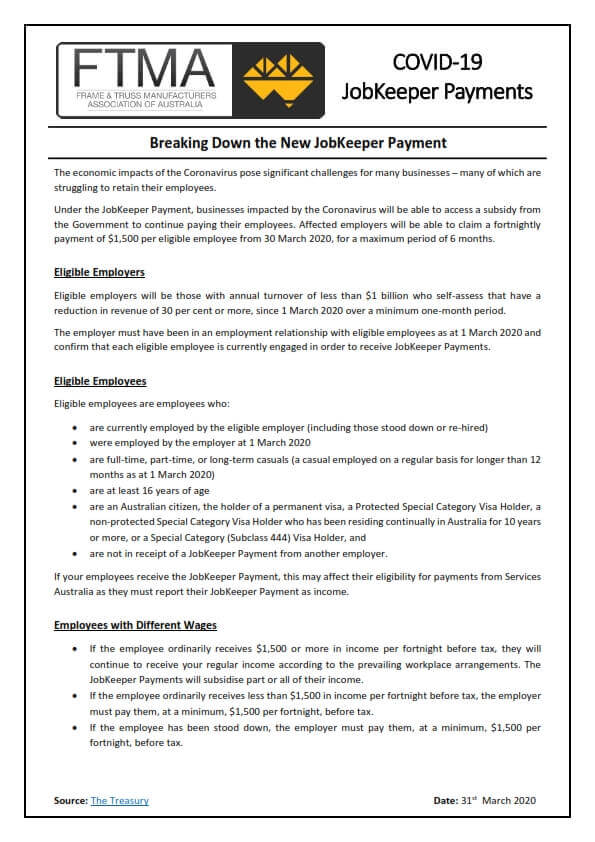 JobKeeper Payment Fact Sheet
The economic impacts of the Coronavirus pose significant challenges for many businesses – many of which are struggling to retain their employees.
Under the JobKeeper Payment, businesses significantly impacted by the Coronavirus outbreak will be able to access a subsidy from the Government to continue paying their employees. This assistance will help businesses to keep people in their jobs and re-start when the crisis is over. For employees, this means they can keep their job and earn an income – even if their hours have been cut.
The JobKeeper Payment will support employers to maintain their connection to their employees. These connections will enable business to reactivate their operations quickly – without having to rehire staff – when the crisis is over.
In this fact sheet, FTMA Australia breaks down the JobKeeper Payment and explains which employers and employees are eligible and how to register your interest.