INSURANCE & INSOLVENCY
Insurance & Insolvency Changes
QBE Trade Credit Update
This is an update on the QBE Trade Credit situation as of the 6th of April.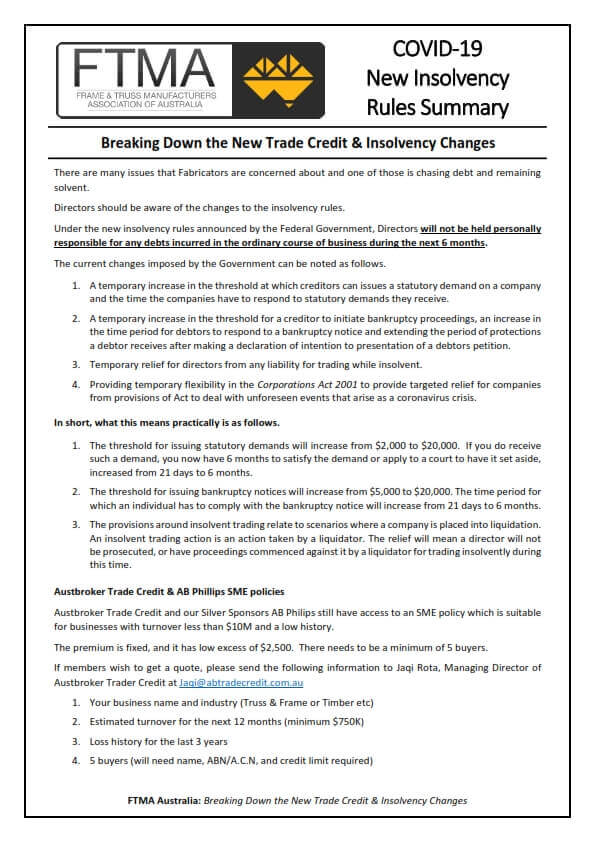 New Insolvency Changes
This fact sheet breaks down the new trade credit and insolvency changes that directors should be aware of especially during this pandemic.
Insurance Policy FAQs
FTMA Australia Silver Sponsors, AB Phillips, answer your questions regarding insurance policies during these uncertain times. We thank AB Phillips for providing these answers and assisting throughout this pandemic.
Briefing Note on Cuts to Trade Credit
Whilst all levels of Government are doing their best to save lives and save livelihoods, it seems QBE Insurance has decided to introduce draconian changes to their policies that will have a huge impact on businesses within our sector.
Press Release from FTMA & TABMA
On March 31st, FTMA Australia & TABMA put out a joint press release regarding the trade credit cuts titled, "leading insurer undermines key manufacturing industry without notice."