FINANCIAL SUPPORT
Financial Support
Commercial Tenancies
This fact sheet outlines the Code of Conduct for Commercial Tenancies and includes links for each relevant state and territory.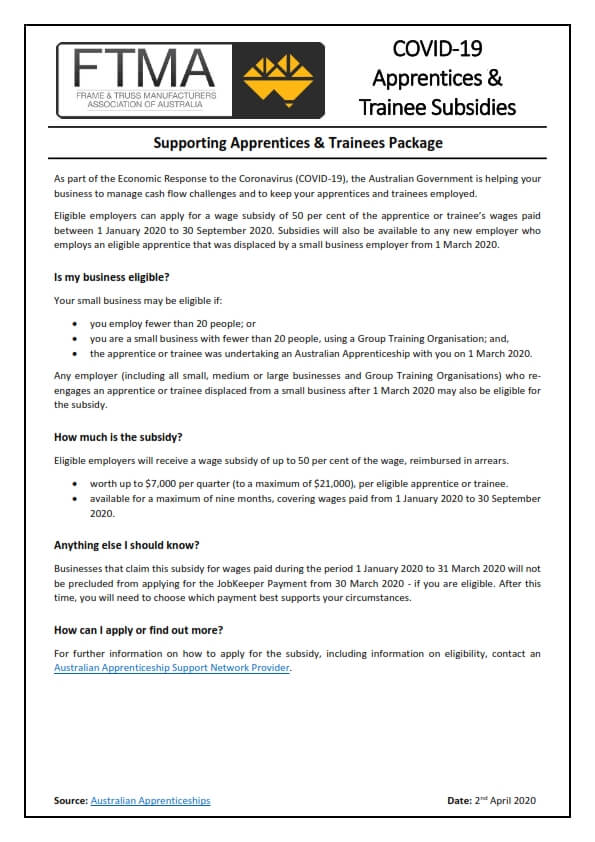 Apprentices & Trainees Package
This fact sheet breaks down the Apprentices & Trainees subsidies that are available.
Second Stimulus Package
This fact sheet breaks down the second stimulus package from the Government which was announced on March 22nd.
Bank Assistance Pacakage
This fact sheet summarises the small business relief package from Australia's banks, which was announced on March 20th by the Australian Banking Association.
Tax Support
The ATO have put in relief options for businesses affected by the coronavirus. This Fact Sheet outlines the tax support you can receive. Please note: these relief options will not be automatically applied, so you need to contact the ATO to discuss them.
First Stimulus Package
As the Australian Government announced its first economic response to COVID-19, totalling $17.6 billion, FTMA Australia had a look at the stimulus package and broke it down to see what exactly it means for you and your business.