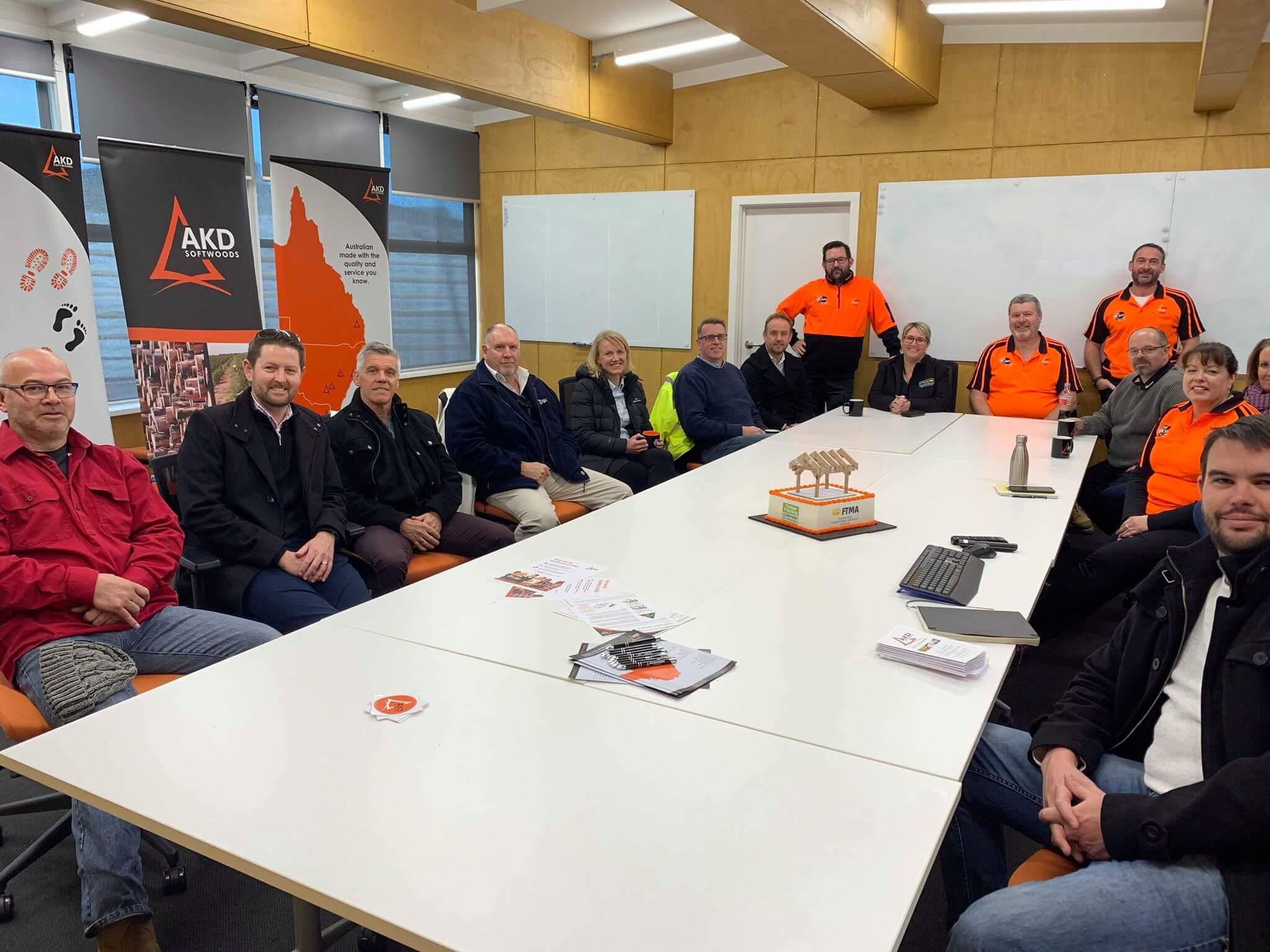 The FTMA Australia Board and representatives from the three nail plate companies were recently to tour the AKD Softwood Colac Sawmill providing a chance of education along the supply chain.  We therefore decided to combine the mill tour with a Geelong Networking Dinner for members and sponsors before finishing off with a board meeting whilst we were all together.
We started with an overview of the AKD Softwoods history and it is remarkable to see what the company has achieved since their inception.  AKD has grown its business over the long term, by building a stable foundation including stable ownership, long term customer relationships, long term log contracts, its own plantations and multiple state of the art processing facilities.
AKD is now Australia's largest softwood sawmiller with:
6 operating sawmills, 3 post & pole operations and a woodchip export facility
Employees approximately 1200 people in three states
Has an annual sawlogs throughput of approximately 2.4 million cubic metres
Annual sales volumes in excess of 1 million cubic metres, and;
Owns approximately 10,000ha of softwood plantations
After a great feed and overview of the business the delegation went on the mill tour.  It's easy for people to have an image in their head of old fashioned sawmills, and for a few board members, who were visiting a sawmill for the first time, they were extremely impressed by the high level of automation and technology which ensured maximum optimisation of the resource.   Standing in the control room witnessing the whole operation allowed a great discussion on how all parts of the supply chain should work together to optimise the resource.  It was brilliant and we must encourage more discussions and tours throughout the whole industry.
The message from Shane and his team was not just about their product, but about the importance of using quality timber suppliers which FTMA Australia agrees with 100%.  We are proud to be associated with so many timber companies through sponsorship and membership and we only associate ourselves with quality suppliers as this is a must for our industry.
I left the tour reassured that our future timber supply was solid and that we wouldn't be seeing a shortage again anytime in the future due to the hard work of the Australian producers and the importers helping meet our industry's demand for timber.