As you know Australia's construction supply chain is stressed at the moment, dealing with the substantial surge in residential construction.  This significant increase in demand is impacting on all building materials, their lead times, price movements and is also resulting in key labour shortages for a lot of trades.  Much of this is out of the control of business owners and managers, but it is a time to focus on what we can control, leverage and optimise.  In this issue of FTMA News, AKD would like to take the opportunity to reinforce to our customers how hard we are working in terms of meeting the increased market demand and supporting our customers.
This past month we have communicated our company production volume updates showing FY20 actual, FY21 estimated and FY22 and FY23 forecast.  This timeframe isn't really long term for a sawmiller but given the current market pressures, we believe this outlook is useful to assist our customers with your supply strategy and planning and to give confidence about our production intentions. To also debunk a myth, we have not and are not exporting any timber to the US and we are not exporting any structural timber.
AKD works continuously on our sawlog procurement – it is the fundamental strategic ingredient of our business, as you could well imagine. Log supply is not "elastic" as a product line; it is difficult to ramp up and ramp down easily.  Like a crop, the trees are only ready for harvest when they are ready; it's not as simple as going in and cutting down more trees. In 2019 and early 2020 we reduced production due to soft market conditions – that was a big deal.  To then increase production requires a lot of people and infrastrucure, i.e. harvesting contractors, haulage operators, sawmill employees, equipment has to be found, contractors engaged, commitments made and employees have to be recruited and then trained etc.   
So, here's what our approach has been focussing on this year and will continue to be:
All of our mills are running at capacity
Being flexible with shift options so that we can process any additional log we secure short term
Optimising our sawnwood output with a focus on processing recoveries and optimal grade recoveries, without compromising fit-for-purpose product quality
Continuing to meet customer commitments during this pressured time – we may not always be saying yes to everything, we only want to make commitments we can keep
Managing our production plans to prioritize customer needs and use our network of mills to provide this flexibility
Look to achieve sustainable value for our products that aren't linked to cyclical peaks and troughs
That's our approach and some of the outcomes and decisions to date are:
AKD Tumut sawmill is now dropping from its previous contracted volume of around 485,000m3 log in per annum to around 270,000m3 – 320,000m3 log in, as a result of the Australian bushfires of 2020.
AKD has been successful in securing additional sawlog at various sites and now believe we will produce a similar volume in FY22 as we did for FY21 – basically negating the volume impact loss at Tumut.
The nature and type of this additional sawlog should provide a higher structural yield than the traditional resource at Tumut.
AKD recently signed a long-term log contract in Queensland with HQP for additional volume and once new kilns are installed at Caboolture by mid-next year, AKD volume will increase further.
We have secured additional log that was destined for export markets and will be processing this in the coming months.
AKD Caboolture team: pleased about our news of growth commencing FY21 and further ramping up in FY22
We'd also like to share with you a sneak peek at some of our latest company promotional messages that AKD will be taking to market in the coming months.  These messages will be delivered via customer cooperative advertising, industry advertising and also on our social media platforms.
 The thinking behind our new messaging is that, in our industry's past, it has been a challenge to build loyalty and brand recognition for timber framing because it has always been viewed as a commodity. However, particularly, this past year and certainly current market conditions, reinforce the importance of having supply security for structural framing, and the importance of having strong partnerships across the supply chain to deliver this.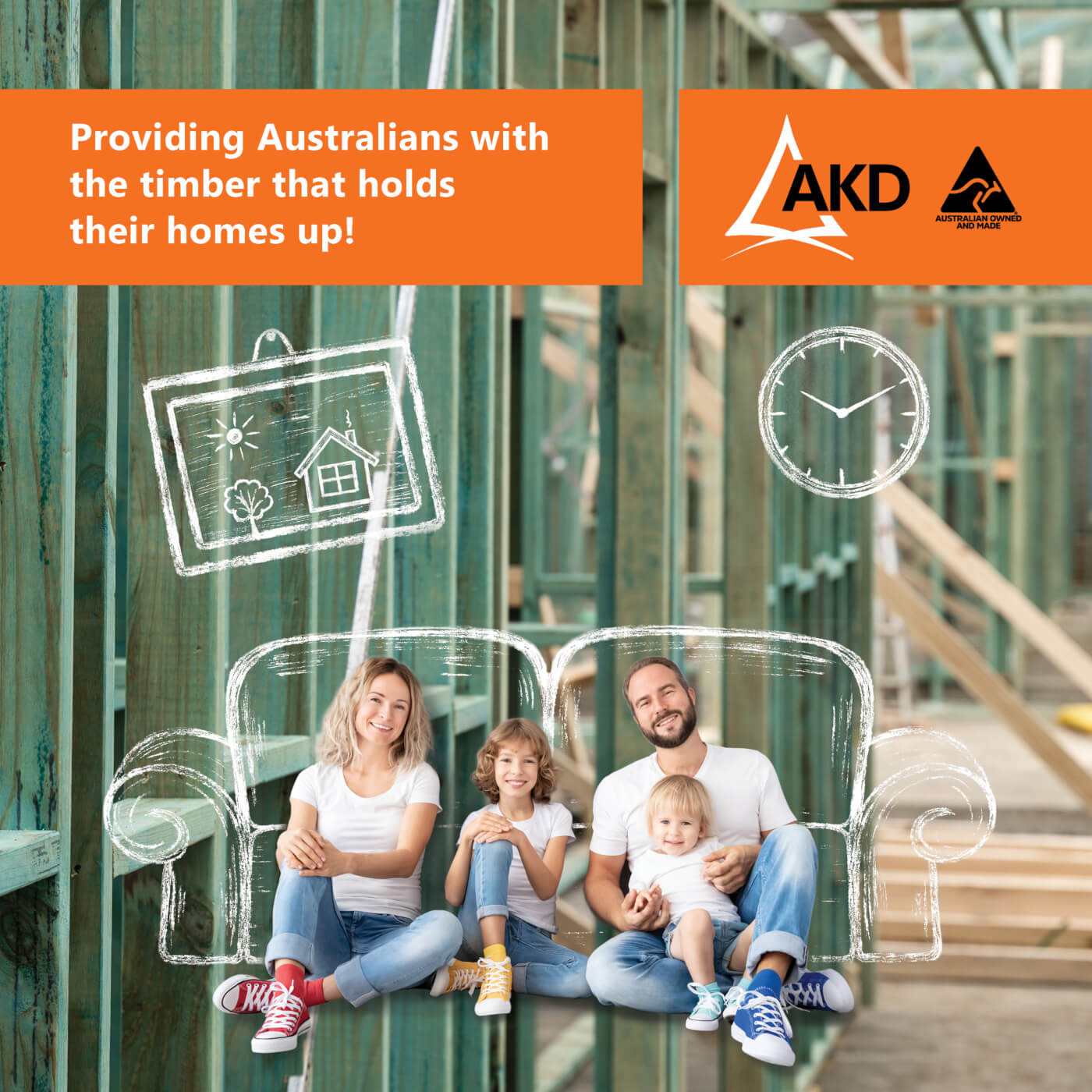 Our timber framing supply chain is of national interest, as it is a critical ingredient in new housing for Australian families, along with the security and improvement that new housing brings to Australians' livelihoods and the economic resilience it brings to our communities and nation.
From AKD's perspective, we believe that over the past year, we have all learnt that having strong local manufacturing is critical to all Australians' wellbeing and our growth.  It sounds easy when you say AKD just makes Australian Plantation Structural products, but when value-added by our timber prefabrication customers, we together, supply a product that holds up Australian houses. So, we think having local supply to build Aussie homes is pretty important.
Partnering with AKD means you support the local communities where our sawmills are located and that having a sustainable timber industry impacts massively on these regional economies and the families who live and work in them. We thank you for your support and buying local Australian timber from AKD makes a positive difference.
Even with the current market conditions, we don't believe it's a time to be silent about promoting our company and our products and we look forward to working with our whole supply chain to ensure we keep the timber category strong in Australia. 
Finally, and in terms of keeping the structural timber category strong in the Australian market, AKD remains focussed on ensuring that, even with the pressure to supply as much as possible right now, there is no compromise on quality. Last month's FTMA News had a great article from EWPAA on structural product verification and we fully support this guidance from EWPAA and as per their comments, AKD's Structural Certification by site is available at www.akd.com.au/timberproducts.php
Your sincerely,
Shane Vicary
CEO & MD