FTMA Australia has always passionately celebrated outstanding people within our industry, with our highest honour being the prestigious Clive Martella Service to Industry Award.
Before sadly passing away in 2016 at the young age of 62, Clive Thomas Martella was an FTMA Board Member and Director of MB Prefab Framing in Geelong (now part of Big River Group). A down to earth, funny, straight up, hardworking and honest person, Clive was also an essential person within the FTMA Board, being a founding director and a key player in setting up the National Association.
A group of four industry leaders who were all Clive's friends, Michael Read (Keith Timber & Hardware), Phil Ladson (former FTMA Director), Steve Collier (Timbertruss) and Phil McCormack (McCormacks Australia) are our selection committee.
The criterion for this award is simply to showcase someone who goes out of their way to help people and businesses within the industry. Someone who is honest and committed to seeing the national frame and truss industry innovate and grow and someone who has themselves, made a great commitment to our industry, as this is who Clive was.
The inaugural recipient of the Award presented in 2017 was Reg Owen of Owen Truss (below left) and in 2019 Jim Cheney of Westruss (below right) received the award.
2022 was a tight contest with some outstanding nominations received with the runner up for the 2022 Clive Martella Service to Industry Award being the impressive Bob Lang of Langs Building Supplies who has made huge contributions to the frame and truss industry for many decades.
There could only be one winner of the Clive Martella Service to Industry Award and the
2022 Winner was Tom Donohue from Australian Timber & Trusses on the Gold Coast
Tom Donohue began working in the industry at Wilkinson's in 1970 and within eight years, he started his own Frame & Truss business with business partner, Leon Hill. The business was initially called Tom's Trusses before being renamed Australian Timber & Trusses (ATT) a few years later and they are still based on the Gold Coast.
In the 1970's Tom was heavily involved in the Gang Nails EqA System. Tom promoted this system to other fabricators for accurate quoting, plant scheduling, output monitoring, employee incentives, and what if scenarios for new equipment purchases and cost monitoring.
By the early 1980's this information was used for benchmarking against three other fabrication companies in different markets who were using different equipment. This was extremely beneficial to all fabricators, as everyone learnt where improvements could be made from sawing, pressing, storage, loading and delivery, and we heard today, how important this still is today.
Tom was instrumental in having the first six (6) bladed computerised saws made and put into production, so that improvements could be made before the machine was released to other fabricators. Tom was always happy to be the guinea pig to maximise benefits for the whole industry.
In the 2000's, a similar project was instigated in the pressing area, with the development of a fully computerised multi press head jig.
Throughout the years, Kersten was often told that no-one knows costs like Tom and many younger people in the industry say that Tom was someone they idolised and learnt so much from. Whether it was his articles in Timber Trader News or presentations at Frame Australia, Tom was always willing to share his knowledge, in the hope of building a stronger industry.
Tom built his business from ground up and today they employ over 100 locals. Tom has always been a voice for the industry and was happy to put his hand up to serve on many committees in his pursuit of building a stronger industry.
He was chairman of the Gold Coast Timber Association for six years in the 1980's, was vice-Chairman of the Queensland Timber Board for five years and in the 1990's was President of the Brisbane Hoo Hoo Club (1994-96) and in 1996-97, he even served as JIV President.
Tom's support goes beyond the industry and he has passionately supported the Ronald McDonald House in Brisbane, where he is a major sponsor. He has also been a major sponsor of the Life Education Centre on the Gold Coast and is a sponsor of various Gold Coast soccer Clubs.
Tom's wife Terri has always right by his side throughout the journey as have his children Coby & Shaun with Shaun joining the business 28 years ago and has worked his way up to Production Manager.
Unfortunately, Tom couldn't be present to accept his award due to health.  Clive's wife Ruth and daughter Treina presented Tom's award to his son Shaun and daughter in law Deanna.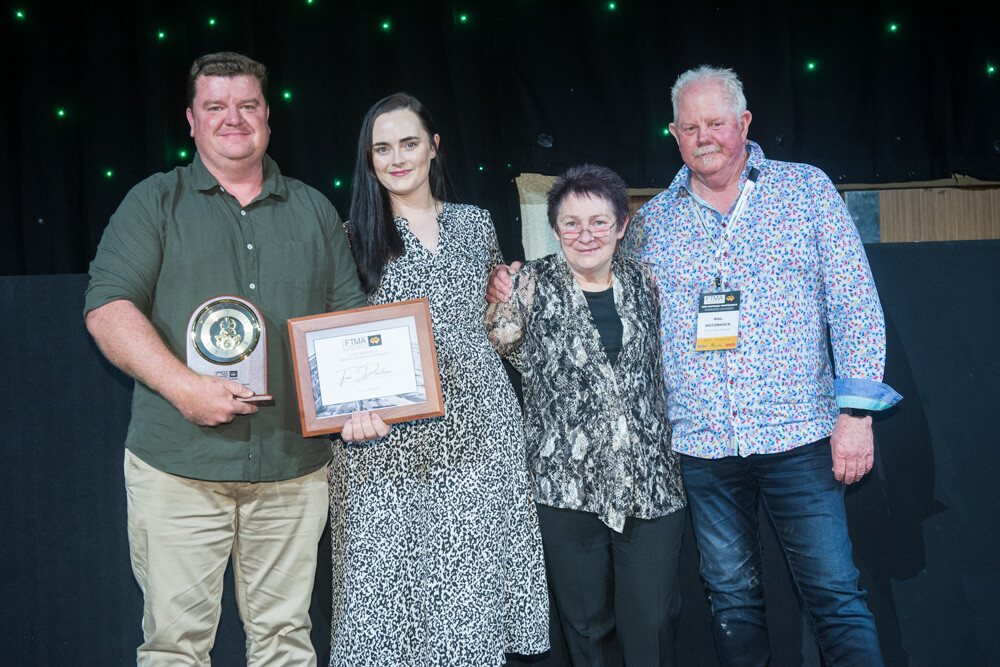 Shaun Donohue accepting the Clive Martella Service to Industry Award from Treina and Ruth Martella and Phil McCormack on behalf of his father.